Back to top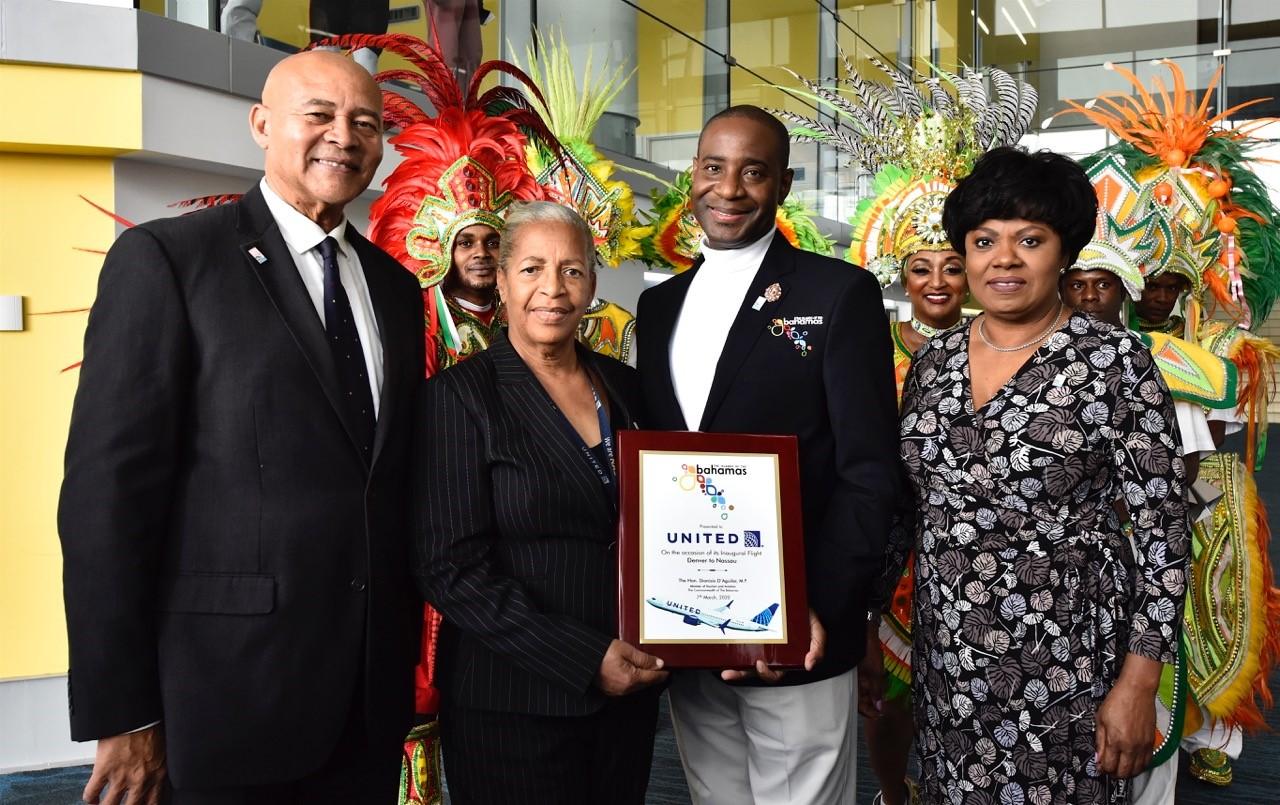 United Airlines launches Saturday only direct flight from Denver to Nassau beginning March 7th, 2020
NASSAU, Bahamas - March 7, 2020 - "We are very excited for travelers to experience the islands' adventurous activities that cannot be found in the mountains of Colorado; the beautiful sun, sand and sea of The Bahamas are now just a short airplane ride away," said Director General Joy Jibrilu, as she welcomed the 100 plus passengers arriving Nassau on the inaugural United Airlines flight from Denver.
During a special welcome reception at the Lynden Pindling International Airport (LPIA), passengers on United's inaugural flight from Denver were greeted by the rhythmic sounds of Junkanoo. For the first time ever, travelers from the Denver area can take advantage of non-stop flights to Nassau, The Bahamas just in time for spring 2020 travel. Beginning March 7, 2020, United Airlines launched a Saturday-only, nonstop service between Denver International Airport (DEN) and Lynden Pindling International Airport (NAS) in Nassau. The flight will suspend during the off-peak travel season beginning in August 2020 and commence again on October 21, 2020 on an annual basis.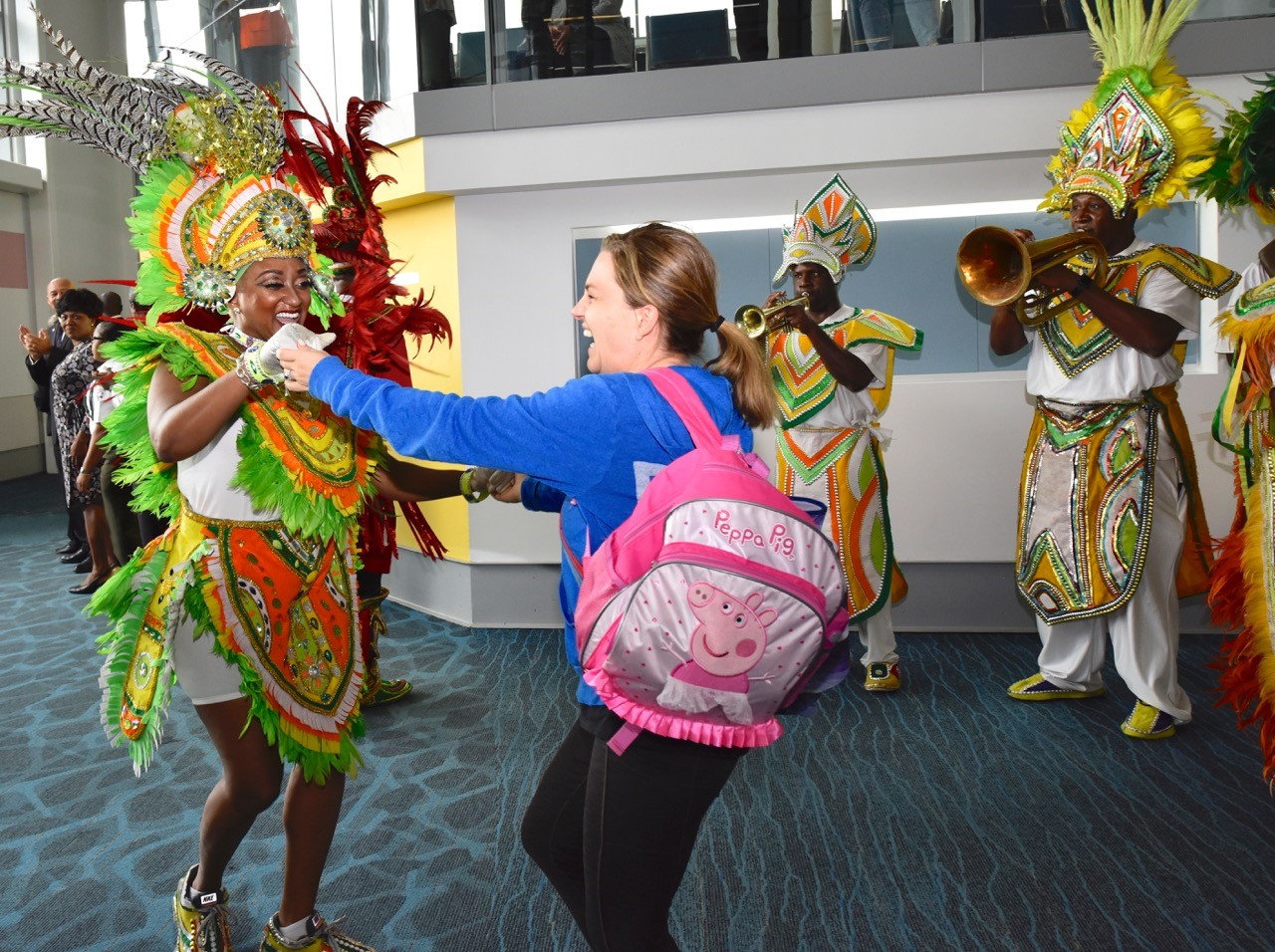 "This is an incredibly proud day for The Bahamas; this flight was met with so much enthusiasm and demand that the flight was upgraded to accommodate an estimated 180 passengers," remarked Dr. Kenneth Romer, Executive Director at the Bahamas Ministry of Tourism and Aviation. "This partnership is exemplary of the commitment from the Ministry of Tourism to diversify our product offering throughout the U.S.," he concluded.
"We are pleased to welcome United Airlines' new service from Denver, Colorado to LPIA. Denver is one of the top 20 originating destinations for travelers coming to our airport. This new route expands our reach into the Denver market and also provides an additional avenue for West Coast passengers in cities like San Francisco and Los Angeles to connect to Nassau," said Vernice Walkine, President and CEO of Nassau Airport Development Company (NAD). Walkine continued, "Over the past three years, United has met the growing demand for the destination by increasing their seat capacity to Nassau by more than 40%. This is significant and their continued confidence in our product is appreciated. Today's outcome is a result of a collaborative partnership with NAD, the Bahamas Ministry of Tourism and the Nassau Paradise Island Promotion Board, and we look forward to working with the team in the future to secure additional service to our airport."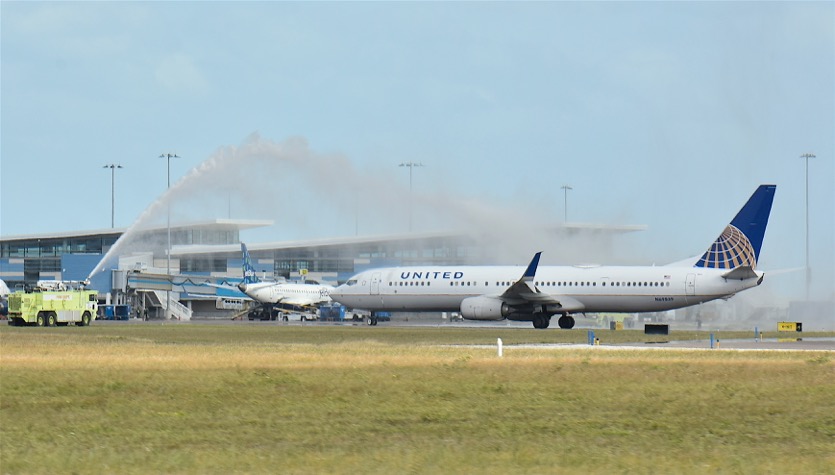 According to tourism officials, there has been an uptick in advanced bookings to the destination with United Airlines solidifying that The Bahamas is a highly sought after vacation destination, and that expectations for the route and the partnership will be positive.
###
Media Contact Rissie Demeritte