Back to top
Bahamas Ministry of Tourism, Investments & Aviation at World Travel Market 2022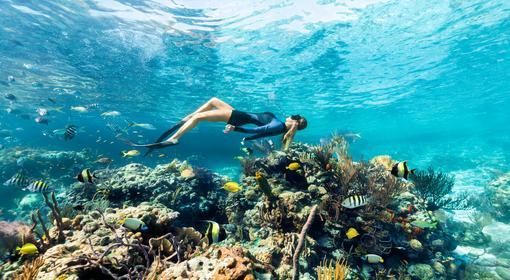 LONDON, United Kingdom, 07 November 2022 — Bahamas Ministry of Tourism, Investments & Aviation (BMOTIA) is exhibiting at World Travel Market 2022, 6-9 November, with a delegation led by the Acting Director General, Latia Duncombe. 
Celebrating its 50th anniversary of independence in 2023 and with some exciting updates and developments from the destination, BMOTIA is looking forward to strengthening its position as a leading Caribbean tourism destination.  
Exhibiting at stand CA150, the team will be on hand to discuss all that's going on across the islands, and media and trade partners will have a chance to be the first to hear The Bahamas' updates, including new hotels, tourism updates and areas of investment.  
Underwater discoveries entice culture seekers 
For travellers keen to learn more about the history of the destination, the recently opened Bahamas Maritime Museum on Grand Bahama allows visitors to rediscover the history of The Bahamas' waters with a fantastic collection of recovered artifacts and treasures showcasing the islands' rich maritime heritage. 
The Bahamas bolsters tourism with fleet of new transport options 
With an uplift in British Airways flights to the nation's capital, Nassau, to six flights per week, coupled with four flights per week with Virgin Atlantic, it is easier to access The Bahamas than ever from the UK. 
The islands are gearing up for the reopening of the Hurricane Hole Superyacht Marina on Paradise Island. Following a complete reconstruction, this will be a real boost to tourism with its sleek new look and ability to accommodate the most luxurious superyachts.  
A new cruise port in the capital, Nassau is set to open in 2023, and will be home to a vast culture and entertainment centre, with shoreside activities, cultural experiences, and world-class performances in a new state-of-the-art facility. In addition, a new multi-million-pound cruise port in Grand Bahama, due to open in 2024, offering the ultimate in shoreside hospitality for this thriving tourism area.   
Long Island is set to develop a $250 million cruise port in partnership with Azul Destinations and Calypso Cove Destinations. Named Calypso Cove, the port is scheduled to open by early 2024 and will accommodate up to 13,000 cruise passengers each day and will feature a 200-room hotel, golf course, casino, and more. 
New and updated resorts across the archipelago  
The Cove in Eleuthera is reopening on 7 November 2022, following a refurbishment of the interiors and refurbishment to its Freedom Restaurant & Grill, as well as introducing an updated fitness experience featuring a dedicated yoga room that will offer guest's guided lessons. 
Club Med Columbus Isle Resort reopens its doors this November, a timely launch ahead of the 50th anniversary celebrations, as San Salvador is widely reported as the first landfall site of Christopher Columbus, in 1492. San Salvador has a rich history but is one of the smallest inhabited islands in The Bahamas. Diverse wildlife and around 50 dive sites attract visitors looking for a unique take on island life. The sprawling beachfront resort will feature over 200 rooms, with complimentary watersports, all-inclusive dining, and entertainment for guests.    
The Abaco Club has announced plans to redefine barefoot luxury with the addition of 36 beachfront villa residences, The Cays and a new club and ocean view restaurant, The Beach House.  
Entry Protocols 
All travelers entering The Bahamas, regardless of vaccination status, are no longer required to apply for The Bahamas Travel Health Visa. Vaccinated travellers no longer need to submit a negative COVID-19 test upon arrival, making travelling to The Bahamas a breeze.  
The Islands of The Bahamas is an archipelago made up of 16 main islands and over 700 smaller islands and cays that exude Caribbean charm, with idyllic landscapes and a rich, exciting culture to uncover.  
Find out more about The Islands of The Bahamas, here: www.bahamas.com  
-Ends- 
ABOUT THE BAHAMAS 
With over 700 islands and cays and 16 unique island destinations, The Bahamas lies just 50 miles off the coast of Florida, offering an easy flyaway escape that transports travellers away from their everyday. The Islands of The Bahamas has world-class fishing, diving, boating, birding, and nature-based activities, thousands of miles of the earth's most spectacular water and pristine beaches waiting for families, couples and adventurers. Explore all the islands have to offer at www.bahamas.com, download the Islands of the Bahamas app or visit Facebook, YouTube or Instagram to see why It's Better in The Bahamas.  
PRESS ENQUIRIES  
Kate O'Brien, Samantha Day, Lucia Cappiello, Stefaniia Konovalova  
FINN Partners  
Visit Stand: CA150 
E: bahamas@finnpartners.com