Back to top
The Bahamas Ministry of Tourism, Investments & Aviation Takes its Global Sales and Marketing Missions to Texas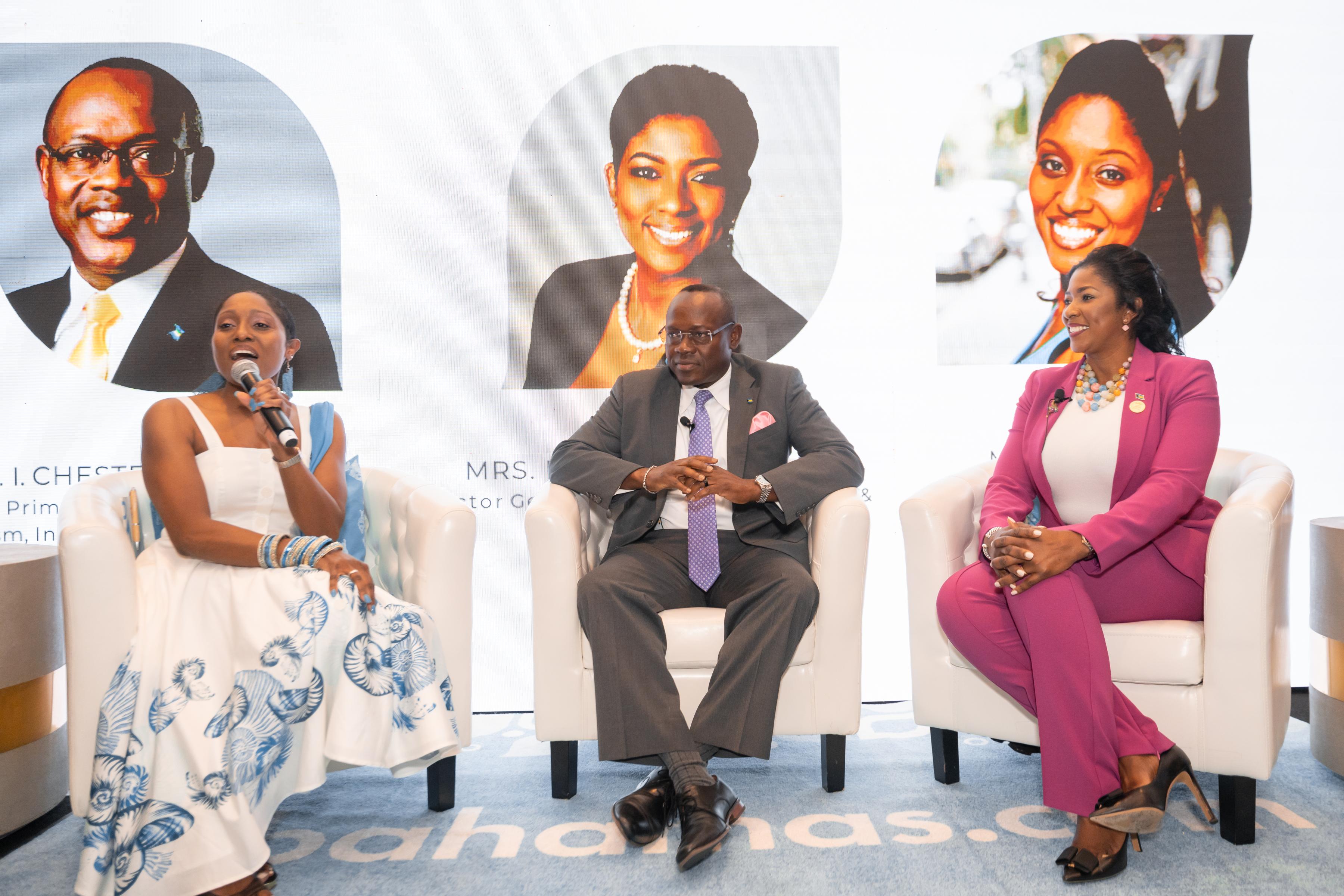 Nassau, BAHAMAS, 20 April 2023 – Last week, the Bahamas Ministry of Tourism, Investments & Aviation (BMOTIA) continued its successful series of Global Sales and Marketing Missions with stops in Dallas, Austin and Houston, Texas. These events are meant to reengage tourism partners and boost visitor arrivals from the area.
The Honourable I. Chester Cooper, Deputy Prime Minister and Minister of Tourism, Investments & Aviation, led a delegation of senior tourism officials, including Director General Latia Duncombe, to participate in a lineup of events. These included meetings with key stakeholders from across the tourism, aviation and investment sectors on partnership opportunities in airlift, sports, business-to-business, technology and more. Each day culminated in culturally inspired evenings at the AT&T Stadium in Dallas on 12 April, Omni Barton Creek Resort & Spa in Austin on 13 April and The Westin Galleria in Houston on 14 April.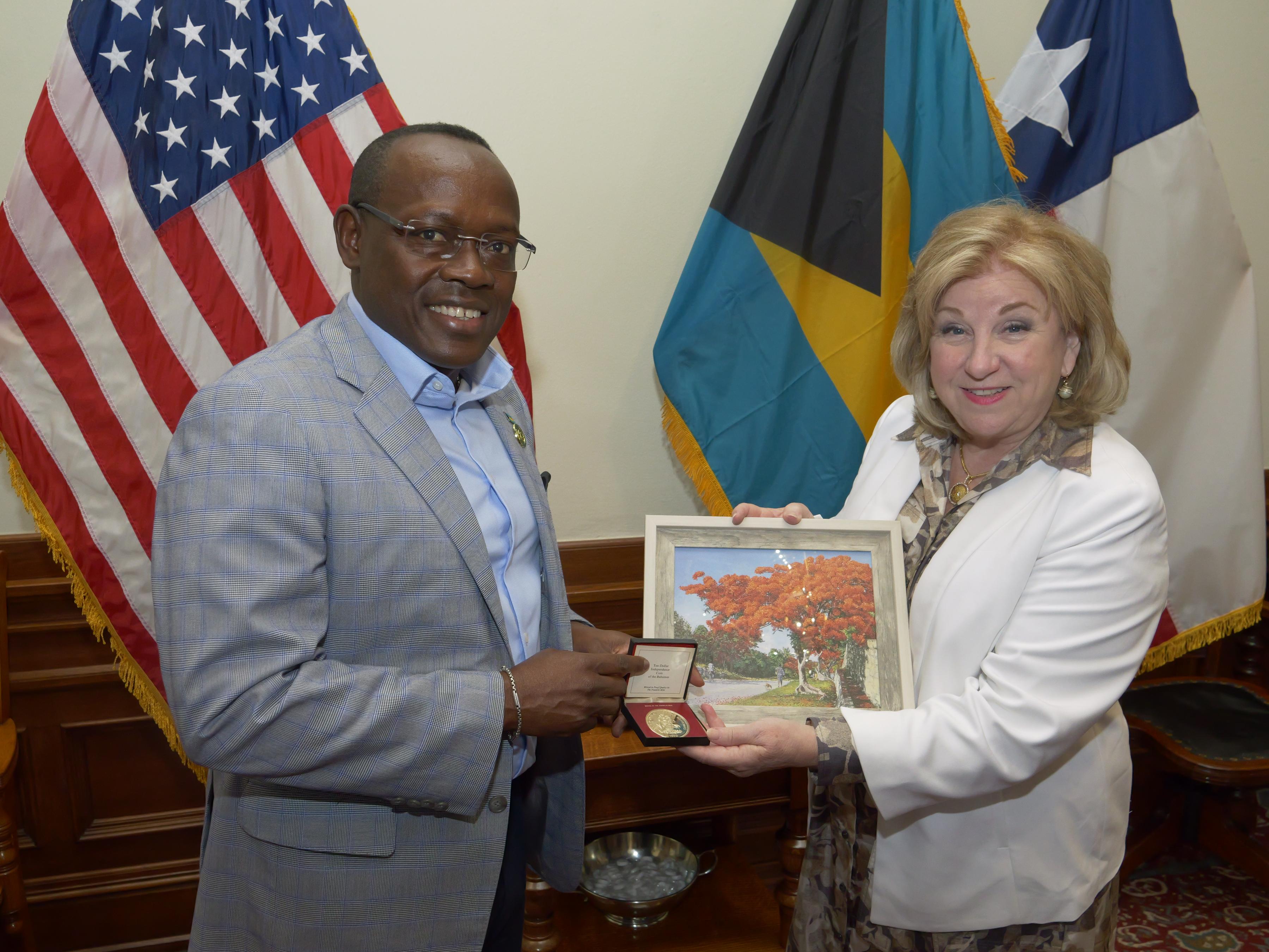 Deputy Prime Minister and Minister of Tourism, Investment & Aviation Chester Cooper makes presentation to Ms. Jane Nelson, Texas Secretary of State, at courtesy call on April 13 during Bahamas Global Sales Missions. 
The Deputy Prime Minister and delegation met with Texas leaders such as Ms. Jane Nelson, Texas Secretary of State; Mr. Sylvester Turner, the Mayor of Houston as well as executives of the Dallas Regional Chamber of Commerce and Visit Austin Tourism Bureau. The delegation also met with major industry partners such as American Airlines and Houston Airport System to advance discussions for more airlift and key sporting organizations such as the Dallas Cowboys and the Houston Rockets to promote The Bahamas' Sports in Paradise initiative.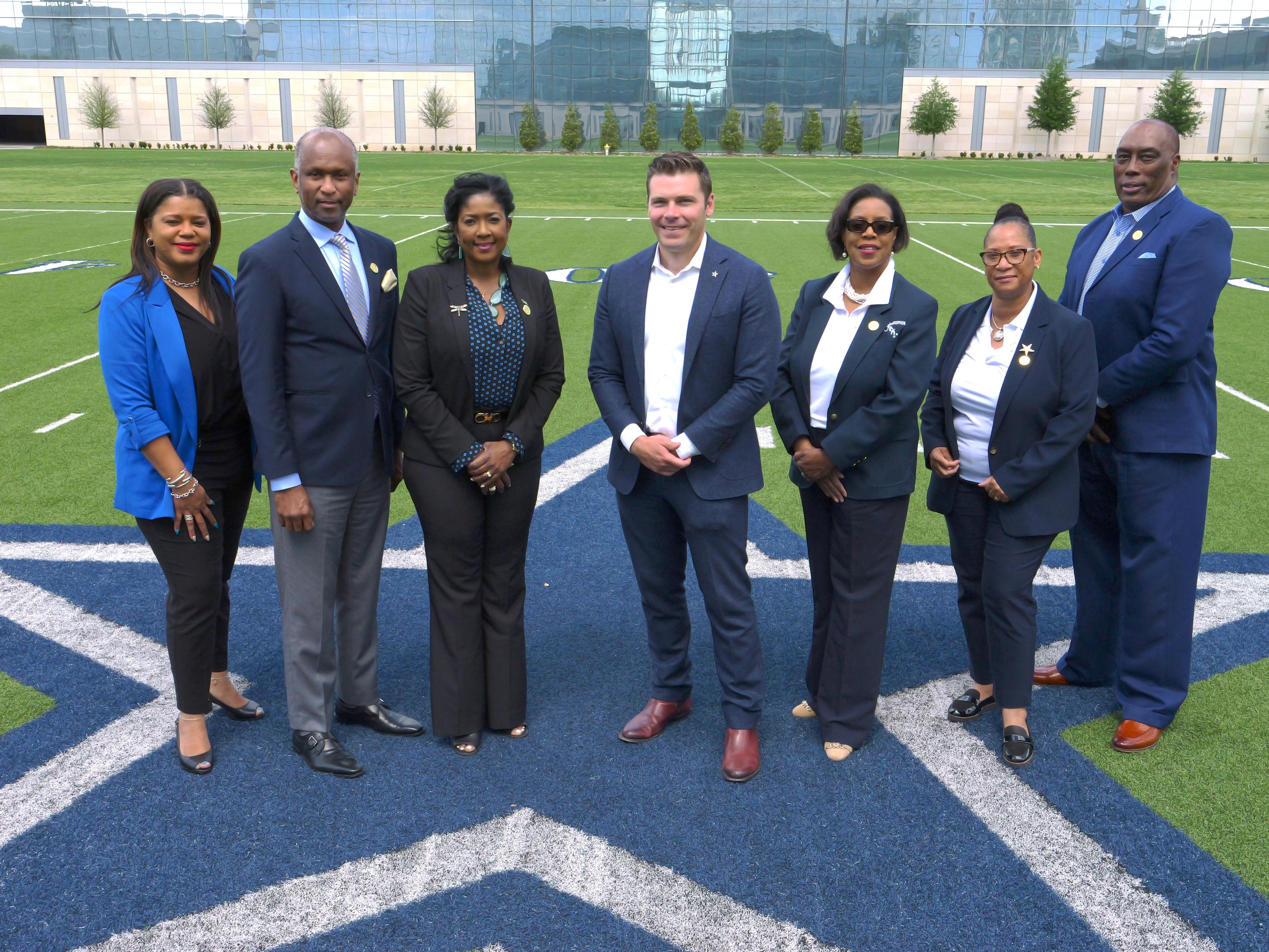 Director General Latia Duncombe leads a team of Ministry of Tourism executives in a high-level meeting with the Dallas Cowboys
In addition, the Deputy Prime Minister and Director General engaged with various local media and influencers across the three cities to strengthen relationships and boost The Bahamas' brand visibility in the market. The pair made a special appearance in-studio in Houston on KPRC-TV, Houston Life, for a live television interview highlighting the many reasons Houstonians should consider visiting The Bahamas.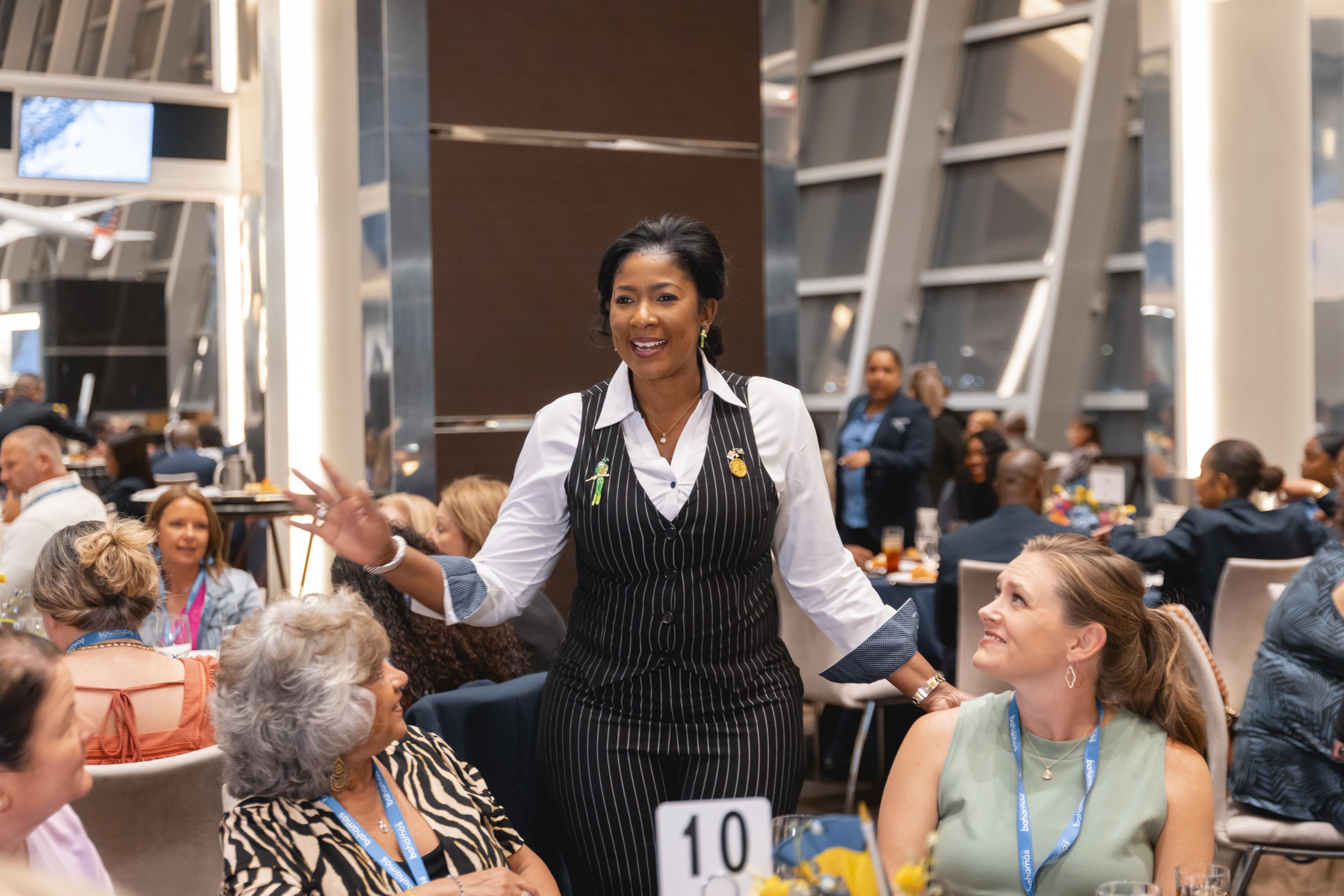 Director General Latia Duncombe greets guests at the AT&T Stadium during the 'Bringing The Bahamas to You' Global Sales Mission in Dallas, Texas on 12 April.
The U.S. Department of State reported 1.6 million Texas residents received a passport in 2022, the largest single year distribution in the last 5 years, specifically making the market ideal for international travel in 2023. With these well-timed sales and marketing events, BMOTIA intends to ensure The Bahamas is at the top of their bucket lists.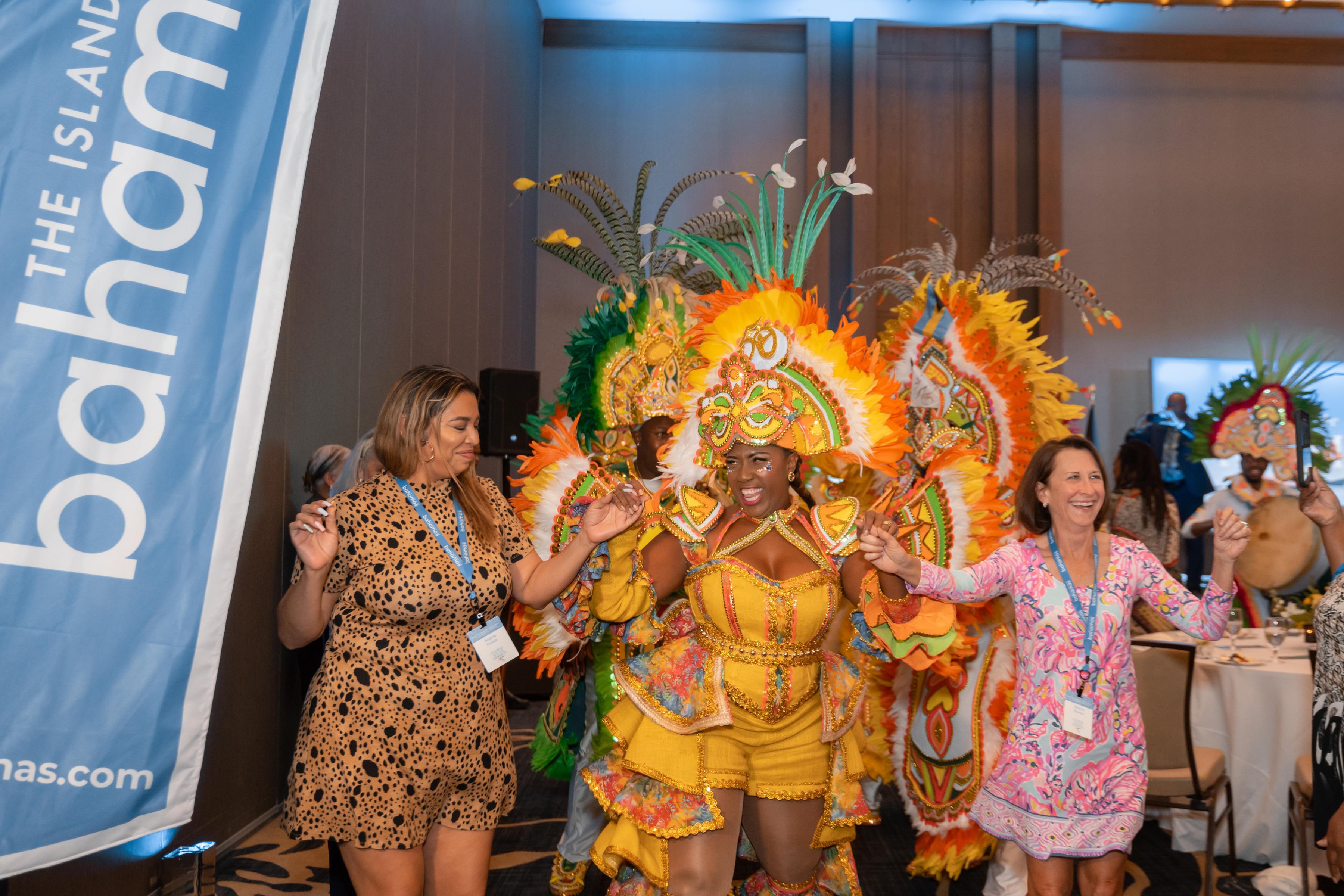 The Bahamas Ministry of Tourism, Investment and Aviation brought Junkanoo to Dallas, Austin and Houston at the "Bringing The Bahamas to You" Global Missions in Texas
DPM Cooper and DG Duncombe, along with BMOTIA executives, destination representatives, and hotel partners, hosted some 600 guests at the evening events, with key industry leaders, sales and trade representatives, stakeholders and media in attendance. Guests were practically transported to The Bahamas via a Bahamian-inspired three-course dinner with cocktails, music and an electrifying Junkanoo performance. A live Q+A panel highlighted The Bahamas' steadily growing tourism numbers, plans for future growth and innovation, the beauty and appeal of its 16 islands, and the many reasons why The Bahamas is a sought-after destination. 
"There is infinite potential in the South-Central region, and these cities are extremely important gateway markets," said DPM Cooper.
"In 2022, five percent of stopover visitors to The Bahamas were from Texas, and those numbers are expected to increase. There is a strong connection to the Bahamian brand, and we want to take advantage of not only the new passport holders, but the more than 30 million residents who call the lone star state home.
"I believe Texas will be another market driving tourism for The Bahamas as we anticipate visitor arrival numbers reaching eight million this year. With direct flights from Houston, Austin and Dallas to our gateway Island of Nassau, Texans can find themselves arriving at our beautiful islands in 3 hours or less by plane. With 16-islands to explore, we know we have something in The Bahamas for every type of traveller."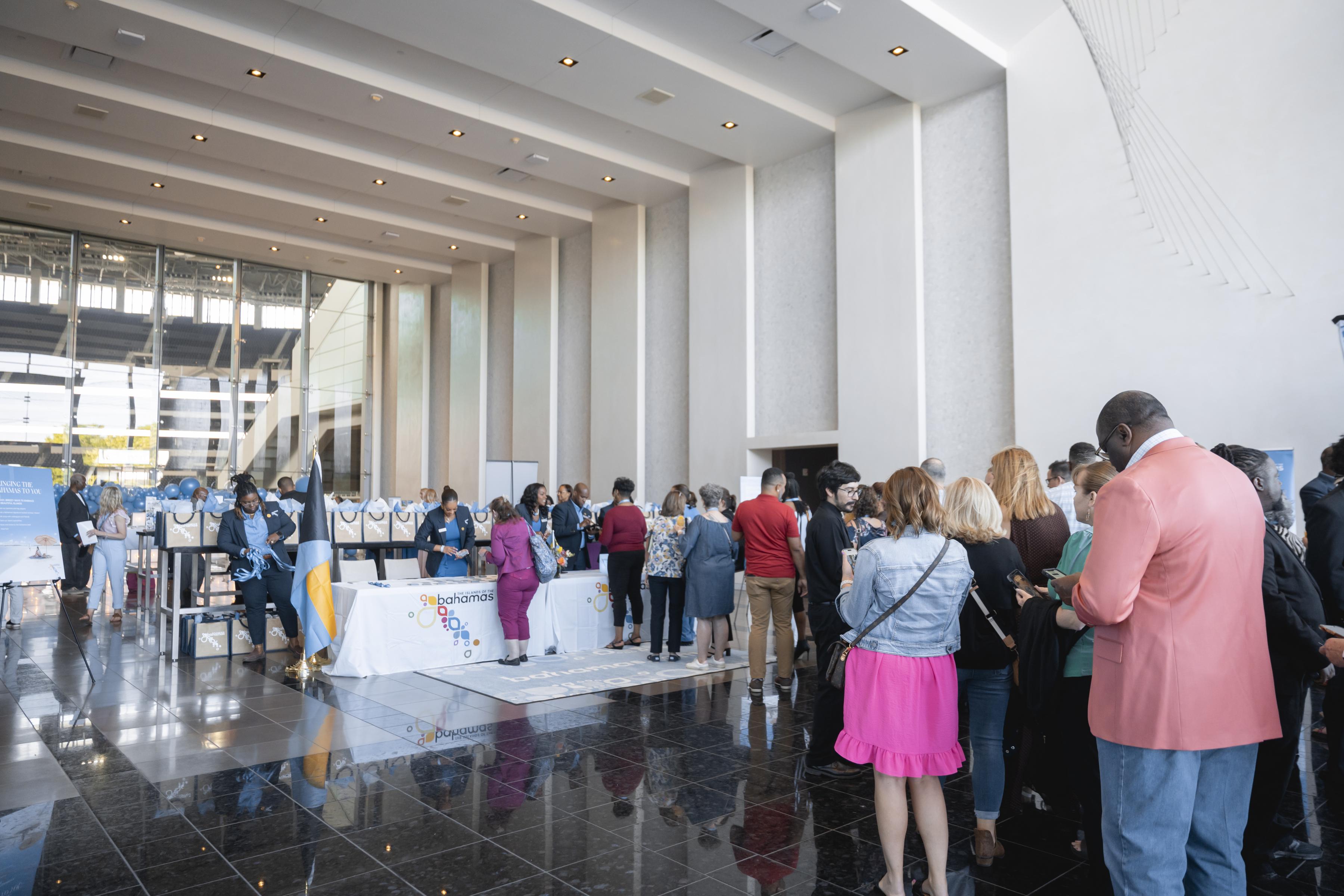 Dozens of guests line up to check in for the 'Bringing The Bahamas to You' Global Sales Mission in Dallas, Texas at the AT&T Stadium on 12 April.
The "Bringing The Bahamas to You" Global Tour kicked off in September of 2022, and to date, has made stops in 11 cities across the United States and Canada. The tour will continue throughout summer 2023, with stops in Los Angeles, California and Atlanta, Georgia. BMOTIA will also be heading to the United Kingdom this fall.
Travellers who book their 2023 Bahamas vacation can expect year-long celebrations, events and festivities as the destination commemorates the golden jubilee milestone of its 50 years of independence. Highlights from the upcoming 50th Independence celebrations include the National Family Island Sailing Regatta; the 50th on Bay Street Festival, an exciting street festival showcasing Bahamian art, cuisine, performances and more; Bahama Rock, a celebration of Bahamian music, and much more.  
For more information, visit www.thebahamas.com. 
#  # #
ABOUT THE BAHAMAS
With over 700 islands and cays, and 16 unique island destinations, The Bahamas lies just 50 miles off the coast of Florida, offering an easy flyaway escape that transports travellers away from their everyday. The Islands of The Bahamas have world-class fishing, diving, boating and thousands of miles of the earth's most spectacular water and beaches waiting for families, couples and adventurers. Explore all the islands have to offer at www.bahamas.com or on Facebook, YouTube or Instagram to see why It's Better in The Bahamas.
PRESS INQUIRIES
 Anita Johnson-Patty
Director, Global Communications
Bahamas Ministry of Tourism & Aviation
Weber Shandwick 
Public Relations