Back to top
The Bahamas Ministry of Tourism, Investments & Aviation Closes Out Historic 15-City Tour of Successful Tourism-Focused Events in North America
From L to R: Senator Hon. Randy Rolle, Actor and Singer Tyrese Gibson, Hon. I Chester Cooper, Deputy Prime Minister, Minister of Tourism, Investments and Aviation, Actress and Director Kim Fields, Bahamas Consul General in Atlanta Anthony Moss, Former Mayor of Atlanta Kasim Reed, Director General Latia Duncombe,  Producer Will Packer, Senior Director Andre Miller, Director Clarence Rolle
NASSAU, Bahamas, 20 Sept. 2023 – This week, the Bahamas Ministry of Tourism, Investments & Aviation (BMOTIA) closed out the last leg of its successful series of Global Sales and Marketing Missions in North America with a visit to Atlanta. The mission to Atlanta sought to reengage tourism partners and reconnect with film and production stakeholders to help boost visitor arrivals from the area and identify new opportunities to develop the Bahamian orange economy.
The Honourable I. Chester Cooper, Deputy Prime Minister (DPM) and Minister of Tourism, Investments & Aviation, led a delegation of senior tourism officials, including Director General (DG) Latia Duncombe, to Atlanta to participate in a number of meetings and events with leaders from across the tourism, investments and film industry. DPM Cooper and senior tourism officials also took part in two culturally inspired evening galas held at Flourish Atlanta on 13 Sept. and the Intercontinental Buckhead on 14 Sept.
Award-winning film producer Will Packer accepts Friends of Bahamas Honor 
Actor and musician Tyrese Gibson accepts Friends of Bahamas Honor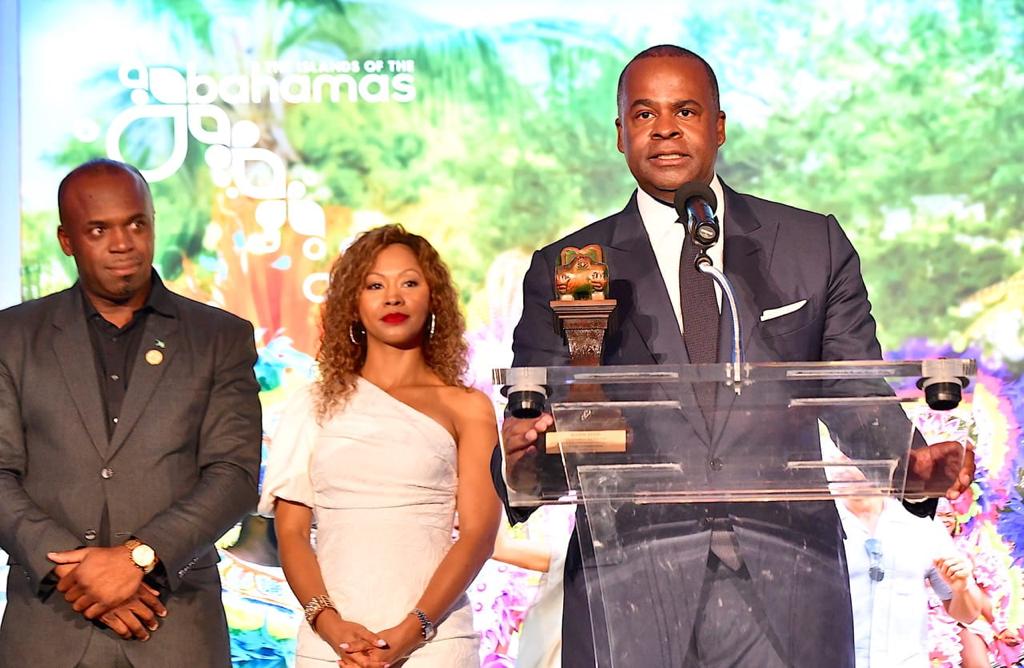 Former Atlanta mayor Kasim Reed accepts Friends of Bahamas Honor 
The first evening event featured a film awards and reception in honour of The Bahamas' longstanding on-screen legacy and deep-rooted pop culture influence, by bringing together film and tourism industry leaders, on-island tourism partners and media. The night culminated with special awards being presented to friends of The Bahamas who are doing trailblazing work in the film and production industry. The individuals honoured included award-winning film producer Will Packer, actor and musician Tyrese Gibson and former Atlanta mayor Kasim Reed, who were given recognition for their partnership and support of The Islands of The Bahamas and the Bahamas Film Commission. 
"We are seeking to advance the entertainment industry in The Bahamas, and we are consistently building on the relationships that have been formed because of The Bahamas' quality tourism product, ease of doing business and reputable global brand," said Deputy Prime Minister Cooper.
"This is the beginning of something exciting for the local film and production industry and this gesture of appreciation is an important jumpstart. We are on this mission to solidify our place in the world, and this is what we call the grand finale of the show."
 
Hon. I Chester Cooper, Deputy Prime Minister, Minister of Tourism, Investments and Aviation alongside Director General Latia Duncombe during a live Q+A panel highlighting The Bahamas' steadily growing tourism numbers and plans for future growth and innovation.
For the second night of industry engagement, DPM Cooper and DG Duncombe, along with BMOTIA executives, destination representatives, and hotel partners, hosted almost 200 guests including sales and travel trade representatives, industry stakeholders and media. A live Q+A panel highlighted The Bahamas' steadily growing tourism numbers, plans for future growth and innovation, the beauty and appeal of its 16 islands, and the many reasons why The Bahamas remains one of the most sought-after destinations.
Director General Latia Duncombe alongside One and Only Ocean Club Chef Jamal Small and Marv "Mr. Mix" Cunningham who curated specialty Bahamian-based bites and cocktails for the mission events. 
On both evenings, guests were transported to The Bahamas via mouth-watering Bahamian-inspired bites by One and Only Ocean Club Chef Jamal Small, island-themed cocktails by Marv "Mr. Mix" Cunningham, rhythmic sounds from the Grand Bahama Royal Bahamas Police Force Pop Band and electrifying Junkanoo performances to close out the celebrations. 
Throughout the mission, the delegation, in collaboration with the Bahamas Consulate General in Atlanta, engaged in high-level meetings with emerging business entities and agencies such as Delta Airlines, the City of Atlanta Department of Aviation, Atlanta Convention & Visitors Bureau, the Metro Atlanta Chamber of Commerce, the Mayor's Office of International and Immigrant Affairs and the Office of the Mayor Film and Entertainment Department.
Deputy Prime Minister, The Hon. I. Chester Cooper interview with host Cara Kneer live on Atlanta & Company, Alive 11 News (NBC)
In addition, the Deputy Prime Minister made a special live in-studio appearance on Atlanta & Company, Alive 11 News (NBC), with Host Cara Kneer to promote the wide range of offerings for guests looking for an island getaway and the nonstop air connections available from Atlanta to the different islands including Nassau, Abaco, North Eleuthera and Exuma.
"When we reflect upon the recently concluded 15-city tour, it was important to highlight the significance of key source markets and the inherent value they bring to The Islands of The Bahamas," stated Director General Latia Duncombe.
"Our approach was strategic and holistic, being sure to hone in on the diverse offerings of our islands through direct engagements with airlines, trade partners, visitors bureaus, educational institutions, and sports agencies. Moving forward, we are committed to further enhancing these foundational connections through vigorous follow-up initiatives."
"With 16 islands that are open for business, it is imperative that the Ministry maintains robust engagement with our key partners to ensure that industry performance remain strong. Our collaboration with the industry has been a cornerstone of this initiative, and the full participation of our on-island partners at each of the missions has been essential. We hope to sustain this high level of engagement, and we are excited to reap the fruits of the seeds we have sown."
The "Bringing The Bahamas to You" Global Missions were launched in the Florida markets in September 2022, starting in Fort Lauderdale and Orlando and continuing throughout New York, New Jersey, Charlotte, Raleigh, Dallas, Austin, Houston, Costa Mesa, Los Angeles and stopping off in cities across Canada including Calgary, Montreal and Toronto before ending in Atlanta, Georgia.  Having completed the missions to major travel hubs throughout the U.S. and Canada, the delegation will be heading to Latin America, Europe and the United Arab Emirates to bring a taste of Bahamian culture directly to key international markets across the globe to inspire travel to the destination.
Travellers who book their Bahamas vacation in 2023 can expect year-long celebrations, events and festivities as the destinationcommemorates a golden jubilee milestone of 50 years of independence. For more information, visit www.thebahamas.com.
#  # #
ABOUT THE BAHAMAS
With over 700 islands and cays, and 16 unique island destinations, The Bahamas lies just 50 miles off the coast of Florida, offering an easy flyaway escape that transports travellers away from their everyday. The Islands of The Bahamas have world-class fishing, diving, boating and thousands of miles of the earth's most spectacular water and beaches waiting for families, couples and adventurers. Explore all the islands have to offer at www.bahamas.com or on Facebook, YouTube or Instagram to see why It's Better in The Bahamas.
PRESS INQUIRIES
Anita Johnson-Patty
Director, Global Communications
Bahamas Ministry of Tourism & Aviation