Bahamas Building On Its Partnership With EAA AirVenture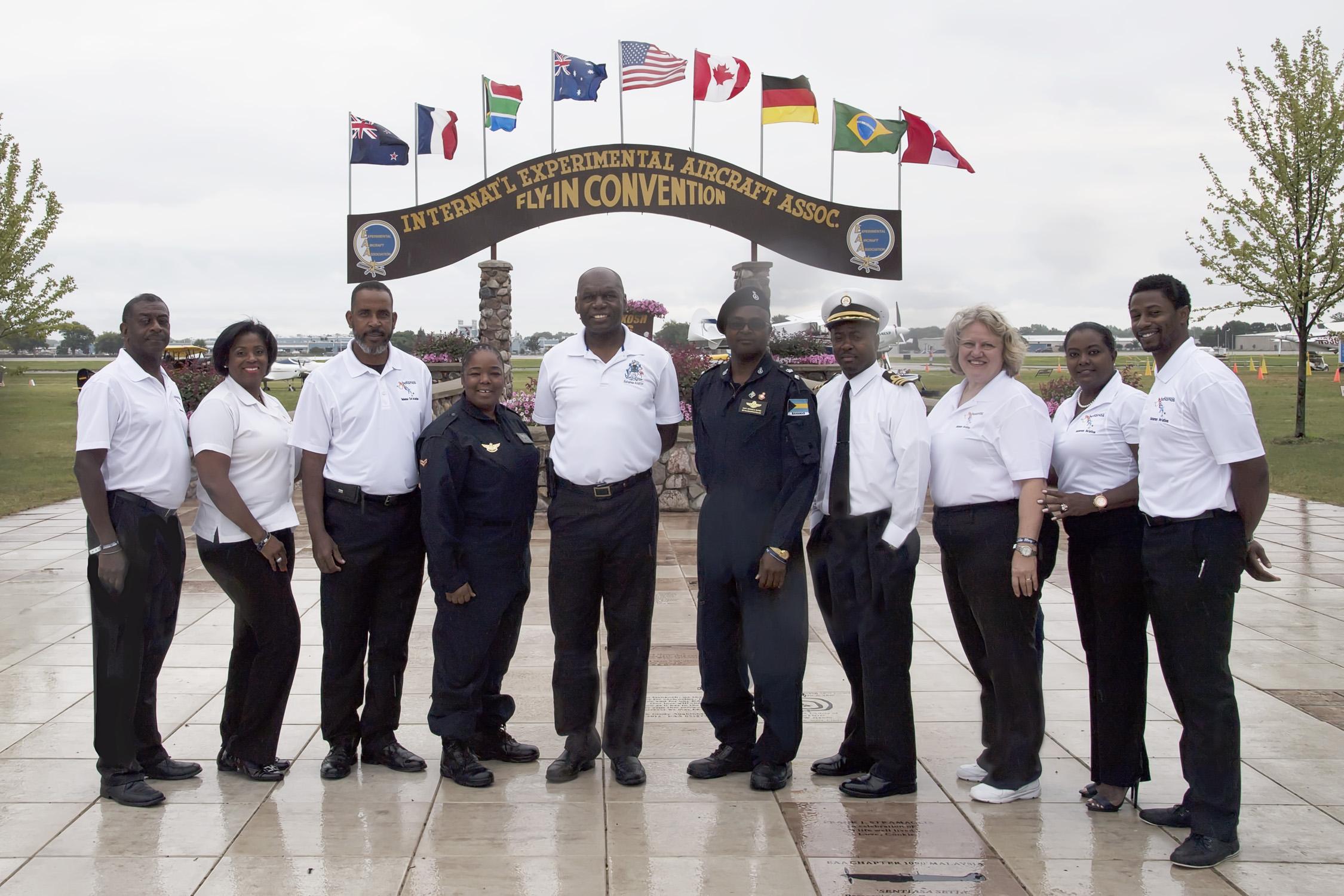 OSHKOSH, Wisconsin – August 1, – The2016 Experimental Aircraft Association (EAA) AirVenture Convention, held July 24-31, 2016 at the Wittman Regional Airport in OshKosh, Wisconsin ended successfully for the organizers of this event, but even greater for the Islands of The Bahamas.  The Bahamas was the sole foreign country featured in the International Federal Partnership (IFP) Pavilion during the eight days convention.     
The EAA AirVenture, the largest aviation convention in the world attracted more than 800,000 aviation enthusiasts and some 11,000 aircrafts ranging in size from home built to war jets and featured daily air shows with amazing aerobatic acts from synchronized formations to parachute jumpers and daring wing-walking stunts.
Captain Greg Rolle, Pilot and Sr. Director of Sales, Marketing and Sports for the Bahamas Ministry of Tourism (BMOT) led a Bahamian delegation which comprised representatives from the BMOT, Royal Bahamas Police Force, Bahamas Customs, Department of Civil Aviation and hoteliers from Grand Bahama and Eleuthera. 
Captain Rolle, who in 2012 became the first non North American to serve as Chairman of the prestigious EAA AirVenture Organization, said he "could not have been more pleased with the Bahamas' performance and visibility as this year's convention".
"We have seen tremendous interest in and growth to The Bahamas since our involvement with EAA AirVenture began more than a decade ago, however, our presence and achievement at this year's convention have risen to a new level.  The media exposure we received on WOSH 1490 AM and EAA FM radio stations coupled with our high visible brand at the exclusive Federal Pavilion was phenomenal.   Not only have we strengthened our partnership with the US Federal government agencies this year, we are proud of the historic announcement made at this year's convention from the National Oceanic Atmospheric Administration (NOAA)".
NOAA, which recognized and awarded The Bahamas as the first "Weather Ready Nation Ambassador", a designation given to countries committed to the education, preparedness and protection of its citizenry, visitors and communities will also provide The Bahamas with additional resources during weather conditions.
"The partnership we have established with NOAA will aide in our planning and simultaneously, greatly lessen the fear of private pilots flying to The Bahamas during the hurricane season, which runs June through November each year and is also a busy tourism period for us".
"Additionally, the responses from pilots who attended our daily seminars on Flying To The Bahamas were very encouraging and rewarding, particularily as our collaborative government agencies made up of members of Bahamas Customs, Civil Aviation, Royal Bahamas Police Force and our flying ambassadors, were readily available to address the easiness, safety and regulations for flying into The Bahamas.  As a result of this, we actively engaged these pilots, who are committed now more than ever in conducting additional fly outs to The Bahamas, which we know will generate a substantial economic boost particularly for our Family Islands," said Captain Rolle.
"The aviation industry is crucial to the overall success of tourism in the country.  As such, we are also pleased of the high level talks we had with senior officials from the Aircraft Owners and Pilots Association (AOPA) on the further growth of our aviation industry.  AOPA, which has a membership of more than 400,000, has committed to assisting us with our aviation initiatives, beneficial to our young eagles, interested in pursuing a career in the industry. Additional details of our partnership with AOPA will be announced at the 2017 Grand Bahama Air Show," he concluded.
In April 2016, the BMOT held the first Grand Bahama Airshow.  The successful two day event which attracted thousands of residents, visitors and the international media, was an overwhelming success and was forged out of its partnership with Sun n Fun.
The BMOT team was also successful in its meeting with officials from Auburn University and secured two academic scholarships, for Bahamian students interested in pursuing a career in aviation.  Auburn, is one of the largest public research universities in America.