Back to top
Bahamas All-Stars To Match Up Against Miami Dolphins Legends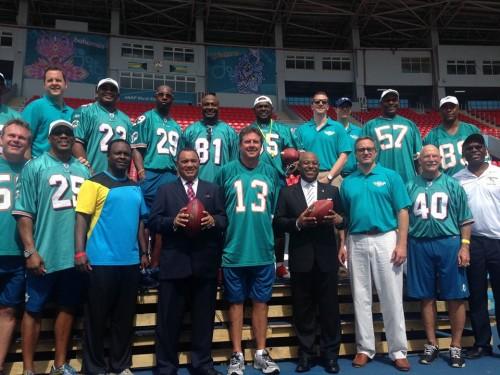 Officials in the Ministry of Tourism are gearing up for the first-ever Dan Marino and Friends Football game where Miami Dolphins Legends will have an exciting match up against the Bahamas All-Star Team, which includes Bahamian dignitaries, the Bahamas Flag Football League and the Commonwealth Football League.
The game will be held at the Thomas A. Robinson Stadium on Saturday, February 21 at 5:00 p.m. Admission is free.
It's the last event in the much-anticipated Dan Marino and Friends Weekend that will bring 18 Miami Dolphins Legends to The Bahamas this week.The legends include Hall of Famers Dan Marino, Nat Moore, Mark Duper and Mark Clayton. General Manager in the Sports Tourism Department Virginia Kelly said the Bahamas All-Star Team is already preparing to match up against the Miami Legends.
"The Bahamas team is very excited about this opportunity to play with such legendary football players such as Hall of Fame Quarterback Dan Marino and the other great Dolphins who will also be participating in the game," she said.
Ms. Kelly encouraged Bahamians, who are Miami Dolphins fans, to come out.
"Many of the Dolphin fans are season ticket holders or have attended Dolphin home games at the Sun Life Stadium and this will be their first opportunity to see these legendary players up close and personal right here in our national stadium," she said. "Also for Dolphin fans, this will be the first time in many years that they would see Dan Marino, Nat Moore, Mark Duper, Mark Clayton and other Dolphin greats play together in a football game."
The Ministry of Tourism currently has a five-year agreement with the Miami Dolphins that brings the Dan Marino and Friends every year during that period and provides The Bahamas with a new platform to promote the destination. Ms. Kelly says this opens new doors for tourism.
"This affords us the opportunity to showcase the Islands of The Bahamas to thousands of Dolphins fans through in-stadium Bahamas promotions and on their digital platform," she said. "This partnership also affords The Islands of The Bahamas the opportunity to partner with Dan Marino, the Miami Dolphins Alumni and the Miami Dolphins with their corporate partners and civic organizations."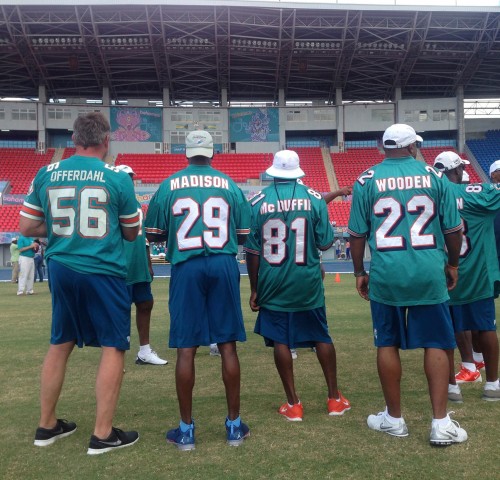 Mr. Moore said the NFL stars are also looking forward to getting back on the field. "We're extremely excited about getting back together again as a team, and playing an all-star game against The Bahamas' team in the Thomas A. Robinson National Stadium. We know about the great athletes that come from The Bahamas and feel that this will be challenging but a lot of fun," he said. "Some of the greatest Dolphins fans in history are the Bahamian Dolphins Fans, and to bring Marino and his legendary friends to Nassau to perform for the fans in The Bahamas is special."