Air Canada Vacations Offering Flights to The Exumas Starting December 19, 2021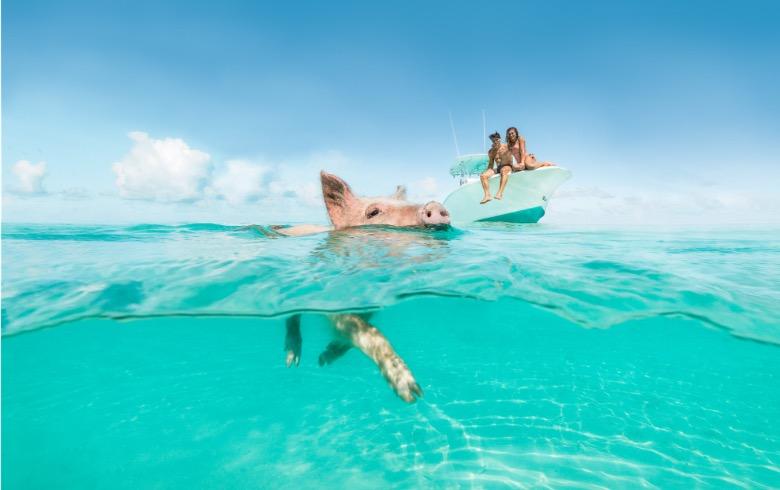 THE EXUMAS (OCTOBER 18, 2021) – The Exumas are expected to welcome an increase of Canadian visitors over the winter season as Air Canada Vacations announces the operation of direct flights from Toronto to  George Town, commencing December 19, 2021. The Airbus A220-300 flights will run once a week on Sundays until April 17, 2022, departing at 9:30 a.m. from Toronto's Pearson International Airport and arriving in The Bahamas by 1 p.m. 
The Islands of The Bahamas newly appointed Deputy Prime Minister and Minister of Tourism, Investments & Aviation, the Hon. I. Chester Cooper, said: "We are excited to welcome new and returning Canadian visitors who want to escape the winter weather, to visit and enjoy the beautiful Out Island of Exuma."  He continued, "Air Canada Vacation's direct flight from Toronto Pearson to George Town not only benefits travellers but also the local community on Exuma."
Nino Montagnese, Vice President, Air Canada Vacations said: "As the demand for leisure travel continues to grow, we're ready to advance the recovery of our industry by meeting the needs of travellers from all walks of life.  We want to entice Canadians to dream of relaxation, adventure and sunnier days ahead.  Exuma provides the perfect breathtaking backdrop for those dreams."
Effective November 8, 2021, Air Canada will also be offering daily flights from Toronto to Nassau, and beginning in December, weekend flights will be available from Montreal to Nassau.
The Bahamas Ministry of Health and Wellness has put forward a number of COVID-19 protocols to ensure the safety of its residents, airline essential workers and visitors. The following protocols will be in effect to protect their health and safety:
All persons travelling to 

The Bahamas are required to apply for a Bahamas Travel Health Visa at travel.gov.bs. Effective October 1, 2021, a Travel Health Visa will no longer be required for inter-island travel within The Bahamas.

 
All arriving passengers, vaccinated and unvaccinated

, 

as part of the Bahamas Travel Health Visa application, will be required to opt in to COVID-19 health insurance that covers them for the duration of their stay in The Bahamas. The cost of insurance is included in the Bahamas Travel Health Visa application fee. 
Fully vaccinated travellerswill be required to upload negative Rapid Antigen test results in addition to valid proof of vaccination (Provincial government issued vaccine record card). 
Unvaccinated Canadians travelling to The Bahamas would have to obtain and present an rt-PCR test and would also be required to take a Rapid Antigen test on the 5th day of their stay.
As of August 6, 2021, all children, between the ages of 2 and 11, wishing to enter The Bahamas will be required to obtain a negative COVID-19 test (either a Rapid Antigen or PCR test), taken no more than five (5) days prior to the date of arrival in The Bahamas. All children under the age of 2 are exempt from any testing requirements.
To know more about the protocols in detail you can click here.       
ABOUT THE BAHAMAS
With over 700 islands and cays and 16 unique island destinations, The Bahamas lies just 50 miles off the coast of Florida, offering an easy fly away escape that transports travellers away from their everyday. The Islands of The Bahamas have world-class fishing, diving, boating and thousands of miles of the earth's most spectacular water and beaches waiting for families, couples and adventurers. Explore all the islands have to offer at www.bahamas.com or on Facebook, YouTube or Instagram to see why It's Better in The Bahamas.
PRESS INQUIRIES
Anita Johnson-Patty
Director, Global Communications
Bahamas Ministry of Tourism, Investments & Aviation
ajohnson@bahamas.com
ABOUT AIR CANADA VACATIONS
Air Canada Vacations is a leading vacation expert that has been delivering unparalleled travel moments to Canadians for over 35 years. A repeat recipient of the Consumer's Choice Award, the tour operator offers tailored vacation packages and cruises that fit each traveller's individual needs. With convenient connectors from several Canadian cities and a wide array of destinations across Mexico and the Caribbean, Central and South America, Europe, Canada and the USA, Air Canada Vacations makes travelling easy, so that Canadians can focus on creating lasting memories.  Air Canada Vacations packages include flights on board Air Canada and Air Canada Rouge, and the ability to earn and redeem Aeroplan® Points. To learn more about making your dreams travel, visit aircanadavacations.com.