7th Annual West End Snapper Tournament & Festival Press Conference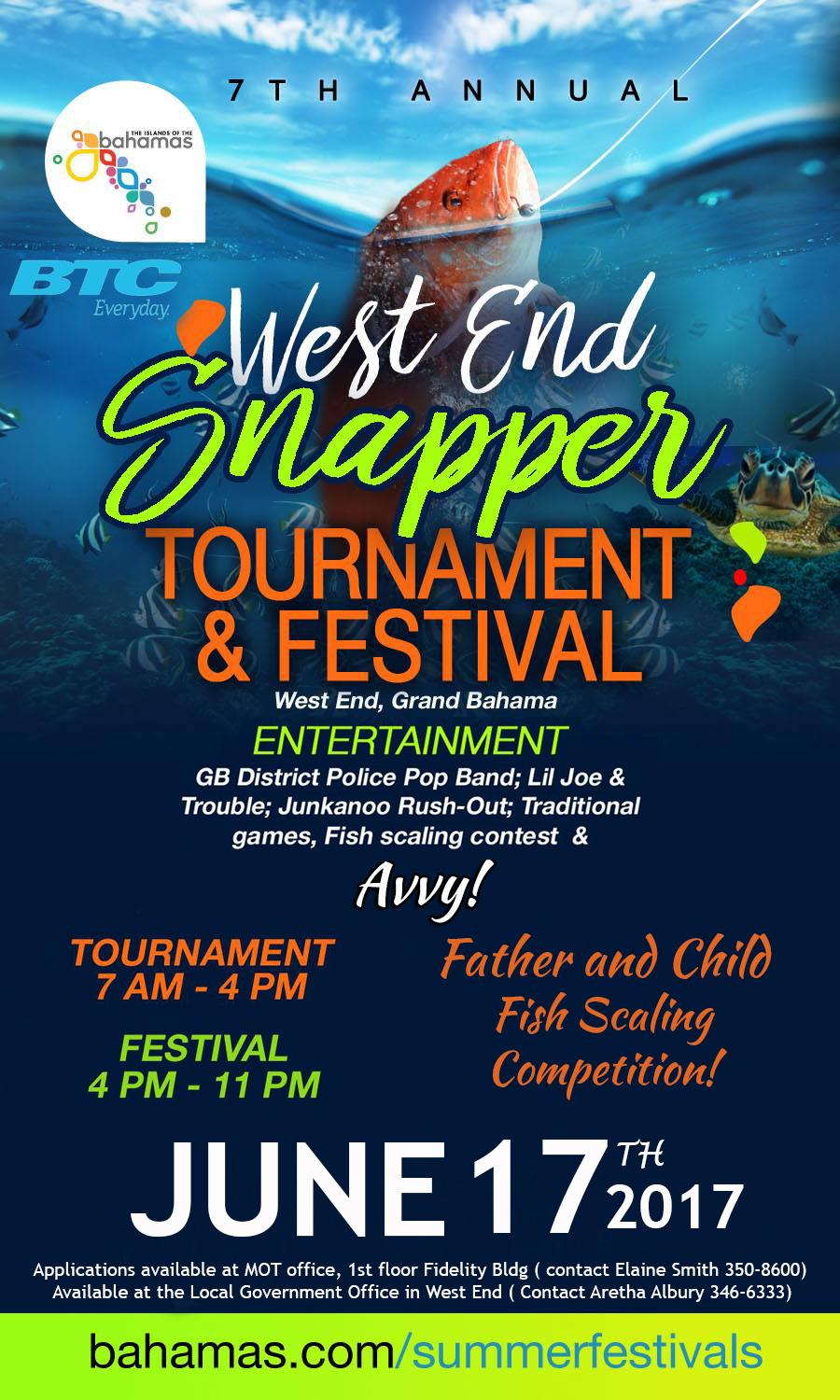 On Tuesday, June 13th, the Ministry of Tourism's Product Department, along with family members of this year's festival honoree, Hortense Louise "Ma Tenza" Roker, held a press conference to announce the 7th Annual West End Snapper Tournament and Festival, Saturday, June 17th, 2017.
The annual event, set to take place in West End, the fishing capital of Grand Bahama Island, will begin on Saturday morning with a highly competitive fishing tournament commencing at 7am through to 4pm.
Anglers will compete for the win in categories, including Overall winner- largest poundage of snapper caught; Largest fish caught – any type, and Most fish caught- any type.
At the conclusion of the snapper tournament, visitors and residents alike will be able to participate in and enjoy an engaging and entertaining cultural festival from 4pm until11pm, featuring traditional games and competitions for all ages.
This year, in recognition of Father's Day, festival organizers have added a special father and child team category to the fish scaling competition, which, according to the organizers, is an attempt to cultivate father and child bonding.
With such a strong emphasis on family bonding, families will have the chance to not only partake in the festivities but to also take in the sights and fishing culture of the West End Community.
Elaine Smith, Coordinator, Product Department, MOT, GBI said that "The Ministry of Tourism is pleased to partner in the initiative and acknowledges the potential for a significant economic impact to the local community and the island as a whole". 
While in West End, attendees of the 7th Annual Snapper Tournament and Festival will enjoy some of the best and freshest seafood on the island, along with typical native Bahamian meals and beverages, all while soaking up the culture and excitement of the event.
With live performances by the G.B. District Police Pop Band, Lil Joe & Trouble, a Junkanoo rush out, and Avvy, festival goers can expect nothing but a good time in the West.
Registration for the 7th Annual West End Snapper Tournament and Festival is currently in process and will be ongoing until the morning of the tournament.
Those interested in participating in this year's tournament can register their boat for $175 with a maximum of 4 persons per boat at the Ministry of Tourism and at the Local Government office in West End.
Special thanks to the Ministry of Tourism, W.E.C.A.N. Committee, H. Forbes Charter, BTC, West End Township, Chances, Express Food Mart, G.B. Port Authority, Jamaican Delight, West End Foundation, Freeport Roofing & Construction Company, and Coffee on the Bay.

About this Year's Honoree
Hortense Louise "Ma Tenza" Roker was born in the picturesque seaside village of West End.  Growing up under the watchful eyes of her uncle, George Wilchcombe (a fisherman) and his wife Clem, many of Ma's days were spent along the seaside with her cousins Sylvia, Stella, and Billie.
"Ma Tenza" enjoyed boating in the harbour, even though she was unable to swim. If the writer Ernest Hemingway, who wrote the book "The Old Man and the Sea," were alive today, he would write another book, "Ma Tenza and the Sea." In this book he would highlight her prowess as a woman who could handle a boat like any man.
The McClean's Town Annual Conch Cracking Contest was another main event on Ma Tenza's Calendar. She was an avid competitor, having won many trophies to prove her skill at the sport. At her final competition in 2003, she captured the 3rd Place Trophy at the age of 82 years. 
Hortense "Ma Tenza" Roker was a true "Island Girl" who embraced all of the natural beauty and resources that West End offered.