7th Annual Grand Bahama Open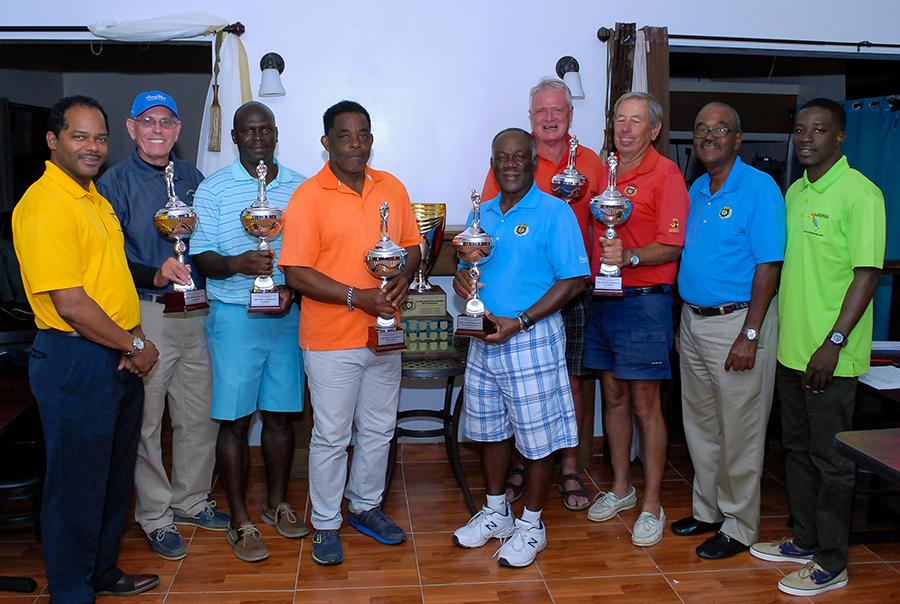 The 7th Annual Grand Bahama Open Golf Tournament, held March 4th-5th, 2017, was a resounding success for the 52 players who competed in the two–day event at the Lucayan Reef Golf Course.
Amidst the high winds that plagued the course, local golfers from Abaco and New Providence, along with international players from the United States, showed up each day to compete in the various categories for a chance to win one of the six coveted cups.
During the awards ceremony held on Sunday, February 5th, cup winners were announced as follows:
Professionals, Percy Major Cup - Greg Maycock, Score: 153
0-6 Handicap, Chris Harris Cup – Peter McIntosh, Score: 64
7-12 Handicap, Vernon Wells Cup- Vernon Wells, Score: 64
13-18 Handicap, Carlton Harris Cup – Jeff Morasco, Score: 65
19+ Handicap, Arthur Taylor Cup, Rich DeVries Score: 73
Super Seniors (over 60), Caleb Hepburn Cup, Oswald Moore, Score: 63
Chris Harris, past Chairman of the Northern Region of the Bahamas Golf Federation, in speaking about the early stages of the tournament's development, said that as a result of the sport of golf becoming so slow on Grand Bahama, a few years ago, the federation decided to launch the tournament to build up the sport.
He added that the tournament has been a success from the very beginning, and appealed to more persons, especially the females and juniors to participate in upcoming events.   
According to Ambrose Gouthro, Chairman of the Northern Region of the Bahamas Golf Federation, the association is moving quickly towards its remaining events for the year.
He said that the schedule will be highlighted by the Bahamas National Amateur Open, which is anticipated to be played in Nassau on four different courses.
Each of the names of the winners from the Grand Bahama Open will be engraved on the Sands Beer Cup, a floating cup that will move throughout the various courses as different tournaments are played.
Nuvolari Chootosingh, Sports Tourism Manager, spoke to the need to build up the golf community, and by extension, the destination of Grand Bahama Island.
He explained that "One of the major aspects of us repositioning Grand Bahama Island is sports tourism, and a major component of that is the game of golf."
He added that "Golf represents so much for Grand Bahama, even though we [Grand Bahama] have lost a number of golf courses here, we still want to try and put on as many golf tournaments as possible and invite visitors to our shores."
Winners of all Cups (pictured from left) - Nuvolari Chootosingh, Manager of Sports Tourism (MOT); Vernon Wells; Peter McIntosh; Greg Maycock; Oswald Moore; Rich DeVries; Jeff Morasco; Marvin Bethel, VP (BGF); Jay Philippe, Assistant Manager of Sports Tourism (MOT)