7th Annual Grand Bahama Open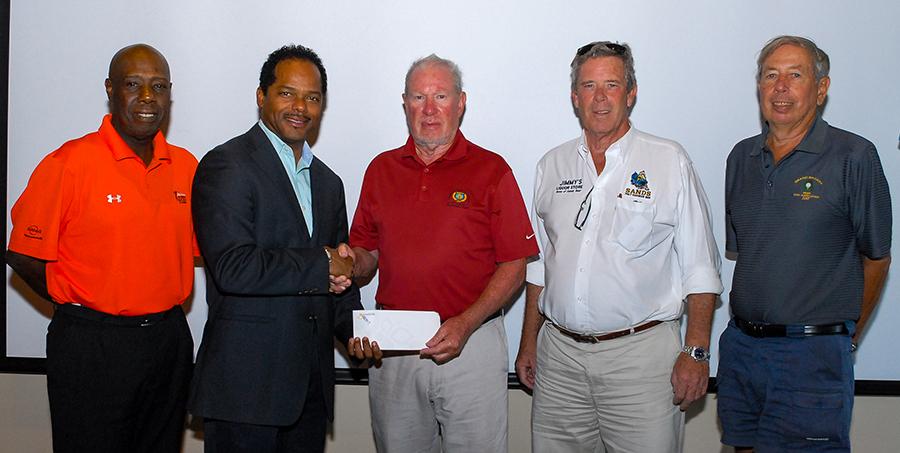 On Thursday, February 9th, the Northern Region of the Bahamas Golf Federation held a press conference to announce the 7th Annual Grand Bahama Open Golf Tournament, March 4th – 5th, 2017 at the Lucayan Reef Golf Course.
The event, which was initially scheduled for October of 2016, was rescheduled due to the passage of Hurricane Matthew at the beginning of October.
As Grand Bahama Island is no novice to professional golf, local organizers are optimistic of the continued partnership with the Ministry of Tourism (Title Sponsor) and are working to bring about a resurgence in the island's golf sector.
According to Ambrose Gouthro, Chairman of the Northern Region of the Bahamas Golf Federation, "The Bahamas Golf Federation is using the Grand Bahama Open as the first in a series of golf events for a PGA FedEx Cup type golf competition, and it is being named "The Sands Beer Cup".
Owner of Bahamian Brewery, Jimmy Sands, assured the press that the design for the Sands Cup would be a local one and would be something that all Bahamians would be proud of.
Speaking to the major thrust that the Ministry of Tourism is now putting behind the sport, Nuvolari Chootosingh, Sports Tourism Manager, explained, "Golf is a major component of our tourism industry, it attracts golfers from around the world, and this tournament gives us that opportunity to bring more visitors to the island".
The individual golfing event is expected to attract some 72 players from throughout The Islands Of The Bahamas the Caribbean, the United states and Canada.
According to Gouthro, the aim is to have12 players signed up for each of the six flights
He added that, this year, the federation has decided to recognize a number of golfers who have made significant contributions to the world of golf by awarding the winner of each of the six flights with a replica of a cup named after the following outstanding golfers: Percy Major, Chris Harris, Vernon Wells, Carlton Harris, Arthur Taylor and Caleb Hepburn.
The cost of the two-day tournament is $175.00 and includes two rounds of golf, a gift bag, a Pairings Party on March 3rd, a Scoring Party on March 4th, an Awards Presentation on Sunday, March 5th and prizes.
Persons interested in participating may do so by registering at any golf course in The Bahamas or on the Bahamas Golf Federation's website, www.bahamasgolf.org.