3rd Annual Tour de Grand Bahama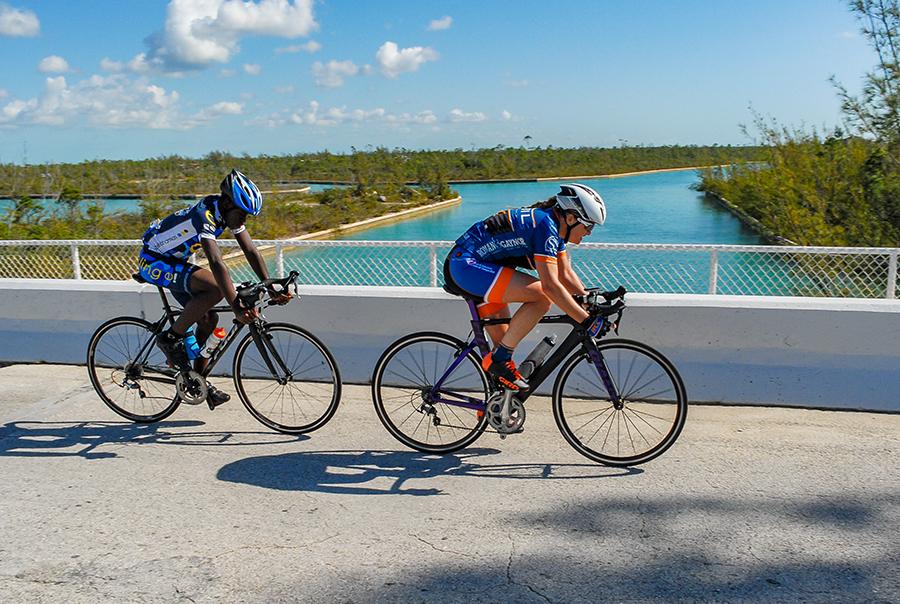 On Saturday, February 4th, the Grand Bahama Cyclists Club's 3rd Annual Tour de Grand Bahama kicked off with a total of 17 cyclists riding along the streets of Grand Bahama Island.
The two-day event, sponsored by the Ministry of Tourism and the Grand Bahama Tank Cleaning Company, featured a time trial on Saturday, February 4th, and a 78-mile bike ride from Mclean's Town to West End on Sunday, February 5th.
All participants had the option of racing the full course or biking shorter distances, as outlined in the registration process.
With an opportunity for the cyclists to show off their skills, everyone rode their hardest for the coveted winning prize and prestigious title.   
Tara Smith, a resident of Denver Colorado, visited Grand Bahama Island for the third time to participate in this year's Tour de Grand Bahama.
Smith, who won first place overall in the women's division, said that "The race was very hard and well put together. People are so nice and welcoming here on the island, so I'm trying to get more people out to race".
Just several days before the competition, local champion Anthony Colebrooke noted that he expected to beat his contenders and had been training rigorously to do so.
With an average of 27 miles per hour, Colebrooke's raw talent shone through on Saturday as the 21-year-old regained the title of Overall Winner in the men's division.
Jay Phillippe, Assistant Manager, Sports Tourism, Grand Bahama, noted that "The Tour de Grand Bahama was a very successful event in my opinion. When you think about Sports Tourism, we have events that drive people to the destination for the purpose of competitive recreation".
He added that "It's going to help our economy and that's what it's all about".
The Tour de Grand Bahama was the first sporting event of the 2017 athletic season on Grand Bahama Island.
With competitors from New Providence and the United States, local organizers shared that there are high hopes for the continued growth of the competition in the future.