3D Archery Competition Comes to The Bahamas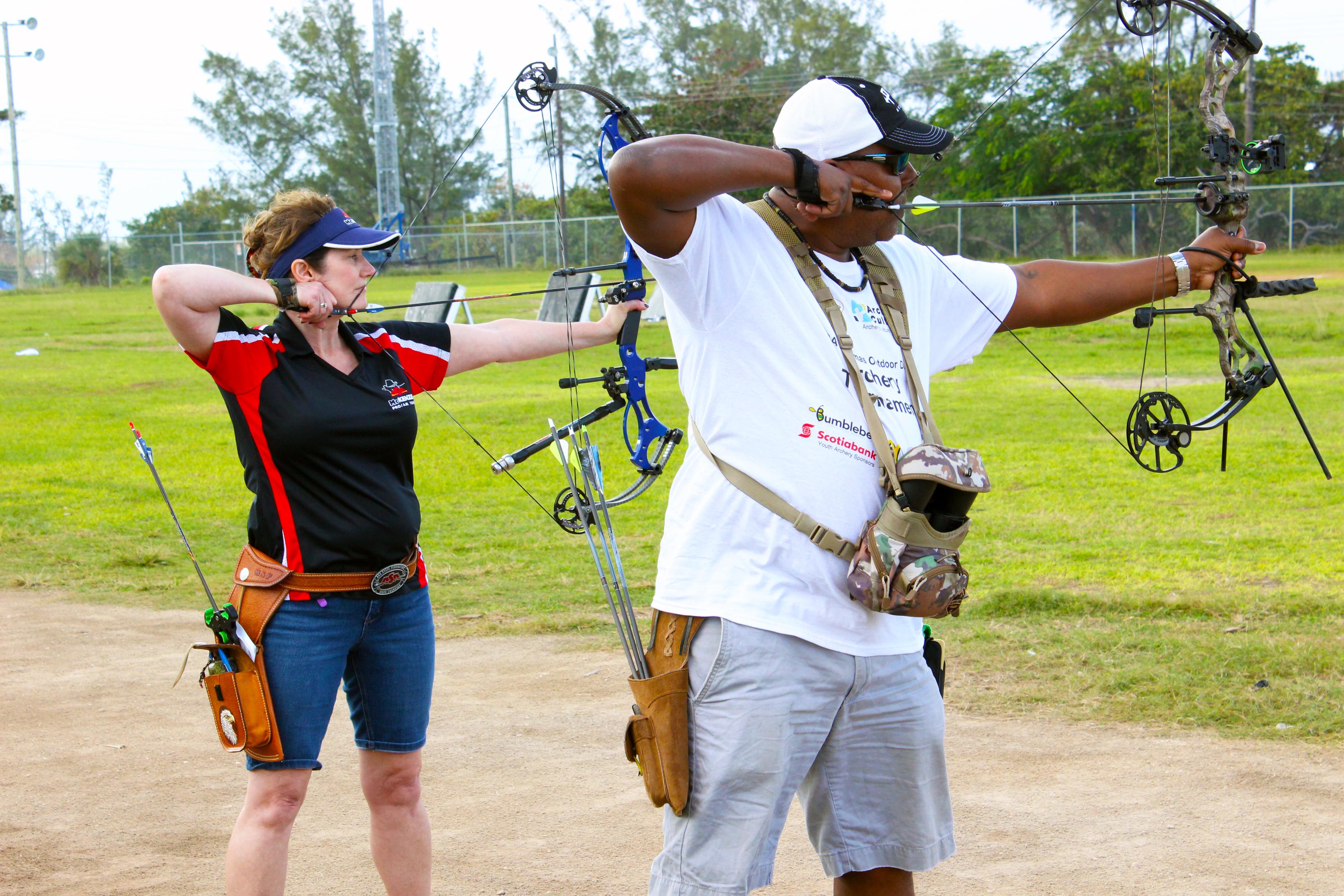 Historic Clifford Park on West Bay Street, Nassau lit up with excitement over the weekend as enthusiastic archers, cheered on by family, friends and spectators, squared off in competition in the first ever 3D Archery Tournament in The Bahamas.
 Antonio Abraham, Coordinator of the ASA Bahamas Outdoor DAIR Archery Tournament, was pleased with the overall turnout of this inaugural two-day event which took place on February 3 and 4, at Clifford Park. Three archers travelled from the United States to compete for a chance to win a vacation stay in The Bahamas, $800, $500, archery gear gift cards, among other prizes. Mr. Abraham highlighted the tournament's potential to become a major sports tourism magnet, as, on its initial launch, the event attracted international competitors, along with their accompanying support contingent.
Charity Armbrister, Director, Events, at the Ministry of Tourism and Aviation, one of the sponsors of the tournament, was also pleased with the turnout of the event. "This event is a positive addition to the many things to do for tourists and residents alike, adding to the appeal of a Bahamas visit," remarked Armbrister.
The 3-D Archery Tournament featured three categories: two adult categories (Adult Traditional -15 yards and Adult Compound-40 yards) and a youth division for competitors age 18 and under (Youth Traditional - 10 yards). The youth division of the tournament which fielded nine local competitors was hotly contested, with contestants coming from six schools: Doris Johnson Senior High, Saint Augustine College, Queens College, The Community School, H.O. Nash Junior High School, and the University of The Bahamas.
Competition winners were as follows:
Youth Traditional:
Juan Glinton - Saint Augustine College - 1st Place
Pericles Maillis - Queens College - 2nd Place
Joseph Lynch - Queens College - 3rd Place
Adult Traditional:
Daniel Schell - From Kentucky, USA - 1st Place
Ben Jamieson - Local Archer - 2nd Place
Gina Jenkins - Local Archer - 3rd Place
Adult Compound:
Tasso Roker - Local Archer - 1st Place
Marcia Falks - Tennessee, USA - 2nd Place
Monty Roker - Local Archer - 3rd Place
Scotiabank, the official youth sponsor of this event, was very encouraged by the student participation in these games. "The community is at the heart of all we do at Scotiabank. We are committed to helping youth become better off and are proud of the display of talent from these young archers," said Nakera Symonette, Senior Manager, Marketing and Public Relations, Scotiabank Caribbean North.
 "In addition to engaging in a positive sporting activity, organizers gave these young persons a chance to compete for archery supplies to further enhance the physical education programme at their schools. Congratulations to the winning school," Symonette continued.
Tournament Coordinator and Director of Archery Culture, Antonio Abraham, forecast that another event like this one is likely to be held before year's end 2018, "Not very often do you have an event that men, women and youth of any age can enjoy together as a family, compete on the same field, attract visitors from all walks of life and bring communities together all in one activity. Our events have the potential to have an eminently positive impact on Bahamian society from various aspects over time."