16th Cacique Promises To Be "A Grand Affair"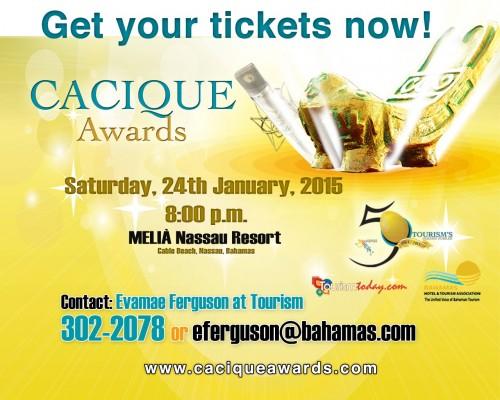 The 16th Cacique Awards to be held at the Melia Nassau Resort this Saturday promises to be a "grand affair," according to co-chairman of the awards Charity Armbrister.
The awards, which will close out the Ministry of Tourism's 50th anniversary celebrations and tourism week, will celebrate the brightest and the best in the country's hospitality industry.
Ms. Armbrister, who is also the director of events at the Ministry of Tourism, promises that this Cacique Awards will be like none other.
"It's going to be a great event. We have Ian Poitier who is director, choreographer and writer, putting on a fabulous show," she said.
"Because we are celebrating the culmination of the 50th anniversary of tourism of The Bahamas, this event is really going to showcase quite a bit of what we have done over 50 years. We will really be showcasing all of The Bahamas as this is a national event and most times we tend to minimize the islands but you can expect to see all the Family Islands out there."
There are 16 local categories and five international categories that will be honoured.
Ms. Armbrister said the Family Islands have a large bulk of nominees this year.
"The Family Islands are really giving Nassau and Grand Bahama a run this year," she said.
Officials are remaining tight-lipped about the entertainment as there are going to be many "surprises".
However, there will be a red carpet, music from the Royal Bahamas Defence Force (RBDF) and an after party for guests.
"The show is taking a different format than in the past. It's not going to be the same Cacique Awards that you are used to coming to," Ms. Armbrister said.
"For years the awards were held at the Rainforest Theatre but this year gives us an opportunity to be more creative. In addition to this, when you step out of your car, you will know you are at the Cacique Awards. I think the décor is going to be fabulous and I am so excited about what I have seen, what has been proposed and how we plan to transform this area."
The proceeds from the ticket will go to deserving students who are studying tourism management.
The tickets are on sale at the Ministry of Tourism.
To get tickets, contact Evamae Ferguson at 302-2078.