16th Cacique Awards: A Night of Splendor and Glamour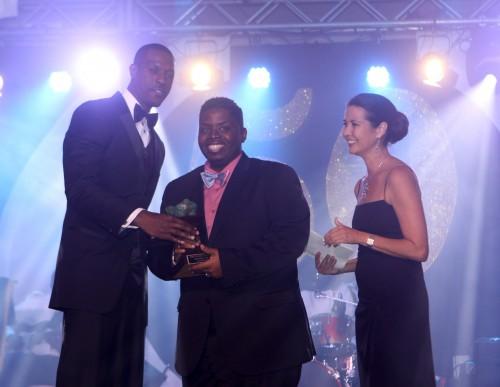 An event of splendor, glamour and majestic performances was held at the Melia Nassau Resort's Independence Ball Room Saturday, January 24th, as the Ministry of Tourism concluded its 50th anniversary celebrations with the prestigious 16th Cacique Awards. 
There were 18 local and five international categories that were placed in the spotlight as the ministry honoured the best of the best in the country's hospitality industry.
The local categories included: Sales Executive of the Year, Handicraft, Chef of the Year, Supervisor of the Year, Cecil Rose's Sports and Leisure Award, Special Events, Human Resources Development, Manager of the Year, Creative Arts, Sustainable Tourism, Transportation, Local Airlines and Tour Operators, Employee of the Year, Hotelier of the Year, Minister's Award for Hospitality, Lifetime Achievement Award, People's Choice Awards Gospel and Secular respectively.
The international categories included: International Travel Writer, International Travel Agent, Cruise Line of the Year, International Tour Operator of the Year and International Airline.
The winners are as follows:
Sales Executive of the Year: Shantilya Sands, Director of Sales at Comfort Suites Paradise Island
Handicraft: Ellamae Brennen of the Berry Islands
Transportation: Albury's Ferry Service, Abaco
Local Airlines and Tour Operators: Cherokee Aviation
Chef of the Year:  Chef Rosemary Sinclair Hepburn, Atlantis Paradise Island
Creative Arts: Jessica Colebrooke, Berry Islands
Supervisor of the Year: Sharaca Fraizer- McDonald, British Colonial Hilton
Sustainable Tourism: Bimini Sands Activities Centre
Employee of the Year: Lavardo Knowles, British Colonial Hilton.
Manager of the Year: Glenroy Pratt of Atlantis Paradise Island
Human Resources Development: Sonia Cox-Hamilton
Cecil Rose Sports and Leisure: Ebenezer "Bonefish Ebbie" David of Bimini
Special Events: The National Family Island Regatta Planning Committee
Minister's Award for Hospitality: The Late Dr. Myles Munroe
Hotelier of the Year: Gordon 'Butch' Stewart of Sandals Resorts
Clement T. Maynard's Lifetime Achievement Award: Nathaniel 'Piccolo' Pete of Bimini
People's Choice Award Gospel: Nehemiah Heild
People's Choice Award Secular: Dillon 'D-Mac' McKenzie
The International Categories Winners are as follows:
International Travel Writer: Julien LaJournade
International Travel Agent: Debbie Clarke
International Tour Operator: Sunwing Travel Group
International Airline: American Airlines
International Cruise Line: Royal Caribbean Cruise Lines
The proceeds of the sold-out event went to College of The Bahamas students studying tourism- related subjects.
The recipients of the nearly $20,000 scholarship went to Shade Pratt and Shannon Knowles.
Hundreds of people, who attended the ceremony, enjoyed performances from all the People's Choice nominees of both gospel and secular categories, the Royal Bahamas Defence Force Pop Band, dance performances from the Cacique Dancers and a special musical tribute to the late Dr. Myles Munroe by the Visionaires.
Each of the winners received a duho – a symbol of excellence that is reminiscent of the first Bahamians – the Lucayans.
The duho is known as the Lucayans' first chair of power in which their chief would decide matters of importance.
Accepting his first duho, Lavardo Knowles, employee of the year winner, emotionally gave advice to those working towards the high honour.
"When I was nominated it came at a point where I was feeling really down and it really was a morale boost for me," he said.
"My advice would be to leave it to God. What will be, will be. Continue to work hard and continue doing what you are doing and someone will recognize and see your potential and see your worth."
Mr. Stewart, who is the founder of Sandals Resorts, which has three locations in The Bahamas, said he was humbled by the honour, but owes all of his success to a great team.
"I tell all my friends I haven't really worked a day in my life. What I do I enjoy and it has all been possible because of the people that I work with – support staff, management and general staff," he said.
"The Bahamas is an extraordinary product that makes it easy for it to be successful. I love The Bahamas. I have been coming here for so many years and I have a residence here. It has such a rich history and it is absolutely gorgeous. The three resorts that we have in The Bahamas is an example of what a hotel product should be any part of the world."
People's Choice Secular category winner Dillion 'D Mac' McKenzie beat out Julian Believe and the Sky Juice Band to receive the duho. While he was happy to receive the award, the entertainer used the opportunity to plead for more support for Bahamian music.  
"Firstly, this goes to the struggles of Bahamian entertainers in this country. We are doing our best, we are trying but we need your undying support. This culture needs you. It needs the support of the Bahamian people," he said. "Tonight I share this award with all the hard working entertainers in this industry. This is a victory for Bahamian music. We want to keep Bahamian music alive."
Accepting the Minister's Hospitality Award for the Late Dr. Myles Munroe were his children Myles Jr. and Charissa Munroe.
Ms. Munroe said her father, who died late last year along with eight others including his wife Ruth Ann, was an extraordinary man who deserved the award.
"We are doing anything in my dad's honour at this time. With him being honoured and not being here still means that he is still living somewhere. He has been a great teacher to so many and a great father to me and my brother so I will continue to honour him," she said.
The late founder of Bahamas Faith Ministries International (BFMI), Myles Munroe International (MMI), International Third World Leaders Association (ITWLA) and International Leaders Training Institute (ILTI) has been dubbed the "pioneer of religious tourism in The Bahamas".
Myles Jr. said that even in death his father has done a lot more than he thought he could have done.
"We have been doing our events from 35 years now. He grew as a brand and a name internationally. He knew what he was doing at the time. I think he did everything he could to promote The Bahamas whether it was through travelling, speaking to governments and world leaders. I think it speaks to the man that he was to have a niche market created, which is religious tourism," he said.
Director General of Tourism Joy Jibrilu, who participated in the Cacique Awards for the first time in her capacity, said overall it was a spectacular night.
"I don't think there are enough words to describe how moving, beautiful and fun this event has been," she said.
"We have struck every single emotion. What has been particularly exciting for me was the joy of the recipients and to feel what this really means to them. I am so delighted that we in the Ministry of Tourism take time out to honour front line workers in the number one industry in The Bahamas."
For those aspiring to the award, she gave some words of encouragement.
"With dedication, commitment, hard work and passion for what you do – it is possible," Ms. Jibrilu said.