Back to top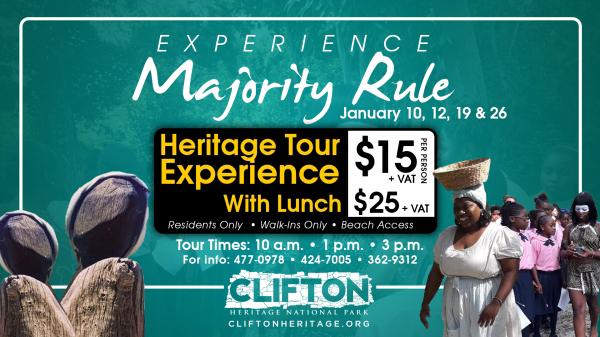 You can celebrate Majority Rule Day and learn how it all came about at Clifton Heritage National Park!
During the entire month of January, the Heritage Tour Experience provides a unique reenactment of the event with packages for walk-ins and Bahamian residents only. Park and beach access are included, and you also have the option to add lunch. Performances will take place at 10:00 a.m., 1:00 p.m., and 3:00 p.m. each day.
Prices: Tour Only $15.00 per person / Tour with Lunch $25.00 per person; 12% VAT will be added.
Weekly on Saturday at 10:00am for 4 times
Phone
(242) 477-0978, (242) 424-7005, (242) 362-9312
Venue
Clifton Heritage National Park
Address
South West Road
N.P.
Bahamas