Bahamas Gets $100K Towards Climate Change Resilience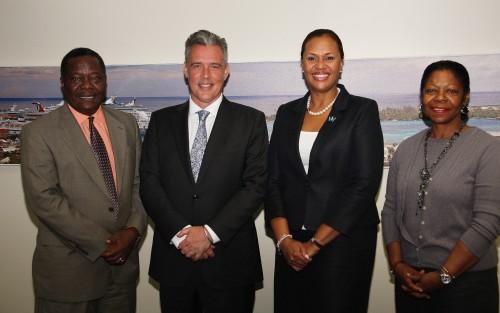 Grant To Benefit 3,000 Organizations
If The Bahamas' sea level raises a mere several feet as scientists predict, the country could experience more ferocious hurricanes and floods. To assist with ways to build resilience against this bleak possibility, the Inter-American Development Bank Multi-Lateral Investment Fund (IDB- MIF) and CARIBSAVE have given The Bahamas a grant of $100,000. It's part of the Climate Change, Coastal Community Enterprises: Adaption, Resilience and Knowledge (C-ARK) project that has a total budget of $2.5 million. This week, the non-profit organization plans to spread $400,000 in micro grants across the region in The Bahamas, Barbados, Belize and Jamaica. The Bahamas' grant will be used in micro, small and medium sized enterprises (MSMEs) and community-based organizations (CBOs) in New Providence, Abaco and Andros. The grant is expected to impact over 3,000 local direct and indirect beneficiaries. CARIBSAVE has partnered with the Ministry of Tourism in this effort.
Director General of the Ministry of Tourism Joy Jibrilu thanked CARIBSAVE for launching the programme in The Bahamas noting that the grant would be put to good use. "The Bahamas is gaining the reputation of being at the forefront of environmental issues and looking at sustainable ways that we can protect this environment," she said. "We know that tourism is the cornerstone of our economy and so it is incumbent upon us to ensure that we protect the environment not just for our current use but for future generations. It's grants such as yours that ensures that in fact takes place."
Founder and Chief Executive Officer of CARIBSAVE said The Bahamas was an easy pick for the grant because it is one of the most low-lying countries in the world. "We've been working with the Bahamian government for nearly 10 years on climate change resilience and trying to strengthen the resilience of The Bahamas and the Bahamian people," he said. "We want to get through the tough times that have been happening in terms of climate change and the impacts of sea level rise, increased temperatures and degradation of the environment so that we can try to reduce the vulnerability of the tourism product." Dr. Simpson added that more assistance is on the way. "We view this as the tip of the iceberg. This is like a trigger to assist more donors to recognize the importance of delivering resources to The Bahamas. So this is not the end of a process but this is actually the start of the process where we are going to bring more funds and more resources to The Bahamas," he said.