MOT Takes Over Paris With 'Unique' Pop- Up Store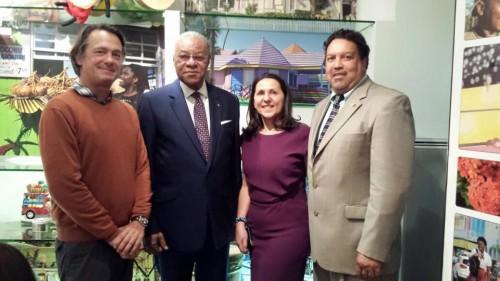 The Ministry of Tourism continued to make a lasting impression in Europe this month as officials designed and operated the first ever tourism pop-up store in Paris, France.
The store at 14/16 Rue Jean Jacques Rousseau Paris was opened from March 18-22 in a very trendy part of the city. Pop-up stores are very popular with fashion labels and officials are hoping to mirror that success. The store was used to push The Bahamas in the markets for wedding and romance, meetings, incentives and group businesses, families and tours. Tour operators, the media and travel agents were among the hundreds who visited the store.  
  Ministry of Tourism Regional Manager Karin Mallet-Gautier said the idea is force The Bahamas in the minds of potential visitors. "We wanted to have more visibility and a different way to communicate about The Islands of The Bahamas. The purpose of this is to recreate the Bahamian ambiance so that people will see the variety and enjoy our music and see the festivities and events around the islands. We speak about all that to our visitors and consumers," she said. "We are the first to do something like this in tourism. I am very proud and this is only the first."
  At each night of the pop-up store, customers visited The Bahamas through 3D glasses and tasted The Bahamas through dishes made with Bahamian ingredients. Paris-Bahamas, a cosmetics company, was also a part of the pop-up store. The company's cosmetics and perfumes are made with 100 per cent Bahamian ingredients like sea grapes, Bahamian rum, poinciana seeds and other products. Director of Europe Anthony Stuart said the ministry decided to create the pop-up store during March because it is the busiest season for summer booking. "What we did is take over a gallery that is in one of the most trendiest places in Paris and we've created a Bahamas experience. On the first night, we had about 50 journalists and bloggers and they learnt more about The Bahamas," he said. "It created a lot of buzz. It was something different. The Bahamas is on people's minds. Europeans want to know all about The Islands of The Bahamas. Many of them book for 14 days and some for as many as 21 days to experience what the different islands are known for." Mr. Stuart said the store may have been the first, but it would not be the last. "We are now looking at how we can take this to other places in France, London, Germany and Italy where we have other offices. We want to do something different, unique and most of all do something that is going to create bookings to The Bahamas and increase the visitor count from Europe to the Islands of The Bahamas," he said.