Sustainable Biodegradable Program Launch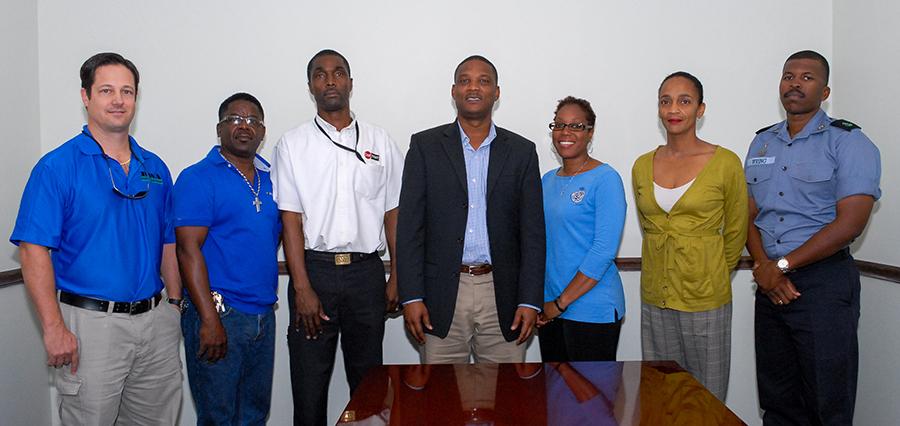 On Friday, February 17th, 2017 the Ministry of Tourism's Product Development Department, under its Sustainable Tourism focus, launched a year-long Sustainable Biodegradable program dubbed "Reduce Styro and use Bio" during a press conference at the Ministry's office.
Wayne Russell, General Manager, BWA; Peter Taylor, President, Express Food Mart; Trevor Edgecombe, Store Manager, Cost Right Freeport; Jeffrey Pinder, Senior Executive, Sustainable Tourism; Olethea Gardiner, Committee Member, KGBC; Lisa Wildgoose, Office Manager GB Parks; Leading Seamen Michael Wring, Royal Bahamas Defence Force Rangers  
Present for the event were members of the Sustainable Tourism Committee, which consisted of representatives from Keep Grand Bahama Clean, Bahamas National Trust and the Royal Bahamas Defense Force Rangers, along with local retailers and wholesalers from the food service industry.
In light of 2017 being declared The Year of Sustainable Development by the United Nations, the campaign is purposed to encourage tourism stakeholders to focus on accomplishing three of the 17 general goals implemented by the United Nations, which are to immediately combat climate change and its impact, conserve and sustainably use the oceans, seas and marine resources, and sustainably manage our land usage and prevent land degradation.
According to Jeffrey Pinder, Senior Executive for Sustainable Tourism, one of the products that the campaign will focus on is styrofoam, which not only has a negative impact on the environment but also on human health, as it has been classified by the US National Institute of Health as a major carcinogen.
He said that "It is non-biodegradable and non-recyclable on this island at this point".
Olethea Gardiner of Keep Grand Bahama Clean remarked that the committee is pleased to support the initiative and is looking forward to seeing a mindset shift among the public in this regard.
Wayne Russell, General Manager of Bahamas Wholesale Agencies Freeport, said that BWA is taking a leap of faith in its decision to team up with the Ministry of Tourism to bring in biodegradable trays, instead of the regular foam trays.
He added that "We're hoping that we can change the mindset of the public, so that they can begin demanding from the restaurants and food vendors that they now serve food in these [biodegradable] trays".
He advised that the trays will be available for purchase at BWA within two-weeks' time.
The campaign has received the support of a number of suppliers, wholesalers and retailers within the food service industry, including AML Foods, BWA, Bahamas Food Services, Control Chemicals, Express Food Mart, among others.
The Sustainable Tourism Committee, led by the Ministry of Tourism, will continue to educate the general public on the hazards of non-biodegradable products and hopes that by the end of the campaign the discussion can graduate to the legislative level, eradicating the use of such products.