Saxons Leader: Carnival Will Improve Junkanoo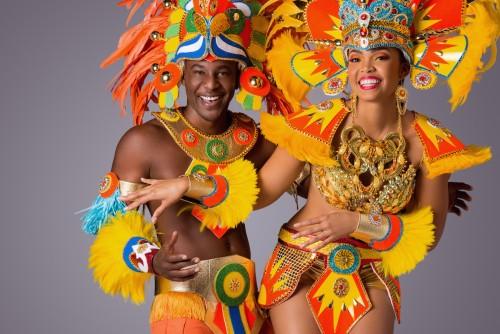 Leader of the Shell Saxons Superstars Percy 'Vola' Francis said not only is he excited about Bahamas Junkanoo Carnival, but he is also hoping the event will be a springboard for other events that will drive tourists to The Bahamas.
"We need something for The Bahamas. We are tired of our visitors coming and saying when they come to The Bahamas there is nothing to do," he said recently.
"What I would like to see on top of Junkanoo Carnival is that we have four major events per year. We have our Junkanoo parades, which is our yuletide traditional Bahamian festival. In spring, we would have our Bahamas Junkanoo Carnival, which is designed for this very slow and low period; then of course we would like to bring our Goombay Summer Festival back and then in the fall we could have a major Heritage Festival. I'm excited about Junkanoo Carnival because this is one of the events that is going to take The Bahamas to the world and take Junkanoo on a launchpad to the moon."
Mr. Francis said he and other Junkanoo leaders like the late Winston 'Gus' Cooper of the Valley Boys approached Prime Minister Perry Christie with the idea of Bahamas Junkanoo Carnival with the hopes of showcasing Bahamian culture.
He added that it is hoped many Junkanoo enthusiasts would use Bahamas Junkanoo Carnival as a way to develop the traditional parades.
"I think all Junkanooers should embrace this opportunity. What I really like about this aspect of the Carnival experience is the way the costumes are designed. It's still the Junkanoo flavouring with all the colours and all of that. It's not as tedious as preparing for a Junkanoo parade. We want to separate them because we don't want this to replace the parade but we want it to have the Junkanoo spirit," Mr. Francis said.
"The Ministry of Tourism is going to embrace the Junkanoo groups to be an integral part of the Junkanoo Carnival experience by taking to the streets as well prior to the road fever that will take place at the end."
The Saxons leader has designed a number of the prototype costumes for Bahamas Junkanoo Carnival.
He says this allowed him to think outside of a box – a trend he hopes is spreading.
"Those costumes are uniquely done out of different materials from the materials I would use to prepare a Junkanoo costume. So for me as an artist, it really took me to another level and the costumes that I have seen so far from all of the other bands are extremely and incredibly done," Mr. Francis said.
"We want to have our own style carnival. We want to design our own costumes in a way that will be relative to The Bahamas and relative to Junkanoo."
Bahamas Junkanoo Carnival has a number of activities to be held at the beginning of May.
The celebrations will kick off with Youth Culture Fest on May 1, which officials say will have more than 2,000 youth displaying indigenous Bahamian costumes.
Other celebrations will be held May 7-9.
The other events include Junkanoo Mania, Music Masters, Midnight Rush and Road Fever.
Junkamania is a musical event showcasing Junkanoo Music and other Junkanoo inspired folk forms such as drumming and dance on the biggest Junkanoo stage in the world.
Music Masters is a concert that will stage the top contemporary artists of The Bahamas to perform the competition in front of a global audience and share the stage with an A-List international recording artist.
The concert will ultimately determine who is crowned Master of Bahamian sound.
Midnight Rush is a Friday Frenzy after party for the Music Makers concert, a Junkanoo street rush just for the people.
Finally, Road Fever is an original Bahamian Masquerade street party that closes out the annual Bahamas Carnival.