People-to-People Experience Cultivates Musical Showcase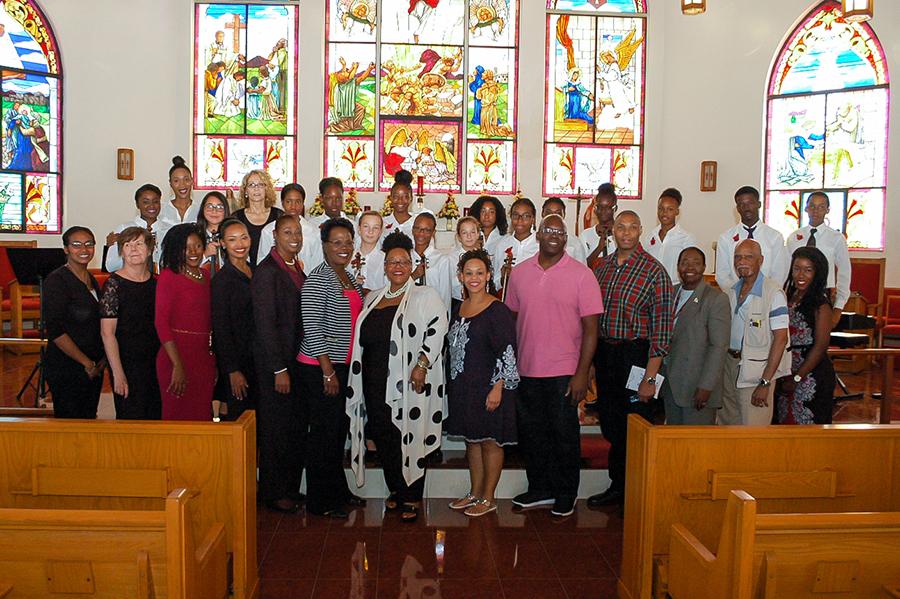 On November 11th, just a few days after major cruise lines returned to the shores of Grand Bahama Island, in the aftermath of Hurricane Matthew, a special group of musicians from the Coalition for African Americans in the Performing Arts (CAAPA) in Maryland cruised over to the nation's second city for a time of musical cultural exchange.
The group of twenty-five, comprising of professional musicians and family members, travelled on board the Carnival Sunshine as a part of the Arias at Sea, Blacks in Classical Music Cruise, which celebrates Blacks in Classical Music.
The guests were transported to the Church of the Ascension where a small concert was staged by the Allegro School of Music.
Upon arrival, they were welcomed by representatives from the Ministry of Tourism, along with local musicians. 
Brooke Grant, Senior Executive for Communications at the Ministry of Tourism said, "We are extremely excited to assist in the facilitation of this event as it demonstrates the value that the Ministry of Tourism places on its People-to-People experience."
She added, "As music is a special component of culture that we all embrace as a universal language, the coming together of musicians from two different backgrounds creates the perfect environment for long-lasting relationships to be developed and doors of opportunities opened to upcoming musical professionals."
The group reached out to the Allegro School of Music, located on Grand Bahama Island, a little over a year ago via Facebook while seeking out the leading musical institution on island.
Covena Murphy, Owner of Allegro School of Music, said, "This program has offered to our students the opportunity to gain exposure to international platforms without leaving the country."
She remarked, "We are so appreciative of the Ministry of Tourism coming on board to give the visiting group such a warm welcome."
Terri Allen, Executive Director for the Coalition for African Americans in the Performing Arts, said, "The CAAPA helps bring color to the classics by supporting black classical musicians and others in the performing arts."
Allen pointed out that the relationship with The Bahamas stemmed from one that was established with the Bell Canto Singers, who also performed for the group during their stop into New Providence the day before.
During the cruise, the musicians staged four classical musical performances on board the Carnival Sunshine.
Allen said that the performances were very well received, and by the end of the showcase there was "standing room only."
The group has already begun to make plans to return to Grand Bahama Island next year.