Back to top
Paradise Island Lighthouse & Beach Club Co. Ltd. Unveiling Project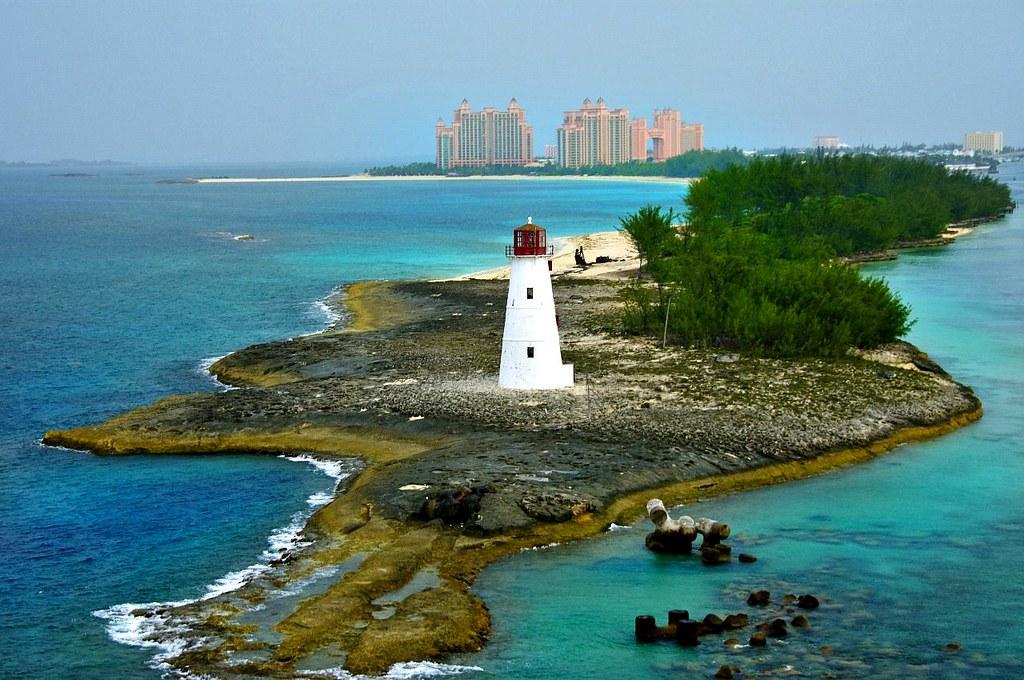 Photo Credit: Flickr
The Antiquities, Monuments and Museum Corporation (AMMC) and The Paradise Island Lighthouse & Beach Club Co. Ltd. (PILBC) announces the signing of a Memorandum of Understanding (MOU) to negotiate plans to restore the Paradise "Hog" Island Lighthouse and to create and operate a world-class Beach Club on Paradise Island.
Both the AMMC and PILBC have their respective roles to play in the restoration of this historic lighthouse. Built-in 1817, the Paradise "Hog" Island Lighthouse has stood as a navigational beacon for seafarers for more than two hundred years.
The AMMC remains committed to the preservation of the historic fabric of the Paradise Island Lighthouse and its environs; especially as it relates to the restoration processes of the lighthouse and its accompanying Keepers' Quarters. Plans are that all new and existing infrastructural upgrades to accommodate access to the facilities will be in keeping with the historic façade of the original structure.
It is expected that all requirements of the relevant Government agencies including Ministry of Public Works, Transport and Local Government, Tourism and Aviation, AMMC, Departments of Physical Planning, Port and Land and Surveys as well as the BEST Commission are met and approved prior to the start of project restoration and construction.
The Paradise "Hog" Island Lighthouse has stood as a navigational beacon for seafarers for more than two hundred years. Sadly, the bicentenary has passed without celebration and this icon has become an eye-sore as it has stood dilapidated, destitute and abandoned for decades.
Bahamians are proud of their rich history and culture and Paradise Island Lighthouse & Beach Club Co. Ltd. will deliver a fully restored, operational lighthouse that shall be open for the public to access and enjoy.
Lead developer and principal of Paradise Island Lighthouse & Beach Club Co. Ltd. Mr. Toby Smith, enthusiastically conveys that "It has been my dream for years to become the Lighthouse Keeper of this lighthouse and it has been a long road in bringing this project to fruition. I am overjoyed that the Government of the Bahamas has signed our Memorandum of Understanding with Paradise Island Lighthouse & Beach Club Co. Ltd."
He goes on to say "We recognize the need for the preservation of historical buildings including all lighthouses in the Bahamas and we hope that this will be a catalyst for further projects towards this objective. This is a Bahamian lighthouse, a Bahamian beach for Bahamians and our guests to enjoy for the long term and I look forward to embracing even more positive support and public opinion along the way."
PILHBC is proud to have already garnered the support institutions including the Elbow Cay Lighthouse Society in Hope Town, Abaco, The Bahamas National Trust, ReEarth Bahamas, The Turks & Caicos National Museum and many more institutions and individuals around the globe.
Toby adds "each component of our team is Bahamian and we are all excited to launch this project and be a "shining" example of Bahamian pride. Historical preservation and rich Bahamian culture shall run through the veins of this low impact, sustainable tourism product. Our mission is to ensure that each facet of the project will be what is best for the Bahamas and what is best for Bahamians. This will be something that Bahamians both young and older will be proud of and our upcoming generations will have a historical icon that is looked after to enjoy."
This project will bring about greater beach access for Bahamians and our guests to enjoy our beautiful natural assets while providing the maintenance and upkeep to a unique site. There shall be modern amenities available including docks, bathrooms, cabanas, restaurants and bars all with Bahamian architecture, entertainment and flavor. Our rich history and unique culture will be expressed by the whole team and impart local knowledge to guests through tours and multi-sensory mediums. We intend to have nature trails, a plant a collection of indigenous and exotic palms and display our respect for the environment in very
meaningful ways. We have already conducted three beach and bush clean ups and removed substantial amounts of garbage.
Paradise "Hog" Island Lighthouse construction began in 1816 and was completed in 1817, it is the oldest lighthouse in the whole Bahamas and the oldest in the West Indies.
Paradise Island Lighthouse & Beach Club initial investment shall be in excess of two million dollars and bring approximately forty direct jobs for construction positions and also approximately forty full-time positions once completed: all for Bahamians.
Indirectly, this will provide greater employment opportunities for Bahamian architects, chefs, entertainment celebrities, international events, movie productions, media commercials and more. This will become the recognized crown jewel of Nassau's harbor. Toby expresses "we hope that this icon attracts the attention of movie producers to give the Bahamas greater international exposure", also "the Bahamas is enriched with secrets and mysteries and this project has those too".
We look forward to breaking ground in the very near future. We have exceptional talent in the Bahamas and while oftentimes the value and availability is overlooked: Paradise Island Lighthouse & Beach Club will be promoting inclusiveness. We wish this to be a site where Bahamians and our guests can mingle and share great times together in a safe and peaceful environment. We hope to have nature trails, a site where our youth can learn and practice survival skills and receive environmental, cultural and historical education. We wish to maintain the natural beauty of the environment and sustainable, low impact tourism.
Toby is no stranger to the preservation of Bahamian culture and history having already sculpted Ringo the Flamingo with his daughter and also restored some of Steve Burrows' sculptures (the Conch Shell and White Crowned Pigeon) on John F. Kennedy Drive in Nassau and the restoration of the Steam Roller on Thompson Boulevard.
As many people are already aware, the Elbow Cay Reef Lighthouse in Hope Town Abaco is the only hand wound, kerosene fired lighthouse left in operation on the planet. Unfortunately, the Hope Town Lighthouse, Keeper's Quarter's and dock sustained major damage in Hurricane Dorian and our project is timely to encourage hope and the rebuilding of the lighthouse there.
There are a total of thirteen lighthouses in the Bahamas and we hope to light them all one by one for future generations to experience by expanding through strategic alliances.
Our project is symbolic in that these structures represent more to people than being a light that shines at night, reassuring seafarers of their position; it is a beacon to many for hope, safety and guidance. We wish to stand in solidarity with the Hope Town Lighthouse and Pinder's Point Lighthouse to bring hope in the rebuilding of lives and communities in Abaco and Grand Bahama.
We look forward to hosting a celebratory launch party along with a grand opening in due course and thank the public for their optimism and support.
The company's website Paradiseislandlighthouse.com is already up and running and generating a great inflow of positive support and interest.