Back to top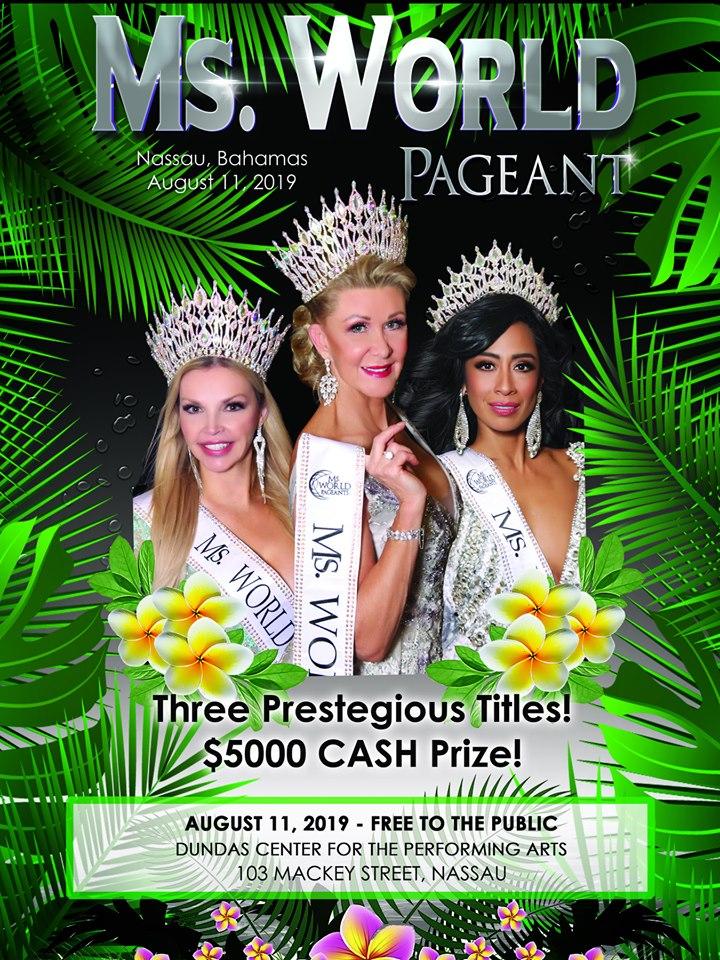 Ms. World is the Premier Pageant for women aged 26 and Over!
Dateline: SEATTLE, WA AUG 7, 2019
:
 Today the Ms. US World Pageant announced that 20 women from around the world will compete in Nassau Bahamas for the coveted titles of Ms. World, Ms. World Elite and Ms. World International. Including Ms. Bahamas World, 
Kaniesha Minnis, a 29-year-old Mom of 3 from Eleuthera. The pageant will take place from August 8th-11th with the final show at 6:00 pm, Sunday, July 11th at the Dundas Theater for the Performing Arts in Nassau.  The show will be open to the public with free admission.
 The delegates will compete in personal interview, fitness-wear, evening gown and onstage question. Some criticize pageants calling them outdated, however, the Ms. World organization has sought to create a much different experience that is truly about celebrating real women. The title "Ms." in itself means any women, regardless of marital status because we believe that a woman's value and beauty should not be defined on her relationship status or age. A beautiful 50 year old may not look the same as a beautiful 26 year old but both are equally beautiful for their respective ages. At Ms. World we celebrate the inner and outer beauty of all women.
The Ms. World pageant is open to women 26 and above. The titles that will be awarded are Ms. World (awarded for the highest overall score regardless of age), Ms. World Elite (awarded for the highest score among the delegates over 40, Ms. US World International (the delegate with most fan votes).  The Ms. World organization is an official supporter of the National Organization for Women's Safety Awareness.