Back to top
Minister Wilchcombe Outlines Plans For 2015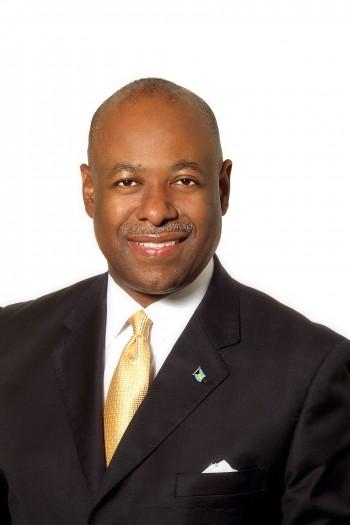 Minister of Tourism Obie Wilchcombe said recently that ministry officials have a lot planned for 2015 to fast track the country's number one industry to the top spot regionally.
The minister says 2014 acted as a springboard for many events that will continue this year.
"(This) is going to be one of the biggest years that we have ever had because early this year the LPGA golf tournament comes back. We are going to have the marathon in Grand Bahama for the first time, the IAAF is coming back this year and we are going to have the football games as we are beginning the Popeyes Bowl, but more importantly we have Tiger Woods coming down for a major event and he is one of the top 21 golfers in the world. And so when you really look at this year it is going to be a really busy year for The Bahamas," he said.
The minister also pointed out that The Bahamas will host its first Carnival and that the world anticipates the opening of the $3.5 billion mega resort Baha Mar.
"Mega events are going to be high on our agenda and that together with the opening of Baha Mar is going to be fantastic," Minister Wilchcombe said.
Currently, The Bahamas is fighting for the top spot in the region against rivals Dominican Republic, Puerto Rico, Cuba and Jamaica.
"I think that we have done well in two and half years of getting the tourism product back to where it used to be. Truth is, we are number five in the Caribbean. But I think we are going to get back up very quickly. We have to factor in Cuba because Cuba is now that mystique that people are going to go after," Minister Wilchcombe said.
"It just tells you that while we work on the product, we must ensure that there is quality attached to it because we are a high cost destination and we must always appreciate that the cost of the destination must match the quality of the product that you are presenting."
The minister added that in order to this, Bahamians must understand their role in tourism.
"What we have to do is continue to improve. We have to get the human capital to deliver on the service that we must have because it is competitive now and it is becoming more competitive," Minister Wilchcombe said.
"We are going to maintain our edge, continue to grow because we have to grow the economy. Tourism is our number one industry and so we have got to add to the quality of the product. Inventory levels are up, we are getting major events to attract people to the country, getting a wonderful ad campaign and sustaining it and getting the messages out that is going to cause our country to take its spot on the high end economies of the world."