Junkanoo Summer Festival Competition Heats Up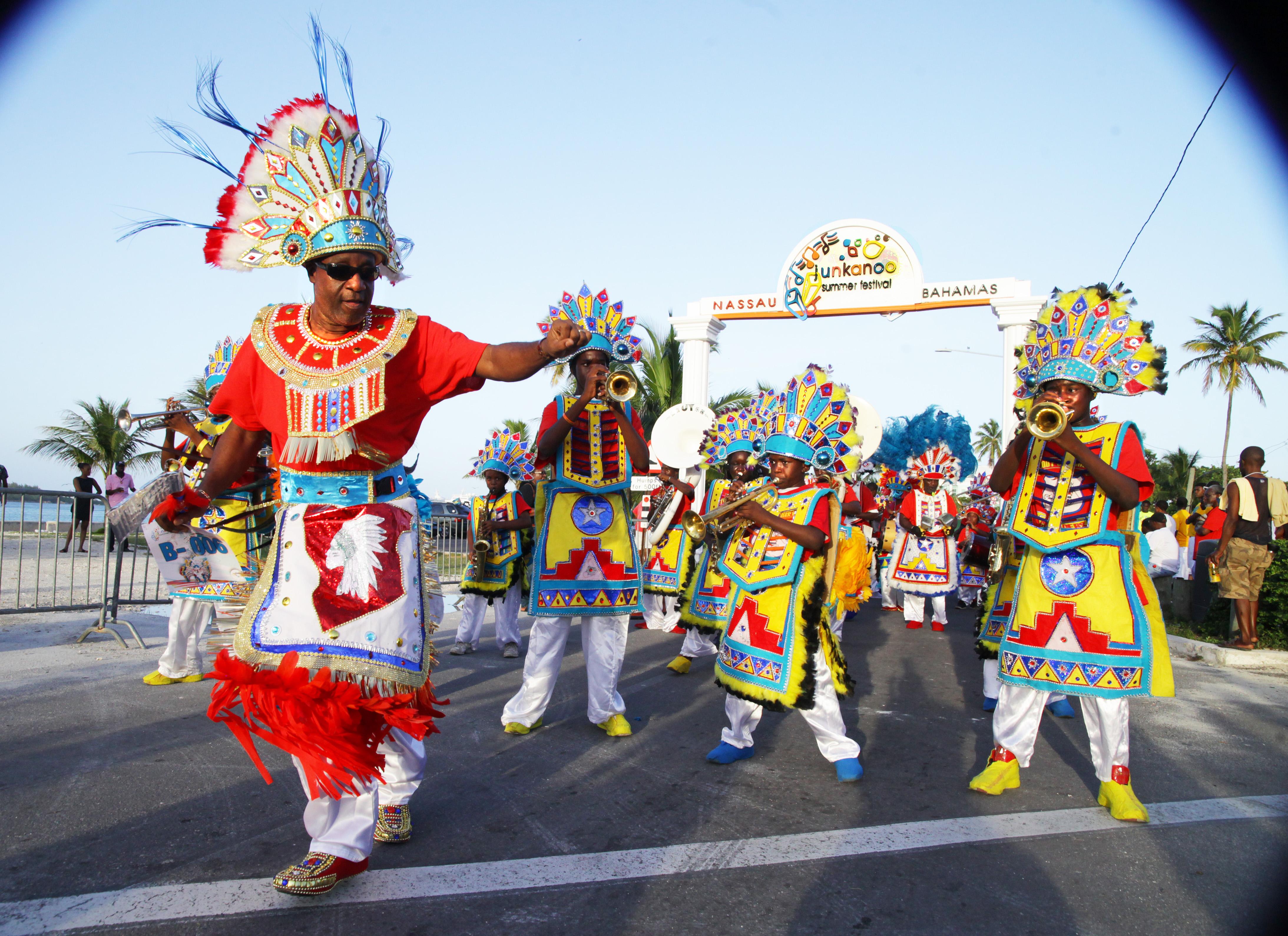 The competition of which group will dominate Junkanoo Summer Festival heated up this past weekend as it was an all-out battle for who had the best costumes, music and dancers.
Junkanoo Summer Festival began July 4 at Arawak Cay and has attracted thousands to the waterfront site for not only a healthy competition of Junkanoo, but food, games and family fun.
This week, lots of tourists got in on the fun.
Sarah Wilson from New Jersey participated in the hoola hoop competition during the day and stayed for the parade.
"This is so much fun," she says. "I think I want to come back every summer for this experience."
Her friend, Lily Williams had similar thoughts.
"I've actually been to Junkanoo before some years back in December," she said. "I like that I can taste more great Bahamian food while enjoying the parade so I will definitely be back for this festival."
During the evening, both the A and B groups brought their A-game to Arawak Cay.
The line up was as followed:
1.   Body of Christ                                                                   The Red Bay Indians
2.   Conquerors for Christ                                                        All Things Bahamian
3.   Fancy Dancers                                                                    Welcome to The Bahamas
4.   Original Fox Hill Congos
5.   Colours                                                                                      Junkasplash                                                                                               
6.  Genesis                                                                                      Bahamian Expressions
A Groups:
1.   Music Makers                                                                        Only the Sun Covers The Bahamas
2.   Roots                                                                                                            Island Life
3.  One Family                                                                                              Sun, Sand & Sea
4.   Saxons                                                                                      Bahamian Dance in Review
5.   Valley Boys                                                                             Pirates of The Bahamas
 As in all Junkanoo parades, some Bahamians already have their predictions.
Kirk Dorsett, a Valley Boys fan, said the dancers of the group have proven that they are the best.
"There's no competition," he said. "From the first week Valley dancers killed the competition. We are the champions and we are going to keep it that way."
Jessica Smith, a Saxons fan, disagreed strongly. 
"This may just be a preview of what's to come at the end of the year. Saxons' music clearly had the crowd rocking. One Family was doing well too and to me Valley's music fell flat. So the competition is definitely going to be stiff," she said.
This Saturday is the last week for Junkanoo Summer Festival when the winners for best dance, music and overall competition will be crowned.
Additionally, there will be a competition of king and queen of Junkanoo Summer Festival, bellers competition, drummers competition and an all-star Bahamian concert.