Junkamania competition takes center stage at Bahamas Junkanoo Carnival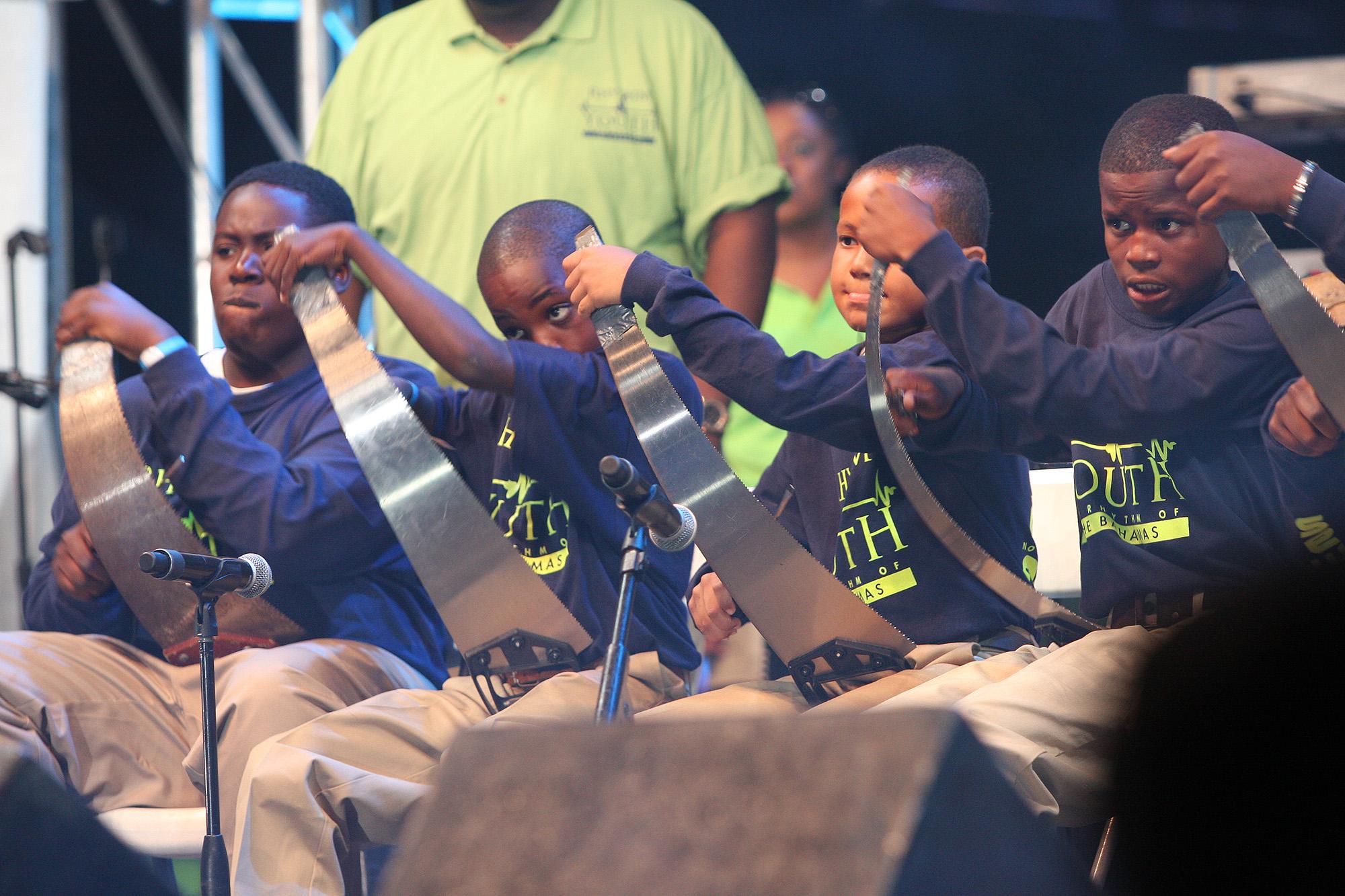 Spectators were treated to an exceptional show at the second annual Junkamania contest held a Da Cultural Village at Arawak Cay.
Thirteen bands filled with energetic youth allowed their imaginations to run wild as they presented their interpretations of pulsating Junkanoo music. Onlookers were exposed to sounds of rake n' scrape, electronic, wind and brass instruments all fused into the traditional Junkanoo sound.
Junkamania is a unique musical event that encompasses Junkanoo orchestras, Junkanoo music and other Junkanoo inspired folk forms, including drumming and dancing.
It was crafted to add to the musical product already presented in Bahamian society.
As specified in the contest rules, group's music should have the characteristics of The Bahamas and should evoke and celebrate Bahamian rhythms and flavor.
In true Bahamian spirit, groups came out and won the crowd's heart with distinctive yet rousing performances.
In particular, the winner of the competition, Rhythm N Youth, an all boys rake n' scrape band led by Nathaniel Adams, performed using carpenter's saws, maracas and goatskin drums in one of the most captivating performances of the evening.
Group leader, Nathaniel Adams said that the group is trying to pass on the rake n' scrape traditions to the younger generation.
"For the most part, it's about the money, yet for us it's more than just the money. We're running a program, where we're trying to pass on this rake n' scrape thing and keep it running," Adams said.
"Winning the competition will fuel the program, we want to get more kids involved in rake n' scrape, we want more exposure, more trips for the kids to become exposed and I'm really thankful for the opportunity."
Adams added that Junkamania gave him the platform to display what he thought Junkanoo Carnival should mean.
"I wanted a platform where I had the opportunity to display what I felt what Junkanoo Carnival was supposed to be about. Not necessarily what other persons were dictating it to be but what Bahamian music should sound like," he said.
Simon Smith, member of Music Ambassadors, said he hopes that through participating in Junkamania he is able to help more young people get involved in positive activities.
"My expectations are to impact more youth, place them into something positive and keep them off the streets. I just really want to expose the Bahamian culture," Smith said.
Christian Justilian, leader of Ambasah Junkanoo Okestra said his goal was to experiment with the instrumentation of his group, every year.
"Last year, we had slightly different instrumentation. I had flutes and violins and the music was a bit different," he added.
"Every year, if we participate we're going to look at ways that we can experiment with the instrumentation of the group because it is an orchestra and we're trying to incorporate things that are less traditional from the orchestra. This performance featured the steel band and we featured a very difficult song to play, but we pulled it off."
Taige Adderley, an onlooker, commented that the show was well produced and impressive.
"I thought it was a very well-produced concert and it provided a great platform for up and coming Bahamian musical artists," she said.
Rhythm Nation won a cash prize of $15,000. High Energy placed second and third place was awarded to Ambassah.