Inaugural Bahamas Bash Lacrosse Tournament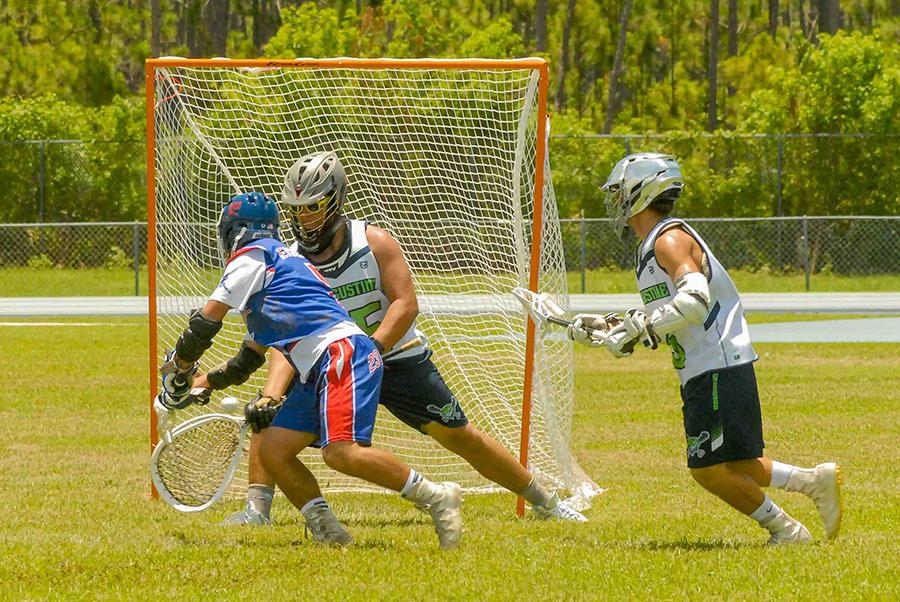 On Saturday, July 1st, the game of lacrosse was introduced to Grand Bahama Island via the inaugural Bahamas Bash Lacrosse Tournament held at the Grand Bahama Sports Complex.
With almost 200 players and families visiting the island from the United States to participate in the tournament, Michael Zeff, organizer, Bahamas Bash Lacrosse Tournament, said that "It's a very exciting opportunity for us to not only grow the game of lacrosse and introduce it to The Bahamas, but also to get all these teams from America and from Florida to come over here and play".
As lacrosse is the oldest, fastest growing sport in America, Zeff's goal was to create an interest among young Bahamians in regard to the sport of lacrosse.
Duncan Clancy, mid-field player, Florida Launch, Major League Lacrosse, said that "There's so much potential here...I said there has to be lacrosse in The Bahamas and there was nothing, so it's cool to be on the forefront of it now and bring [lacrosse] here [for the first time]".
Consequently, having the advantage of professional players present throughout duration of the tournament proved to be extremely important in the overall experience.
As the pro players were dubbed Ambassadors for the game of lacrosse, any Bahamian that was interested in learning could benefit from the experience of the professionals who would assist with explaining the basics of the game as well offer advice on the benefits of playing lacrosse.
For many, the sport of lacrosse led to college scholarships as lacrosse is one of the most popular sporting events at Ivy League schools. Zeff said that "anything that gets kids active and engaged in playing sports and has college potential too, it's a wonderful thing".
Jay Philippe, Assistant Manager, Sports Tourism, MOT & Aviation GBI said that "To actually see the game being played out here is absolutely amazing. I'm just so thankful that with the Ministry of Tourism, we're in the business of bringing people to the island of Grand Bahama".
Philippe continued to say that "This is a unique sporting event; we have a lot of visitors that came with the purpose of this particular event and we just want to encourage persons to continue to support Sports Tourism. We want the visitors to have an excellent time as we're all about hospitably and making sure they have an amazing time so that they can come back again".
The inaugural Bahamas Bash Lacrosse Tournament took place over the course of two days as a total of four high school age teams took to the field to compete in a series of elimination games which led to the championship game on Sunday, July 2nd.
 The St. Augustine Marauders took home the winning title at the inaugural Bahamas Bash Lacrosse Tournament and is excited to compete again next year should the tournament continue.