GOOMBAY SUMMER FESTIVAL 2017 - Grand Bahama Island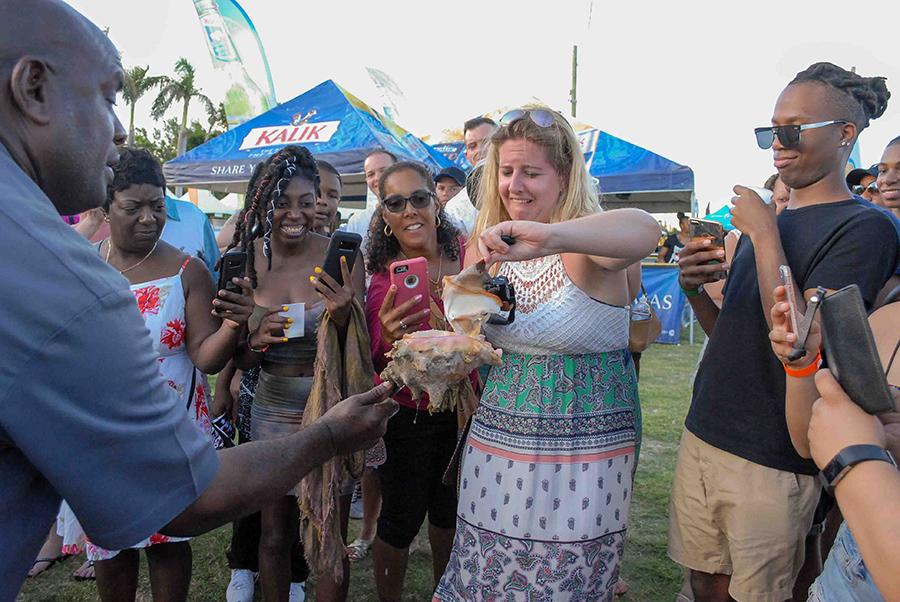 The Ministry of Tourism, Grand Bahama Island officially launched its 4-week Goombay Summer Festival on Thursday, July 6th, 2017 at Taino Beach.
The event attracted thousands of residents and visitors alike, who joined in concert with Bahamians from throughout the island to celebrate 44 years of independence.
The festival showcased the best in Bahamian food, music, arts and crafts and overall culture as some 448 visitors showed up to experience the rich heritage of The Bahamas through the iconic summer festival.
Visitor to Grand Bahama Island, Elaine Clayton, shared some of the highlights of her experience on the island.
"I love festivals in general, but what I think makes it so special is being able to mix and mingle with all of the local businesses and visitors at the site," Clayton said.
She added that "I also love how all of the food options are all Bahamian; that way I can try a little of everything".
Long time visitor to Grand Bahama Island, Simone, remarked that one of the greatest motivators for travel is the family friendliness of the destination, along with summer festivals such as Goombay and the winter festival of Junkanoo.
Having been a frequent visitor to Grand Bahama Island for some 30 years, Simone noted that as the years have gone by a lot has changed, but the people haven't.
Director for the Ministry of Tourism on Grand Bahama Island, Betty Bethel, said that "Goombay Summer is the highlight of all cultural festivals on Grand Bahama Island. Not only do our guests look forward to it, but so do our residents".
With respect to the tradition of independence cultural festivals, Bethel added that "For the past five years, we have been the headliners, so to speak, to get our independence celebrations off the ground".
Travis Robinson, Parliamentary Secretary for the Ministry of Tourism, explained that while Grand Bahama has been experiencing economic hardship, today's festival is a ray of hope for the island.
He said that "I anticipate that it is festivals like this that are going to cause flight arrivals to increase and that are going to cause that spark internationally when it comes to visitors wanting to come to not just The Bahamas but come to Grand Bahama specifically".
He added that "I'm optimistic about the future prospects for Grand Bahama, this event, and certainly the entire Bahamas".
Goombay Summer Festival will continue every Thursday in July from 6:00pm until 12 midnight at Taino Beach.   
The year's event will feature headline performances by,Geno-D, Veronica Bishop, Puzzle, Wilfred Solomon & The Magnetics, Avvy, Dyson Knight, Stileet, the Grand Bahama District Police Pop Band, Ronnie Butler, D-Mac, Ira Storr & the Spank Band and more! 
Through the continued support of The Grand Bahama Island Tourism Board, event title sponsor, in conjunction with BTC, GB Port Authority, GB Power Company, Maecal Electronics, Freeport City Council and Burnshouse, Goombay Summer Festival is sure to remain Grand Bahama's most exciting summer festival.