Four-Time Free Diving Champion Shoots In The Bahamas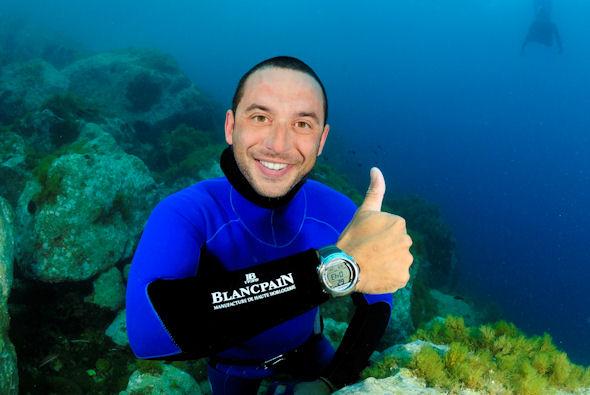 Four–time free diving world champion Pierre Frolla recently chose The Bahamas as the ideal spot for a new commercial for Hamilton watches. Frolla, who originally from Monaco, has dove in waters all around the world.
 While in The Bahamas, he spent six, eight-hour days scouring shipwrecks and breathtakingly beautiful reefs. 
 "We decided to come here because it is a lovely place and the best place in the world," he said.
 "We went to different wrecks because we wanted to see wrecks, reefs and sharks. I like The Bahamas because you can find everything. You have sharks, if you need sharks. You have plenty of fish of different colours and species, white sands and green rocks. All the natural wildlife comes to play with us because they are used to divers so it is very easy to make a shooting."  
 It's not Frolla's first time diving in The Bahamas. He says he's worked with professionals at Stuart Cove a number of times.  
 "They are so professional. You want something; you have something. You need more time; they'll give you more time. It's always important when you do something like this. You can't have something go wrong when you are 200 meters underwater. If something goes wrong, you die. It's exactly the same way when you are shooting," he said.
 Frolla said he is hoping that The Bahamas takes advantage of its deep blue waters and explore hosting more free diving competitions.
 "The free diving community is very happy about Dean's Blue Hole in Long Island because it is the best place for training especially for competing. There is no current and no danger," he said.
 "I think The Bahamas can make something great with free diving competitions and make it even greater than it is now."