Florida- Caribbean Cruise Association's (FCCA) 2017 Children's Environmental Poster Competition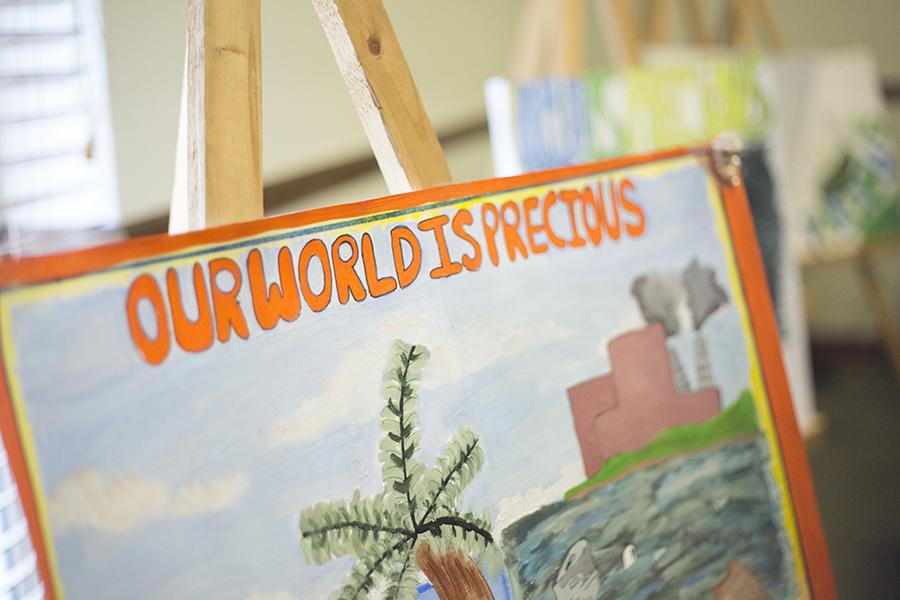 On Tuesday, May 30th, the Ministry of Tourism facilitated the judging process for the Florida-Caribbean Cruise Association (FCCA) Foundation 2017 Children's Environmental Poster Competition. 
Under the theme "Our World Is Precious...Save Our Land and Seas", all primary/secondary school students in FCCA's partner destinations were invited to participate in this year's environmental poster competition. 
The competition, which seeks to promote environmental awareness among students and inform them of the importance of environmental protection, was judged by Bahamian artist and educator Steffon Grant along with representatives from the Ministry of Tourism. 
All judges were given a comprehensive rubric by which each students' art work was critiqued. 
Steffon Grant, who served as the local competition judge, said that "The rubric I created is for us to be as fair as we can be...I want them to look at this project as objectively as they could because it's very easy to gravitate toward something if it looks good". 
As a result, the rubric consisted of seven categories where the students' pieces were rated based on a very detailed numbering system.
The art work, which was displayed in the foyer of the Fidelity Building prior to the judging process, was a demonstration of the rich talent of the future artists of The Bahamas. 
Karenda Swain, Asst. Manager, Training & Education Department, said that "We love this opportunity to partner with the FCCA to ensure that our students are given the chance to showcase their talents".
With tourism being the number one industry in the Bahamas, Nuvolari Chotoosingh, Manager for Maritime Tourism, spoke to the significance of this year's theme.
He said that "It is of great importance that we protect our land and seas against pollution. Thus it is very beneficial for the Ministry of Tourism to be a part of such initiatives, particularly those involving the youth of member countries as they represent the future of our region and the world".
This year's competition featured original art work from a total of eight students, three of whom competed in the senior high school division and five in the junior high school division. 
Quinton Sands of Jack Hayward High School was given first place in the senior high school division and Maya Angole of Mary Star of the Sea Catholic Academy was awarded first place in the junior high school division. 
Both pieces will represent the country in the final round of the FCCA Foundation Children's Environmental Poster Competition where the art work will be judged by the FCCA's committee. 
The FCCA's Foundation Children's Environmental Poster Competition has been an annual event for over five years and Ministry of Tourism's Training Department hopes to continue to facilitate the competition for Grand Bahama Island.