Back to top
Dan Marino: Strong Talent In Bahamian Kids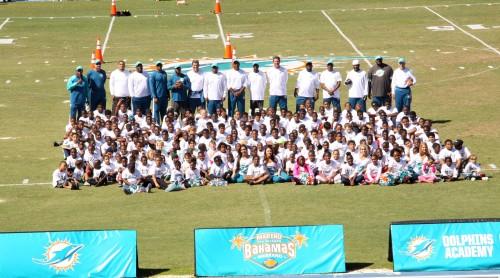 Youth Clinic A Success 
Legendary Quarterback Dan Marino said recently that he sees some great young football prodigies in The Bahamas and is hoping to foster growth in hundreds of potential professional football players. Mr. Marino said as much after participating in a Youth Clinic held at the Thomas A. Robinson Stadium in New Providence on Saturday, February 21.
"There were a lot of athletic kids and you can tell that they were excited to be out here and excited about the game of football. There were a lot of Dolphins fans out here so we loved that. But you can tell that a lot of kids have a lot of talent out here for sure," he said.
The event was part of the second annual Dan Marino and Friends Weekend in The Bahamas that brought 18 Miami Dolphins Legends for a fun-filled weekend from February 19-22.
The Hall of Famers that participated in the weekend included Keith Byars, Sam Madison, Shawn Wooden, Dick Anderson, Mark Duper, Pat Surtain, OJ McDuffie, Mark Clayton, Jim Jensen, Nat Moore, Troy Drayton, Dwight Stephenson, Twan Russell, Joe Rose, Louis Oliver and Mr. Marino.
The youth clinic saw over 200 children ages 6-16 come out and learn the fundamentals of football from the pro athletes.
A group of Miami Dolphins Cheerleaders also took part in the clinic teaching young girls some moves from their routines.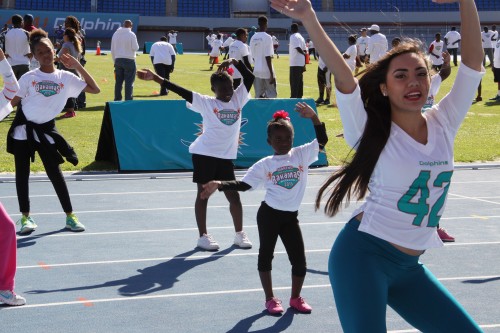 Mr. Moore, who was fundamental is orchestrating the camp, said it was all about teaching the children life lessons.
"A lot of times we make bad decisions and if you make a bad decision you have to own it. Life is all about making good decisions. Every one of these guys has had bad times. It's about getting up everyday trying to be better and believing in yourself, believing in your parents and coaches trying to teach you and care about you. That's really what this is all about," he said.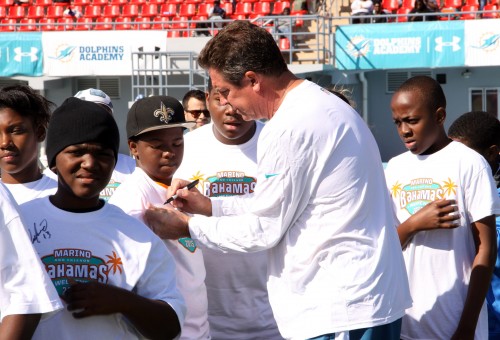 The Ministry of Tourism has a five-year contract with the Miami Dolphins that brings the Dan Marino and Friends Weekend to The Bahamas during that period and allows the ministry to use the Sun Life Stadium in Miami, Florida as a marketing platform.
Mr. Moore said as the contract to conduct the Youth Clinic continues, he would like to see the program grow.
"You only get better if you continue to do the same things. If you continue to change things then you will never perfect anything. Our goal is to eventually have 400-500 kids up here. Our goal is to be able to come into The Bahamas during the year several times just to go into the school system. Our goal is to educate the teachers and coaches on how to teach the game of football. We want to start from the elementary level because when you start from young everything becomes easier," he said.