Back to top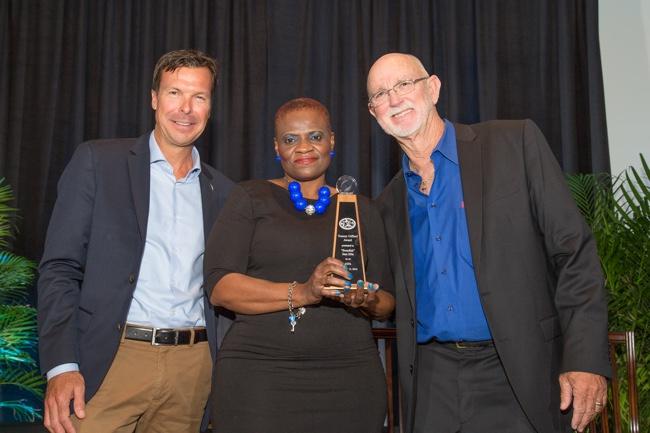 Bimini's great bonefish king and Bahamian sports icon, the late Samuel Achilles "Bonefish Sam" Ellis was posthumously bestowed the legendary "Tommy Gifford Award" and inducted into the Hall of Fame by the International Game Fish Association (IGFA) in Fort Lauderdale, Florida.  The ceremony took place at the IGFA Headquarters on February 13, 2016.
The Tommy Gifford Award is awarded to Captains and Crews that have contributed to the sport by an invention, outstanding catch or catches, or have set an outstanding example of their trade.
The non-profit IGFA is committed to the conservation of game fish and the promotion of responsible, ethical angling practices through science, education, rule making and record keeping.
Bonefish Sam, who spent more than seventy years in fishing before passing away on March 12, 2003, was one of six international captains and skippers recognized by the IGFA organization for their legendary skills and contributions to the fishing sport.
His daughter, Dr. Pamula Mills who accepted the award on behalf of her father and family said they "are humbled by the generosity of the IGFA, Legendary Captains and Crew, in presenting our father with the Tommy Gifford award and inducting him into the international fishing hall of fame. 
"Those of you who knew Sam, are aware of his passion for and commitment to fishing.  He was among the greatest of his time, capturing many local and national records and awards and creating lasting friendships, with fellow natives and foreign born, alike. His Christian faith, professionalism, knowledge, keen eyesight, giving spirit and excellent skills, were great contributors to this success. He was a Bahamian tourism ambassador who carried the Bahamas to the world," she said.
"He was a lover of God, life and people; opening his doors to kings and paupers.  Whether he was called, Bonefish Sam, King of the Snapper Hole, Bishop, pastor, musician, band leader, playwright/song writer, movie star, businessman, Cacique winner, cook, friend or mentor, by the world; he was plain old daddy to us- and an exceptional one.  We saluted our father in life; we now salute him in death," she said.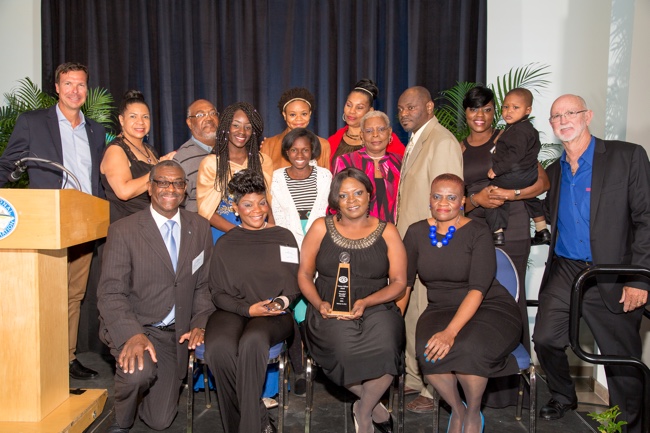 As a youngster, Sam, would during his recess from school, pass the fishing docks to eat his snack and sing.  His melodious voice caught the attention of many and in particular one Mr. Coleman, a wealthy family from Florida, who invited him aboard their yacht.  It turned out to be the last day Sam would attend school. 
Upon his return from Florida, the Coleman family sent Sam a large box of clothes, two sets of boxing gloves and a rod and reel, which served as the beginning of his legendary boxing and fishing career.  He was a mere 10 year old.
After years of honing and perfecting his boxing and fishing skills, Sam won the Heavy Weight Boxing Title for Bimini, however, his greatest accomplishment and recognition came as a result of his contribution to sport fishing.   
Recognized as having landed more than three times as many bonefish on rod and reel than any of his contemporaries, 7,000 in all, Bonefish Sam became the most sought after fish guide.  Some of his notable clients included:  The Duke of Windsor, the Ford, DuPont and Drake families, George Albert Lyon, Van Campen Heilner, James Kimberley, former US Congressman Adam Clayton Powell, Ernest Hemingway and Michael and Helen Lerner, among many others.
The bigger than life sports icon, pastor and father of seventeen, was featured twice in LIFE Magazine, the Discovery Channel and in two major movies.
In 1995 Sam was inducted into the Bimini Fishing Hall of Fame and in 1996 the Bahamas Ministry of Tourism awarded him the first Cacique Award for Leisure and Sports for the Islands of The Bahamas.