Bahamas Takes Cuba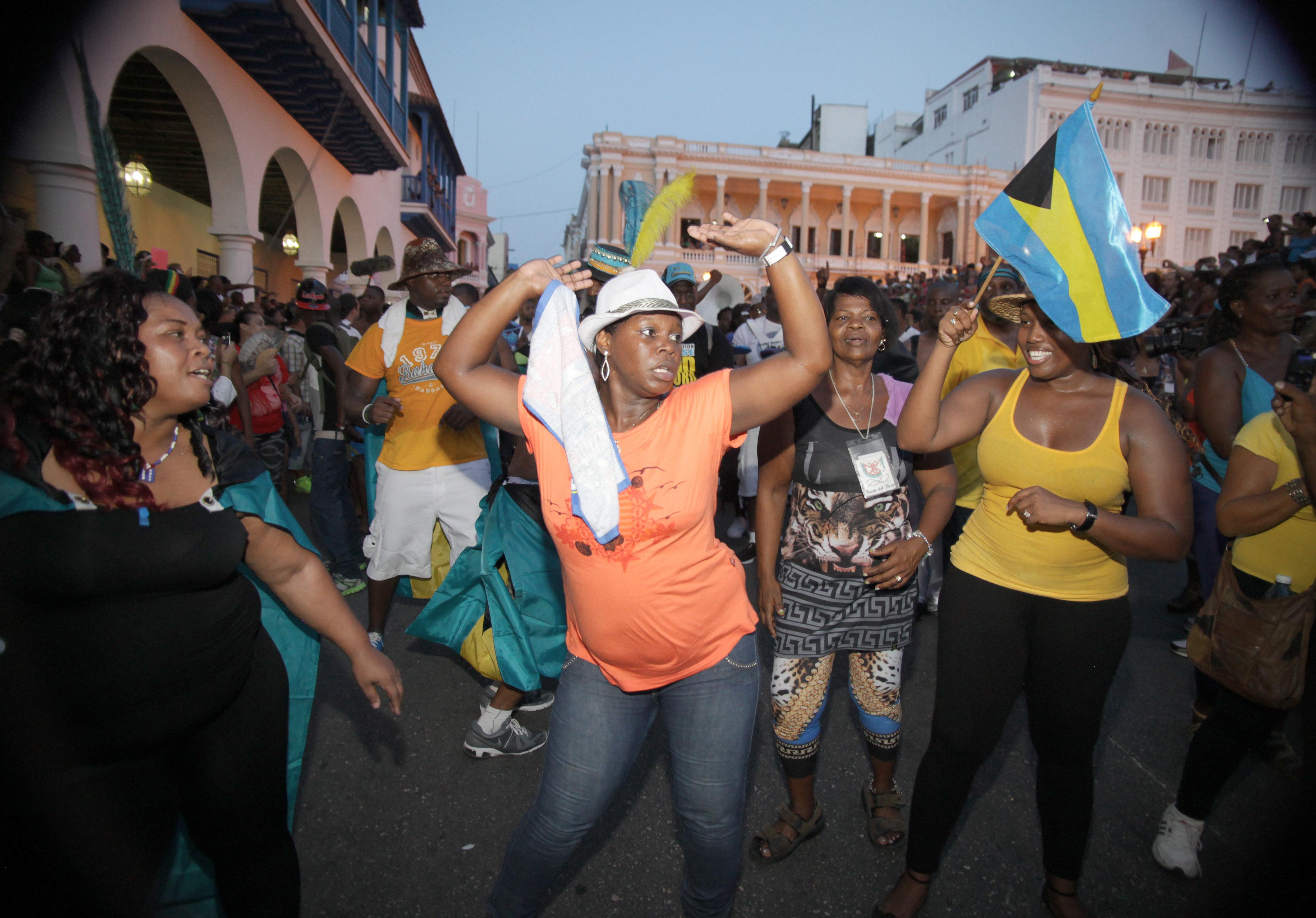 300 Participate in Santiago De Cuba's Festival de Caribe
Music, dance and a whole lot of Junkanoo were featured in Santiago De Cuba's Festival de Caribe from July 3-9 as 300 Bahamians showcased all The Bahamas has to offer in Cuba's second city.
It was particularly special for Santiago de Cuba as the city was celebrating its founding 500 years ago.
The Festival de Caribe, also known as the Festival of Fire, invited 28 countries to be a part of the special occasion.
The Bahamas was the featured country and had the task of organizing several events to showcase Bahamian talent.
The events included a Junkanoo Expo, a pop-up art gallery, a state dinner for Bahamian and Cuban dignitaries, a storytelling expo, a Bahamian film showing, fashion show, children's workshop, bush tea demonstrations, food tastings, a gala, which told the stories of The Bahamas from Columbus to Junkanoo and two Junkanoo street parades.
The exchange was decided several months ago when the Cuban government invited The Bahamas to participate.
It was then that the Ministry of Tourism and the Ministry of Youth, Sports and Culture collaborated to plan the events.
Minister of Youth, Sports and Culture Dr. Daniel Johnson, wife of Prime Minister Perry Christie, Bernadette Christie and Bahamas Ambassador to Cuba Alma Adams were among the delegates in attendance at the festival.
Events climaxed at Bahamas House – the epicenter of Bahamian culture during the festival.
During the night at Bahamas House, Bahamian chefs cooked meals like conch fritters, stew conch and grits, traditional chicken in the bag with guava hot sauce, steamed lobster, curry mutton and chicken souse.
There was also Bahamian music – rake n' scrape bands, the Royal Bahamas Defense Force Band, Iris Storr and the Spank Band and recorded secular music.  
The scene at Bahamas House was often a chaotic one, as hundreds of Cubans would line the gates of the property each night hoping to get a taste of authentic Bahamian food or to join in with festivities.
The week ended with a colourful Junkanoo street rush-out at Plaza de Martes. Cuban officials, delegates from other countries and thousands of Cubans all heard and danced to the rhythm of Junkanoo. 
Ian Poitier, a consultant in the Ministry of Tourism, was the artistic director and called the experience "amazing".
"This has been amazing. We tried to put together a really complicated show to bring something to Santiago that was something really special. We brought 300 Bahamians, which is the largest delegation ever out of The Bahamas to put together a whole range of activities," he said.
"We had all these people come together to show Santiago the face of The Bahamas and it has been immensely satisfying to be honoured and to bring these individuals together."
Director of Events Charity Armbrister also coordinated events.
"Cubans are really impressed with all that we have done here," she said. "We have brought artisans and talented persons from throughout The Bahamas. This event is historical and I'm sure many of the Bahamians here will never forget this once in a lifetime experience."
Although there was a bit of a language barrier, art, dance, music and food seem to break those barriers.
Theresa and Feliz Gonzales, a Cuban couple, who spoke English, said they were impressed with all that they saw.
"The food is so good," said Ms. Gonzales. "I have enjoyed all that I have seen and the Junkanoo is very powerful."
"I wish that they would have this kind of festival every day," Mr. Gonzales said. "I will always remember this event."