Bahamas Junkanoo Carnival Announces Youth Culture Fest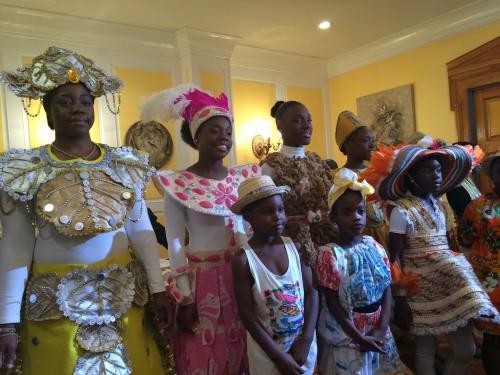 Chairman of the Bahamas National Festival Commission (BNFC) Paul Major says the future of Bahamas Junkanoo Carnival is secured now that thousands of the nation's youth are expected to participate in Youth Culture Fest.
The event, which is scheduled for May 1, will bring together 25 schools and youth community groups in a parade on Arawak Cay.
Each group will have a minimum of 50 school-aged children performing in the parade.
It is expected that this will lead to 1,500 to 2,000 children participating in the inaugural event.
During the parade, the youth will be displaying costumes made from indigenous Bahamian material like straw, shells, thatch and sponge among other things.
Mr. Major said he could not be more proud of the event.
"I think this is very, very exciting and it guarantees the sustainability of our culture," he said.
"This is a true display of indigenous material, a true display of indigenous talent and a true display of what Bahamians can do when they put their heads, hands and hearts into it."
The chairman said the Youth Culture Fest will also teach children national pride through cultural expression.
"Our future is safe in their hands," Mr. Major said.
Chief Executive Officer of BNFC Roscoe Dames also encouraged conglomerates to support the children's efforts.
"During the Youth Culture Fest between 5:00 p.m. – 10:00 p.m. we are creating Da Cultural Village that will be at Arawak Cay. Companies that are interested in sponsoring a group or purchasing costumes to support the young people can contact our office and we will accommodate them," he said.
"We would like our young people that companies that are supporting them and stepping up and assisting. Their futures are secured through the efforts of our corporate partners."
Youth Culture Fest Coordinator Dr. Ann Higgins said Youth Culture Fest is different from Junior Junkanoo because the groups will be showcasing indigenous Bahamian costumes through themes based on the Family Islands.
"The children will have to become familiar with the indigenous materials they are using. They will be educated in knowing what they are making. We will also have hands-on help as well," she said.
The Bahamas Junkanoo Carnival groups through various designers are selling most of the children's costumes.
For a child to participate, a parent or guardian can contact the commission to connect them with a group participating from their area.
Dr. Higgins said it is hoped that visitors will be engaged in the parade as well.
"Eventually, when they hear about our culture fest maybe in another year we would like to invite children from other cultures around the world to join us," she said.
"This is something I am looking forward to because we have taken our children to other parts of the world to represent us in other cultural festivals. So we would like to come over and appreciate what we have."