Atlantis, Paradise Island Welcomes The P1 Aquax Bahamas World Championship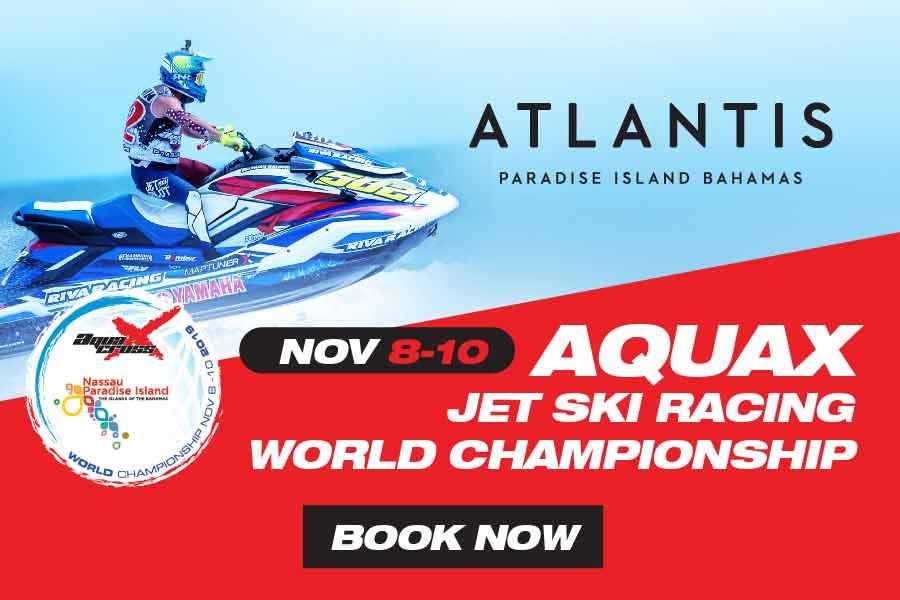 The personal watercraft world championship will be hosted by the iconic oceanside resort, in partnership with The Bahamas Ministry of Tourism and Aviation & the Nassau Paradise Island Promotion Board
Championship event will take place on Nassau Harbour from November 8th-10th
PARADISE ISLAND, THE BAHAMAS (JULY 16, 2019) – Atlantis, Paradise Island, the lush oceanside resort, along with partners The Bahamas Ministry of Tourism and Aviation, and the Nassau Paradise Island Promotion Board, welcomes the P1 AquaX Bahamas World Championship, which will take place on Nassau Harbour from November 8th – 10th. The top forty professional watercraft competitors, representing up to twelve countries, will gather in The Bahamas to compete for the world championship title. Guests and spectators will have access to seating and stands positioned alongside the harbour for an up-close view of the race course. Additional festivities include a nearby Race Village, also located on Nassau Harbour and adjacent to the race course, which will feature live music, local bands, food, and activities for all ages. Tickets are available now via www.aquaxatatlantis.com and start at $15.00.
"We extend a very warm welcome to the P1 AquaX Bahamas World Championship, and are looking forward to welcoming the competitors and fans to Atlantis, Paradise Island in November," said Audrey Oswell, President & Managing Director, Atlantis, Paradise Island. "The race course runs through the heart of Nassau Harbour, which is an ideal and central setting for our local community, guests and visitors of Atlantis, Paradise Island to experience the thrill and spectacle of this up and coming and extremely exciting sport," Oswell continued.
"Our international P1 AquaX races identify the most successful riders in the world and we are excited to bring an elite field of the world's very best personal watercraft racers to Atlantis, which will provide a breathtaking setting for the world championship event. We could not be more thrilled to have the resort as a partner, being internationally recognized for its location, premier programming, world-class accommodations and cultural experiences," said Lisa Barsby, Global Head of P1 AquaX and a former world champion racer.
Honorable Dionisio D'Aguilar, Minister of Tourism & Aviation added, "World-class events such as this Championship drive tourism and create global exposure for our beautiful islands and destinations. We
look forward to showcasing the Bahamian culture and remarkable natural resources to a global audience." Tickets to the P1 AquaX world championship are available by visiting www.aquaxatatlantis.com or by contacting the Atlantis Box Office. One day and three-day ticket packages are available. Ticket prices start at $15.00.
###
About Atlantis, Paradise Island:
Atlantis, Paradise Island is a lush, oceanside resort located on Paradise Island in The Bahamas. The resort features five distinct properties from the iconic The Royal; the newly renovated The Reef; The Beach; The Coral; and the ultra-luxury, The Cove. Home to the largest open-air marine habitat in the world, and the Atlantis Blue Project Foundation, the resort's nonprofit, 501 (c)3 organization dedicated to saving sea species and their habitats throughout The Bahamas and surrounding Caribbean seas, Atlantis, Paradise Island offers travelers a destination of immersive programming, connecting guests to the rich environment, history, art, people, cuisine and festivities of The Bahamas.
Other amenities of Atlantis, Paradise Island include: Aquaventure, an innovative, 141-acre waterscape of thrilling slides and river rides, pools and white sand beaches; Dolphin Cay, the resort's 14 acre marine mammal habitat; over 100,000 sq ft. of meeting and convention space; on-site wedding planners and specialists; the Atlantis Marina overlooking Marina Village and accommodating yachts up to 220 feet; Mandara Spa; Atlantis Kids Adventures (AKA); CRUSH, a cutting-edge teen club; the 18-hole Tom Weiskopf designed golf course; the renowned Atlantis Casino; duty-free shopping and over 40 restaurants and lounges including celebrity chef culinary masterpieces Fish by José Andrés; Nobu, by Nobu Matsuhisa; Olives, by Todd English and Casa D'Angelo by Chef Angelo Elia.
For more information about Atlantis, Paradise Island and reservations, please visit atlantisbahamas.com.
About Powerboat P1:
Founded in 2002, Powerboat P1 is an international marine motorsport promoter primarily involved with powerboat and personal watercraft racing. As the global rights holder for the P1 SuperStock, P1 AquaX and P1 Jetcross championships, it has staged more than 600 races in 18 countries on 4 continents over the last 17 years. P1 owns an exclusive, long-term licence granted by the world governing body, the Union Internationale Motonautique (UIM) and enjoys excellent relations with the UIM's 65 national authorities which make up the member nations of the sport. P1's extensive 2019 race calendar will see it stage more than 20 events on 3 continents from April through to the AquaX Bahamas World Championship in November. These high calibre race weekends are designed to generate significant levels of inward economic investment at host venues. Together with the commercial platform created for sponsors, partners and the wider marine industry this has seen P1 develop into a genuine global motorsport. Partnerships are at the heart of the P1 business and international television coverage through leading sports channels has played a key role in growing the sport. P1 launched AquaX personal watercraft racing in the United Kingdom in 2011 and has now established successful series in the United States and mainland Europe as well. For more information visit www.p1aquax.com