ALPITOUR VILLAGGI BRAVO CHARTER RETURNS TO GRAND BAHAMA ISLAND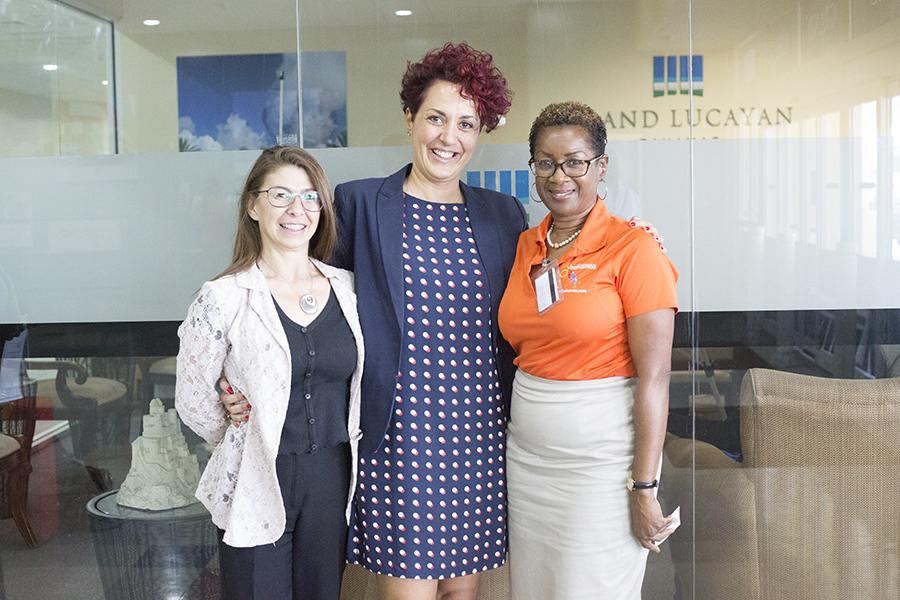 On Thursday, June 15th,the Alpitour Villaggi Bravo Charter flight returned to Grand Bahama Island to commence its summer program, after a successful charter season in 2016.
With a total of 103 passengers on board, the charter, which is the only direct flight from Milan, Italy to Grand Bahama Island, will allow visitors to experience a week-long vacation stay at the Viva Wyndham Fortuna Resort, partner property.
Cristina Cazzani from the Bahamas Tourist Office (BTO), Italy said that "The Bahamas Tourist Office in Italy has a long relationship with travel to Grand Bahama... Since 1992, we have sent lots of Italians in the summer through our charters. Together with the Ministry of Tourism and the BTO, Italy, there has been an improved program for a direct flight from Milan to Freeport".
Cristina Cazzani, BTO Italy; Simona Reali, Contracting Manager, Villaggi Bravo; Betty Bethel, Director, Ministry of Tourism Grand Bahama Island   
As a brand leader in the "all inclusive village formula sector", the Alpitour Villaggi Bravo, in partnership with the Ministry of Tourism, the Bahamas Tourist Office (BTO), Italy, and the Viva Wydham Fortuna Resort, proved to have a winning system which elevated Grand Bahama Island to a second place destination within The Bahamas. 
With a projected 1,400 guests expected to make landfall over the course of the 12 week charter series, Grand Bahamian businesses can expect to take advantage of the economic stimulus generated by the Italian charter. 
Betty Bethel, Director, Ministry of Tourism, GBI said that "This means that we have an opportunity to maintain the program that resumed last year".
"Viva Fortuna delivered an excellent product and the Villaggi Bravo, the tour operator on this program, was very pleased so much that they increased their capacity this year", continued Bethel.
Bethel added that "It gives us an ability to sustain our summer programs while we're still soft in terms of our inventory of hotels".
Simona Reale, Contracting Manager, Villaggi Bravo brand, said that "We are very happy to be here again. Our operation started again last summer after a period of [not flying] and we restarted with Villaggi Bravo". 
To date, the Villaggi Bravo group operates with a 90% familiarity in the Italian market. As a result, its goal is to bring a total of 100 - 120 passengers to Grand Bahama Island on a weekly basis.  
Reale noted that it is very important for the future to hope to go on, and she added that "We want to go on with this operation because we have great success and this summer will be the same for sure".