4th Annual Freetown Fire Hearth Food and Heritage Festival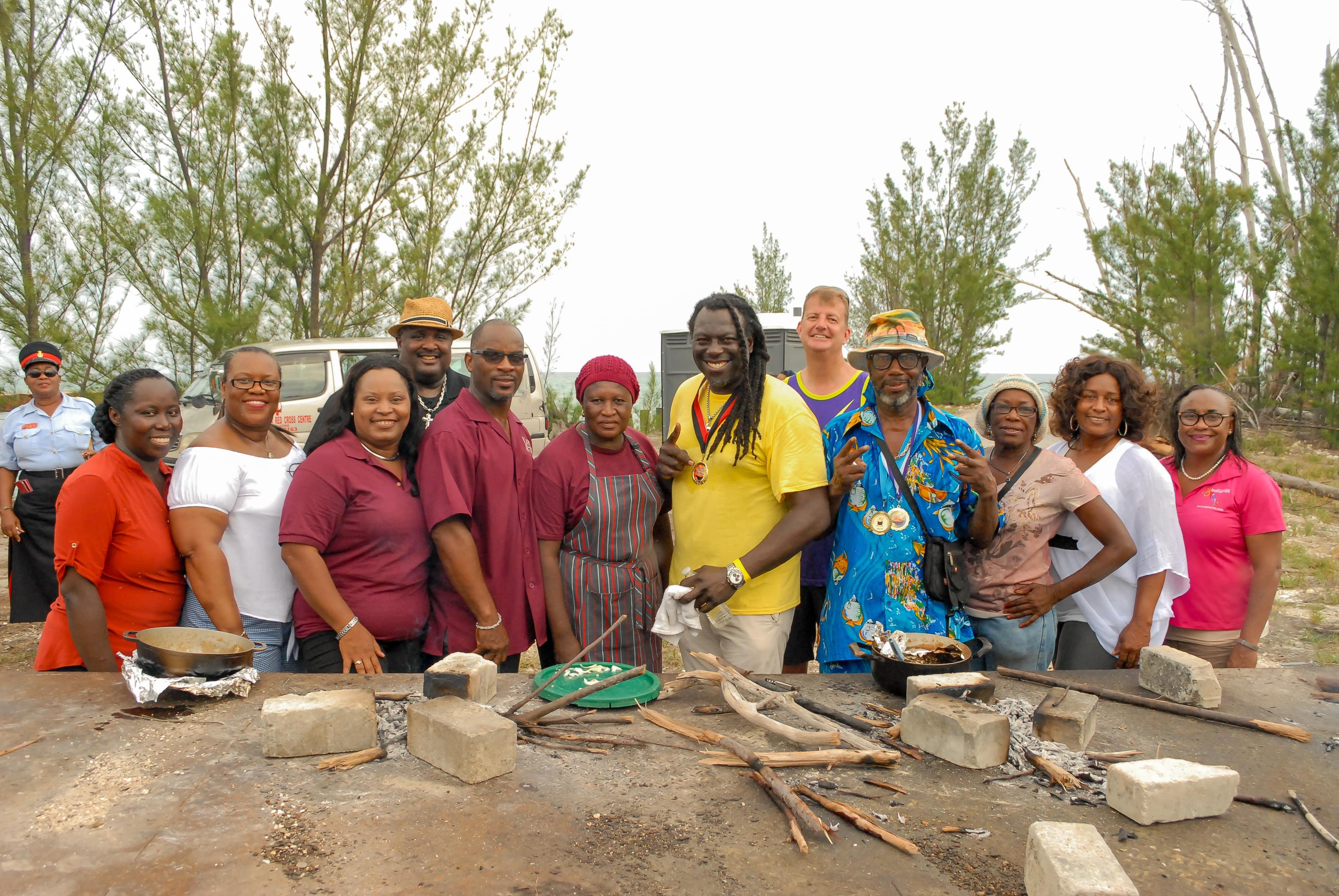 On Monday, June 5th, the Fourth Annual Freetown Fire Hearth Food and Heritage Festival took place in Ole Freetown at Gold Rock Creek East to commemorate the native traditions of early Bahamian settlers.
With a full day of activities, the event kicked off with a potato eating competition, onion peeling competition, pineapple eating competition, local music and dancing, a washboard competition, and a fire "half" cooking competition.
Fire Hearth Cooking Competition Competitors along with MOT Representatives, judges, and Festival Committee Members
The annual Whit Monday festival, which was recently relocated to the Gold Rock Creek site, was perfect for locals and visitors alike to enjoy a day at the beach while engaging in the designated festival activities.
The Honourable K. Peter Turnquest, Deputy Prime Minister and Member of Parliament for East Grand Bahama, said that "Every year the objective is to not only have visitors come and experience what Freetown is about, but also have an opportunity for the residents and descendants from the area to come back and re-acquaint themselves with the community and with each other".
With over 500 locals and visitors that attended the festival, the residents of Ole Freetown were able to showcase their family heritage to a large number of festival goers.
Such festivals showcase the distinctive culture of The Bahamas – the food, music, dance, folkways and traditions passed down from generation to generation, and are excellent exhibitions of the way that Bahamians lived throughout the history of the nation.
Freetown being the first place where slaves were freed in 1834, the highlight of the festival was the manipulation of the fire hearth, locally known as the Fire Half cooking competition.
This year, contestants were expected to prepare a pot of conch and grits in under 30 minutes in order to become the festival's new champion.
Contestants were required to exercise a high level of dexterity in the manual control of the fire in order to successfully prepare their meal. Ms. Alma Cooper from Mclean's Town walked away with the winning title.
A total of five national and international festival attendees were hand picked to judge the local dishes.
Elaine Smith, Coordinator, Product Department, Ministry of Tourism, GBI said that "The Ministry once again is glad to partner with this heritage festival. This is the 4th Annual Fire Hearth Food and Heritage Festival and festivals like this we are happy to put on because that's where both international visitors and domestic visitors, from other islands within The Bahamas would see how the residents live".
Smith further noted that the Ministry of Tourism will continue to partner with events that allow visitors to experience the culture and the heritage of Grand Bahama Island.