Rosewood Baha Mar Recognized As A Top Resort In The Atlantic Islands By Condé Nast Traveler's 2019 Readers' Choice Awards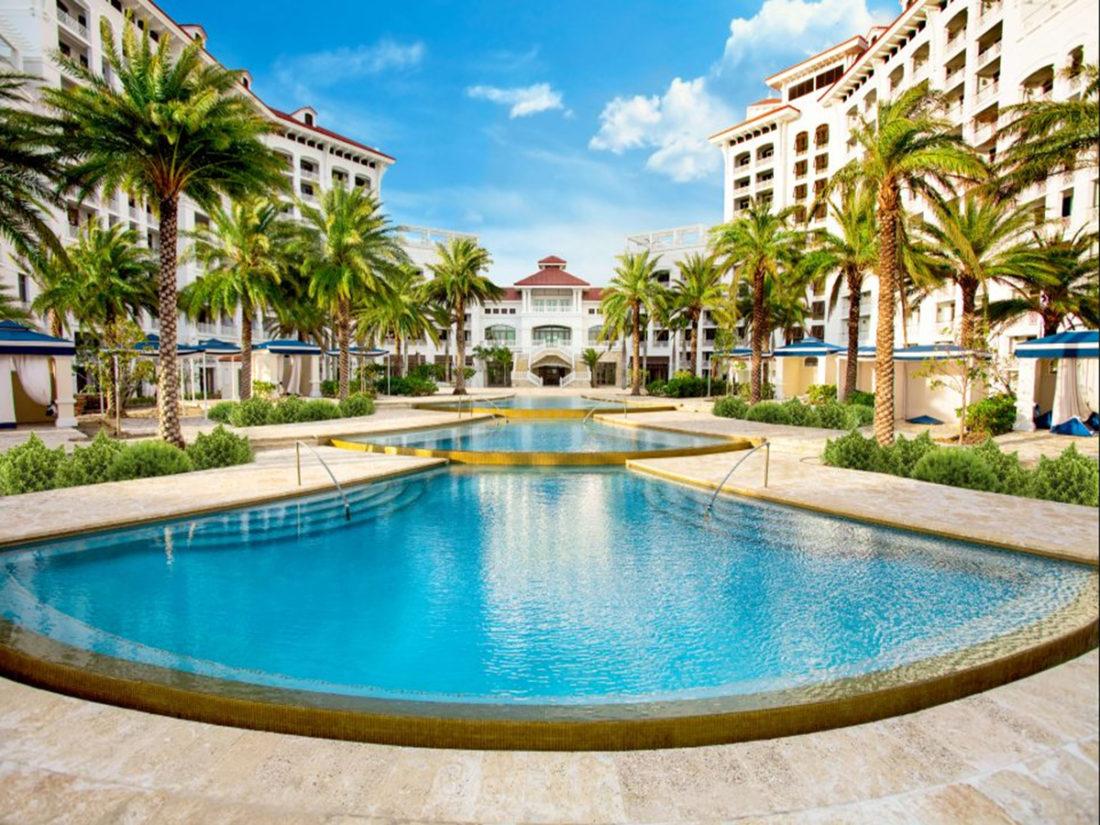 Refined Beachfront Retreat Honored Among the World's Best Hotels, Resorts, Cities, Islands, Airlines, Airports and Cruise Lines
Rosewood Baha Mar, the elegant sanctuary situated within The Bahamas' newest and most discerning resort destination of Baha Mar, is pleased to announce that it has ranked 17th in the category of "Top 25 Resorts in The Atlantic Islands" in the 32nd annual Condé Nast Traveler Readers' Choice Awards. Recognizing the world's best hotels, resorts, cities, islands, airlines, airports and cruise lines, the prestigious awards are distributed per the insights of Condé Nast Traveler readers worldwide, who this year submitted a record-breaking number of responses rating their respective travel experiences. 2019 marks the first year that Rosewood Baha Mar has received a ranking on the prestigious list following the resort's unveiling only 16 months ago.
"It is an honor to be recognized as one of the best resorts in the region by the readers of Condé Nast Traveler," says Luigi Romaniello, managing director at Rosewood Baha Mar. "Since opening our doors less than two years ago in June 2018, we have delighted in the opportunity to deliver meaningful and memorable experiences to our guests. We're humbled and proud that these efforts have not gone unnoticed and look forward to continuing to welcome travelers from near and far for years to come."
Ideally located along the pristine white sands of Nassau's Cable Beach, Rosewood Baha Mar evokes an atmosphere of Bahamian refinement and sophistication, offering an effortless escape inspired by the relaxed tempo of island life. Designed as a modern Bahamian estate, the resort boasts 237 residentially-styled guestrooms, suites and beachfront villas as well as ample luxurious amenities, including four innovative dining venues, exclusive beach access and state-of-the-art recreational facilities, from a full-service fitness studio to two private swimming pools to a serene Sense, A Rosewood Spa.
Over 600,000 readers submitted millions of ratings and tens of thousands of comments, sharing their recent travel experiences. Rosewood Baha Mar's achievements in the consumer-driven awards program exemplify the resort's commitment to affording visitors with one-of-a-kind offerings and experiences.
The 2019 Readers' Choice Awards are published on Condé Nast Traveler's website at www.CNTraveler.com/rca and celebrated in the November issue of Condé Nast Traveler US and UK print editions. This is the first year that Condé Nast Traveler combined the annual surveys in the U.S. and U.K into one global Readers' Choice Awards list.
About Rosewood Baha Mar
Set on the white sands of Nassau's Cable Beach in The Bahamas, Rosewood Baha Mar is the effortless escape offering endless possibilities and unique experiences within the new multi-property resort enclave of Baha Mar. The resort's 237 guestrooms, suites and beachfront villas epitomize Bahamian luxury, featuring architecture and interior styling reminiscent of a relaxed island estate. Rosewood Baha Mar offers four signature dining venues; private pools; and Sense, A Rosewood Spa®. Rosewood Baha Mar is operated and managed by Rosewood Hotels & Resorts, the leading hospitality group with a storied history of managing elite one-of-a-kind properties and will offer Rosewood's signature personalized service and unswerving attention to detail.
About Rosewood Hotels & Resorts       
Rosewood Hotels & Resorts® manages 28 one-of-a-kind luxury properties in 15 countries, with 19 new hotels under development. Each Rosewood hotel embraces the brand's A Sense of Place® philosophy to reflect the individual location's history, culture and sensibilities.  The Rosewood collection includes some of the world's most legendary hotels and resorts, including The Carlyle, A Rosewood Hotel in New York, Rosewood Mansion on Turtle Creek in Dallas and Hôtel de Crillon, A Rosewood Hotel in Paris, as well as new classics such as Rosewood Hong Kong.
About Condé Nast Traveler       
Condé Nast Traveler is the world's most distinguished travel title providing inspiration and advice for discerning travelers. Authoritative and influential, Condé Nast Traveler is a multi-platform, transatlantic brand. Publishing US and UK print editions under Editor-in-Chief Melinda Stevens, Condé Nast Traveler offers award-winning expertise in luxury travel from around the world.