Bahamas Ministry of Tourism Participates in World Routes 2019 Conference, Adelaide, Australia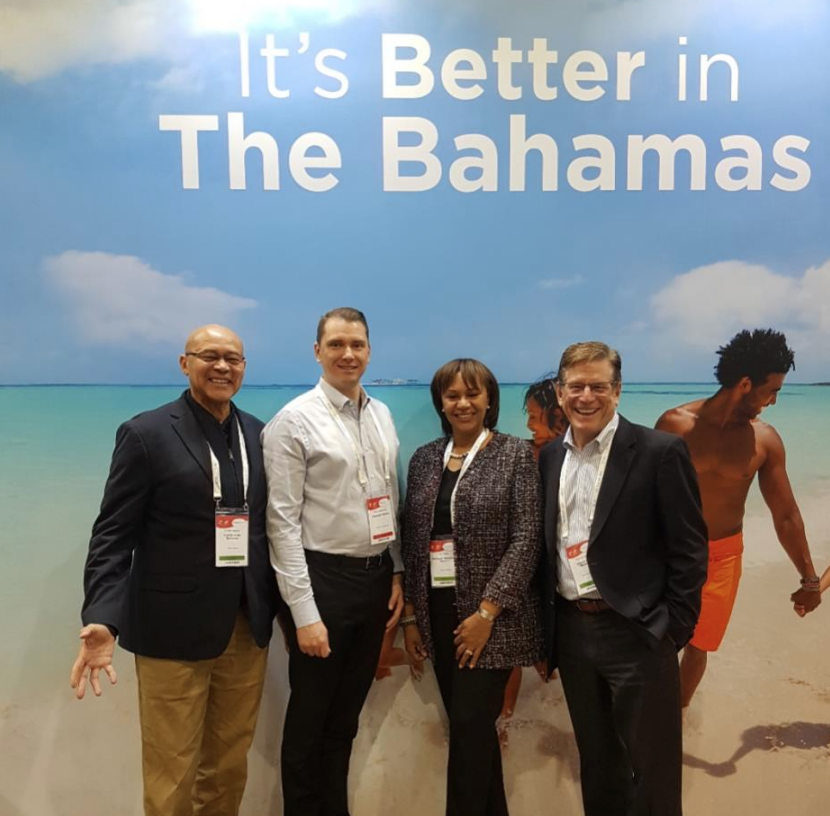 NASSAU, Bahamas, September 30, 2019… The Bahamas Ministry of Tourism & Aviation Team, led by Director General Joy Jibrilu, recently participated in the World Routes 2019 Conference, Adelaide, Australia, perhaps the largest single concentration of airline network planners, tourism planners and airport managers to assemble in one place on an annual basis.
The 10,187 mile, two-day trek from Nassau to Adelaide proved to be very productive. The Bahamas Ministry of Tourism & Aviation team, joined by the Nassau/Paradise Island Promotion Board, met over a three-day period in 20-minute sessions with key airline partners from the U.S.A., Canada, Europe, Asia and Latin America. Several key airlift goals were achieved.
The first order of business for the Bahamas Tourism Team was to thank airline partners, at large, on behalf of the Hon. Dionisio D'Aguilar, Minister of Tourism & Aviation, for their tremendous outpouring of love and support for The Bahamas in the wake of Hurricane Dorian. Airline industry support included relief flights to and from Abaco and Grand Bahama Island, and the provision of complementary cargo space for hurricane relief by some airline partners on their international flights to Nassau.
The Bahamas team caucused in pre-scheduled one-on-one meetings with airline partners to review the performance of their flights to Nassau and other islands unaffected by Hurricane Dorian. This review turned out to be crucial. Many consumers, due to widespread media coverage of the storm, believe that the entire Bahamas was impacted by Hurricane Dorian. Many ideas were put forward as to "best ways" to overcome this challenge. The Bahamas team and airline partners agreed to monitor the performance of flights, going forward; and to take whatever joint steps are necessary to ensure sustainable airlift to The Bahamas.
The Bahamas team also agreed to collaborate closely with airline partners regarding the timely return of international scheduled flights to Grand Bahama and Abaco, as determined by the Bahamas Civil Aviation Authority.
By reason of its out-of-the-way location, World Routes 2019 in Adelaide, Australia was not as highly attended as previous World Routes conferences. This may have been a blessing in disguise. World Routes, Adelaide was distinguished by its ability to provide a more relaxed forum for discussions to explore earnest new route development with very interested airline partners, in a less hectic environment.
World Routes 2019 also provided an opportunity to do strategic route development planning to Freeport, Grand Bahama. The Ministry of Tourism team took the opportunity to have more focused, targeted discussions with key airline partners to secure the incremental flights needed to support the launch of the exciting new (Grand Lucayan) deluxe resort development. Airline partners expressed great interest and strong support for this exciting initiative.
"Our goal at World Routes 2019," advised Director General Jibrilu, "was three-fold: to meet with airline partners to review the performance of scheduled flights in order to 'tweak', as necessary; to embrace new route development opportunities in our core markets – U.S.A. and Canada; and to explore new route development opportunities with airlines originating from Asia, Europe and Latin America. In Adelaide, we achieved our goal."