Baha Mar Presents $500,000 Donation For Hurricane Dorian Long Term Recovery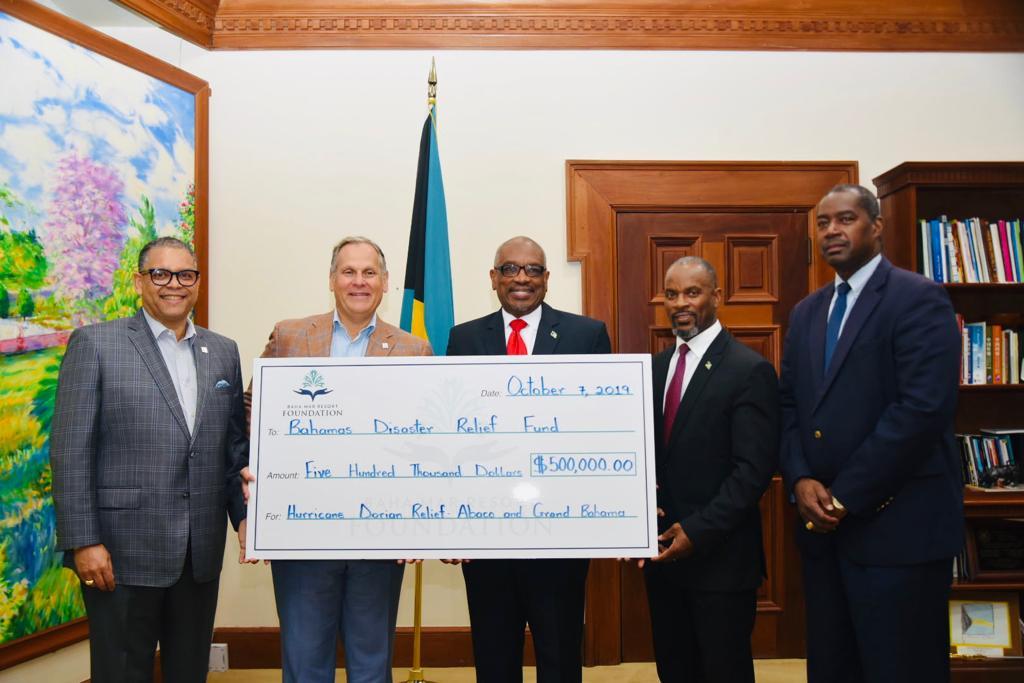 First Installment of $2 Million Pledge Presented to The Government of The Bahamas
NASSAU, THE BAHAMAS (October 7, 2019) – Today, the resort destination of Baha Mar presented the government of The Bahamas with the first donation installment of the $2 million USD commitment to support immediate relief efforts and long-term recovery of Grand Bahama and The Abacos, impacted by Hurricane Dorian in early September.
The first installment of $500,000 USD was presented today, in the office of the Prime Minister, by Mr. Graeme Davis, President of Baha Mar and Robert Sands, Senior Vice President of Government & Community Relations, Baha Mar. The donation was accepted by The Right Honorable Dr. Hubert Minnis, Prime Minister of The Bahamas; Iram Lewis, Minister of State for Disaster Preparedness, Management and Reconstruction and Captain Stephen Russell, Director of The National Emergency Management Agency.
Baha Mar's financial donation will contribute directly to The Bahamas Disaster Relief Fund, aiding victims of Hurricane Dorian with immediate relief and resources for long-term recovery and rebuilding. This donation is part of Baha Mar's commitment to a series of continued relief efforts, including next month's 'Baha Mar Cup,' the first-ever celebrity tennis event hosted by the resort, with all proceeds directly benefitting The Baha Mar Foundation's Hurricane Dorian Relief Fund.
"As we reaffirm our commitment to the ongoing Hurricane Dorian disaster relief, I am confident that we are one step closer to rebuilding our nation," said Graeme Davis, President of Baha Mar. "The support and initiatives from fellow Bahamian businesses and individuals throughout the last month in uplifting our nation has been truly inspiring."
In addition to Baha Mar's financial commitment, the resort destination continues to encourage guests to #PackwithLove and bring an item or two to be shared directly with victims of Hurricane Dorian. Articles can include clothing, shoes, baby items, books, educational supplies, stuffed animals and small toys. This initiative has been graciously embraced by many guests, who have donated thousands of articles of clothing and other materials for those most directly impacted.
###
About Baha Mar
Baha Mar is a master planned $4.2 billion integrated resort development operated by Hong Kong-based conglomerate Chow Tai Fook Enterprises Limited (CTFE). The white sand beach destination includes three global brand operators – Grand Hyatt, SLS, and Rosewood – with over 2,300 rooms and 40 restaurants and lounges, the largest casino in the Caribbean, a state-of-the-art convention center, an 18-hole Jack Nicklaus Royal Blue Golf Course, the Caribbean's first and only flagship ESPA spa, and over 30 luxury retail outlets. Baha Mar is a breathtaking location with dynamic programming, activities and guest offerings in one of the
most beautiful places in the world – The Bahamas. For more information and reservations, visit www.bahamar.com.