Baha Mar Artist- in-Residence Theodore Elyett represents the Bahamas in the Commonwealth Exchange program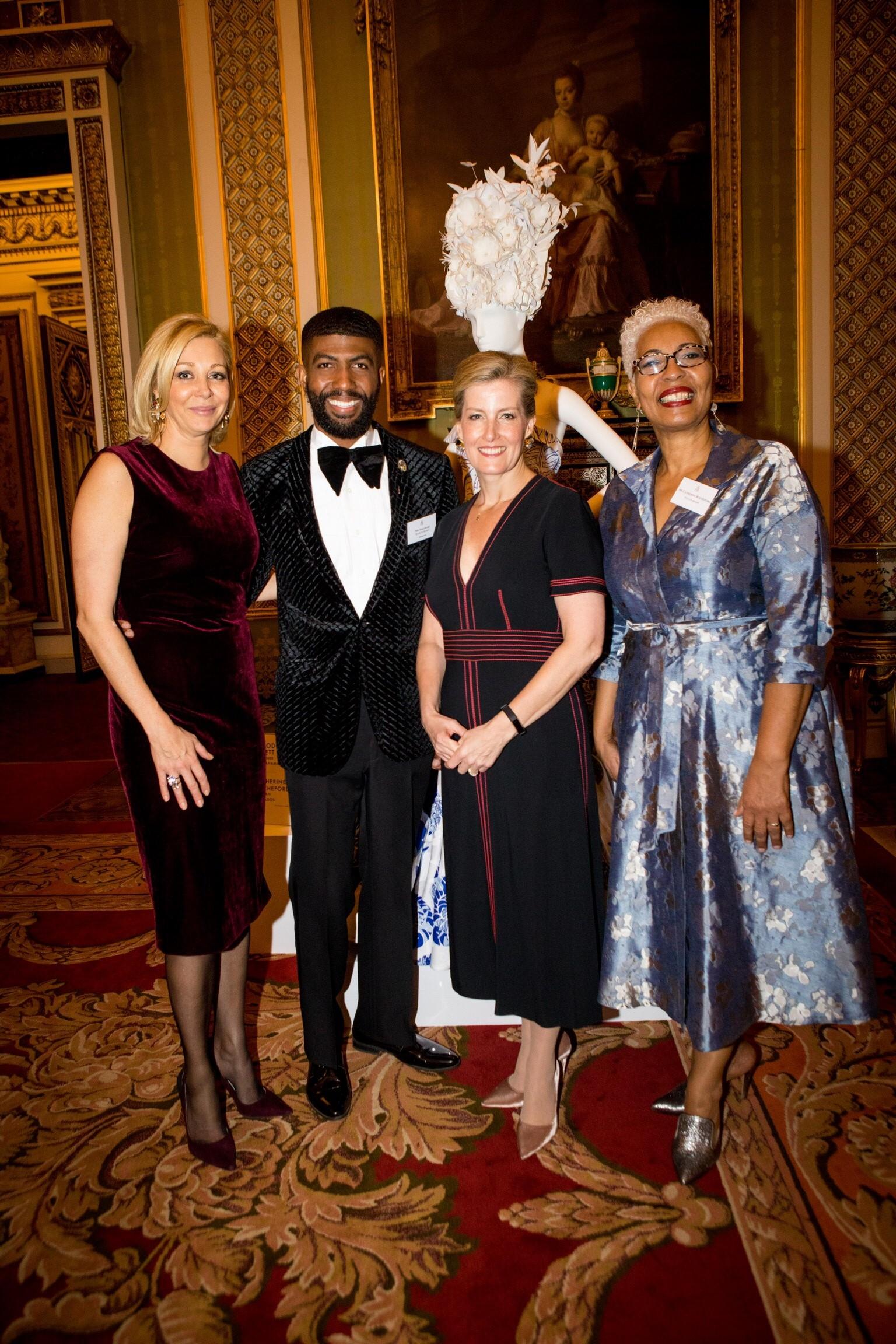 Award-winning Bahamian Fashion Designer and Artist-in-Residence at the CURRENT at Baha Mar, Theodore Elyett, made history Monday February 19, 2018 as the first Bahamian Fashion Designer to showcase at Buckingham Palace before a royal audience, including The Duchess of Cambridge and The Countess of Wessex. The Commonwealth Fashion Exchange Program selected Elyett to create a one-of-a-kind ball gown representing his home country through fashion on the international stage.
For the first time, the Commonwealth came together during London Fashion Week to showcase a wealth of design and artisan fashion talent from across its 52 countries. Elyett's one-of-a-kind gown was revealed at an exhibit curated by Vogue European Editor-at-Large Hamish Bowls. The Bahamian High Commission in London will host a special reception in honor of Theodore Elyett's representation of The Bahamas on February 21. The public will be able to view the dress at The Australian House beginning on February 22, and the exhibition will culminate later this year in New York, where Elyett's dress will be on display during the next sitting of the United Nations.
The incredible two-tiered ball gown was designed and created exclusively for The Commonwealth Fashion Exchange Program, with a financial investment from Equity Bank & Trust Bahamas Limited. Showcasing Elyett's affinity for bold prints and patterns, the gown was done in intricate island themed designs, honoring the island of The Bahamas and highlighting the colors of the tropical island destination as inspiration.
The shell of the dress is produced with 100% natural fiber materials and the waistline is embellished with 1,800 hand-stitched Swarovski Crystals. The printed bodice of the gown, featuring a sculptural asymmetric shoulder and bustling detailing, flows into an exaggerated voile handkerchief hem peplum. On the skirt of the gown, sea turtles and seashells float over 20 yards of probed twill, depicting the beauty of life beneath the sea. The ball gown depicts calming shades of Capri, Aurora Borealis, Jonquil, Aquamarine, and Indigo Blue to accentuate the tropics of The Bahamas. 
"I often use my island roots and travel experiences as inspiration for my creations. This ball gown is a celebration of island life combined with the mastery of French couture," says Theodore Elyett, Fashion Designer and Artist-in-Residence at Baha Mar. "When I put my pencil to the drawing board, I allow my imagination to run wild, but still give special attention to what people have grown to love about my brand: elegance and sophistication."
In less than two decades, Theodore Elyett has become renowned as the nation's premier fashion designer and a trailblazer in the regional fashion scene. Thirty-one-year-old Elyett became a celebrated figure after conquering the competition in the reality-television show Mission Catwalk. Elyett has won more than two dozen awards and is committed to doing his part to elevate the local fashion industry and carve a path for aspiring Bahamian designers.
The one-of-a-kind ball gown was designed at THE CURRENT at Baha Mar, a hub for creativity, complete with an art program, galleries, studio spaces and workshops and classes. Designed to support local artists and promote Bahamian arts, The Artist-In-Residence program allows local and international artists to follow their artistic pursuits, culminating in exhibitions, lectures and workshops designed to expand their artistry.
The team here at Baha Mar is extremely excited for Theodore to take advantage of such an outstanding opportunity. It fills us with great pride to see young talent thrive in such a magnificent way. He is an excellent example of hard work and dedication to his craft and we are glad for Baha Mar and The Current to support him and provide a platform artists on their journey to success.' says Graeme Davis, President of Baha Mar.
Following this international adventure, Elyett will be starting his 3 months residency at The Current on March 1st.