32nd Pineapple Fest This Labour Day Weekend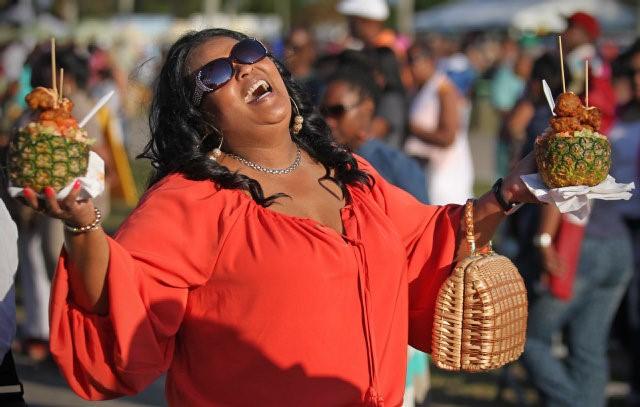 Bahamas Ministry of Tourism and Aviation officials are gearing up to present the sweetest festival in The Islands Of The Bahamas – the 32nd Pineapple Festival, June 6-9.
 The festival, which has been held in Gregory Town, Eleuthera since 1988, encompasses the spirit of passionate pineapple farming in Eleuthera through pineapple eating contest, pineapple culinary competitions, arts and crafts, a farmer's market, plaiting of the pineapple maypole and a kiddie corner.
 Additionally, celebrity artist Jamaal Rolle will create sketches for patrons of the event.
 There will also be music performances from D'Mac, Veronica Bishop, Julien Believe, Stevie S, Fanshawn, Puzzle and the Blue Waters Band among others.
 Each night, the event will climax with a Junkanoo Performance.
 Director of Events in the Ministry of Tourism and Aviation Charity Armbrister said the event is going to be better than ever.
 "An event like this is very important. It's a holiday weekend and so there is a lot of domestic travel. A lot of the hotels are running full and the island benefits tremendously. The number of food vendors was also increased because if they weren't making money, they wouldn't come back year after year. Everyone benefits, everyone wins and we are excited to put on another one of our signature events. 
 "We're inviting everyone from the north, south, Harbour Island, Spanish Wells to come out and enjoy the sweetest Pineapple Festival this year in Gregory Town, Eleuthera," Ms. Armbrister said.
 Culinary Manager in the Ministry of Tourism and Aviation Deanne Gibson said she's also excited about the culinary demonstrations and competitions that will come out of the festival.
"There's nothing like the sweet Eleuthera pineapple and we are so excited to see it displayed in so many different ways," she said. " We encourage the vendors to have more dishes with pineapples and this year we are adding a high school competition and all of the bakers of Eleuthera will bring their best pineapple dishes. We want to make sure that the sweet pineapple dishes of Eleuthera live on." 
 Admission is $5 for adults, $3 for the kids on Thursday and Sunday and $10 for adults on Friday and Saturday.  
 For more information, visit Bahamas.com or call the Eleuthera Tourist Office at 332-2142.