Pure Silk Bahamas LPGA Classic Grows Its Fan Base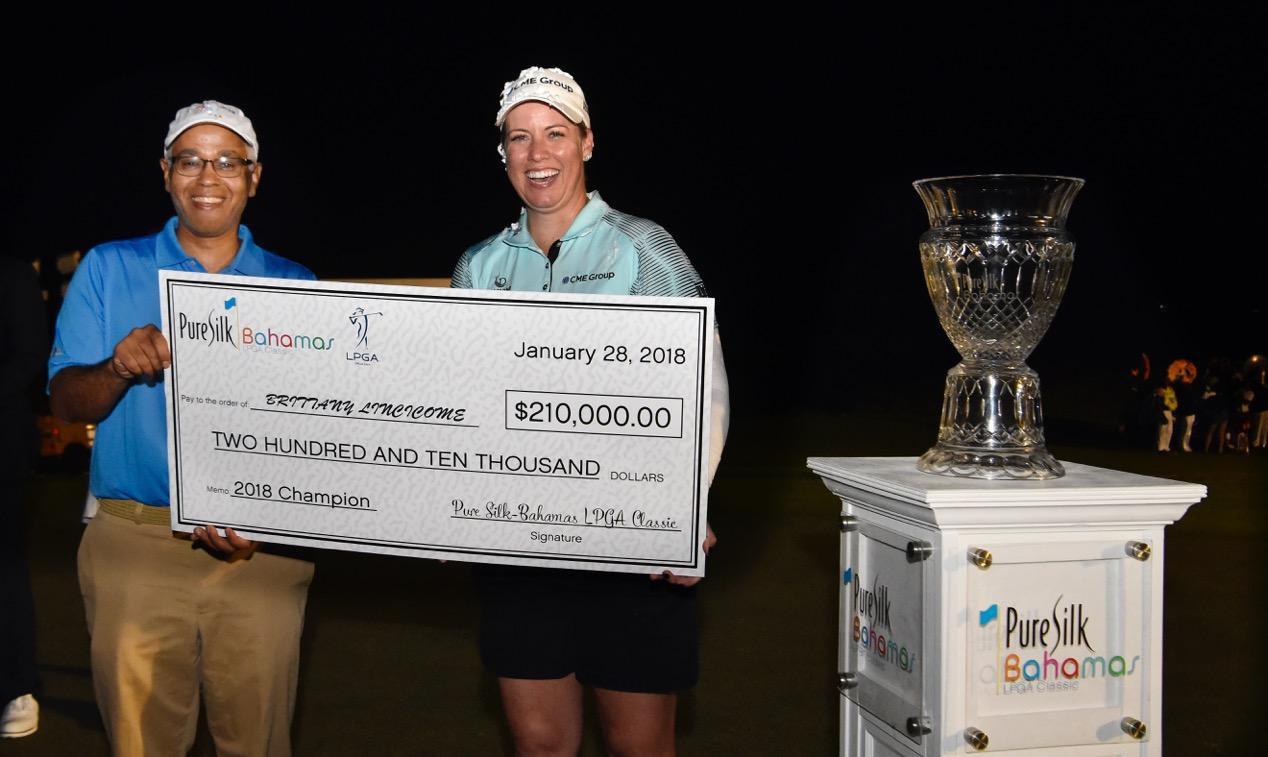 Organizers of the sixth annual Pure Silk Bahamas LPGA Classic said they are thrilled over this year's event, which attracted more international and local sponsors and fans than ever before.
 Tournament Director Jeff Raedle of Global Golf Management said the international golf superstars brought hundreds of followers this year.
 "We've made great improvements every year. This is our sixth year and it's our best year in terms of local participation, whether it is the spectators and into the sponsorship realm. Our international visitors and sponsors are at an all time high. We feel that it is something that is growing each year."
 The much-anticipated event that took place on Ocean Club Golf Course from January 22-28 saw108 of the world's best golfers go head to head.
 The tournament was broadcast live to over 150 countries on the Golf Channel. 
 "The golf channel has an incredible broadcast going on. One hundred and fifty countries plus will see what's going on. There are aerial shots not only of Paradise Island, but other islands as well. It's a wonderful tourist destination in general and from the sports and golf component, which is very impactful," Raedle said.
The Ministry of Tourism and Aviation is a major sponsor of the event, and Minister of Tourism and Aviation Dionisio D'Aguilar lamented the great marketing benefits.
"This is a wonderful event that gets lots of hours on the Golf Channel and shows the beauty of The Bahamas. What we try to do through the sponsorship of these golf events is to really get out into the world of golf that The Bahamas is an excellent golfing destination," he said.
"Those who play golf come from a high demographic of high net worth individuals. Most of our hotel inventory is relatively expensive and so we need to attract persons from that demographic and so what is better than coming to The Bahamas, staying in a lovely resort like Atlantis and doing a round of golf on this exceptional golf course at this incredible setting – it's just a win-win for all."
"The Ministry of Tourism and Aviation is anxious to support events that bring large amounts of visitors to our country and engage in marketing our destination. We couldn't advertise enough in the United States to get the visibility that we are getting now and so it is all-around a good event and hopefully it continues. Once the economics makes sense, we will continue to have events like these in The Bahamas," the minister added.
The Bahamas LPGA Pure Silk Classic also reached out to community getting volunteers from different organizations and hosting two Kids Clinics –one with RBC and one with the Bahamas Golf Federation. The event also hosted a Kids Zone at the Ocean Club. 
At the end of the tournament, Brittany Lincicome successfully defended her title taking home the top prize of $210,000.