Hyatt Community Grant Awarded to Gentlemen's Club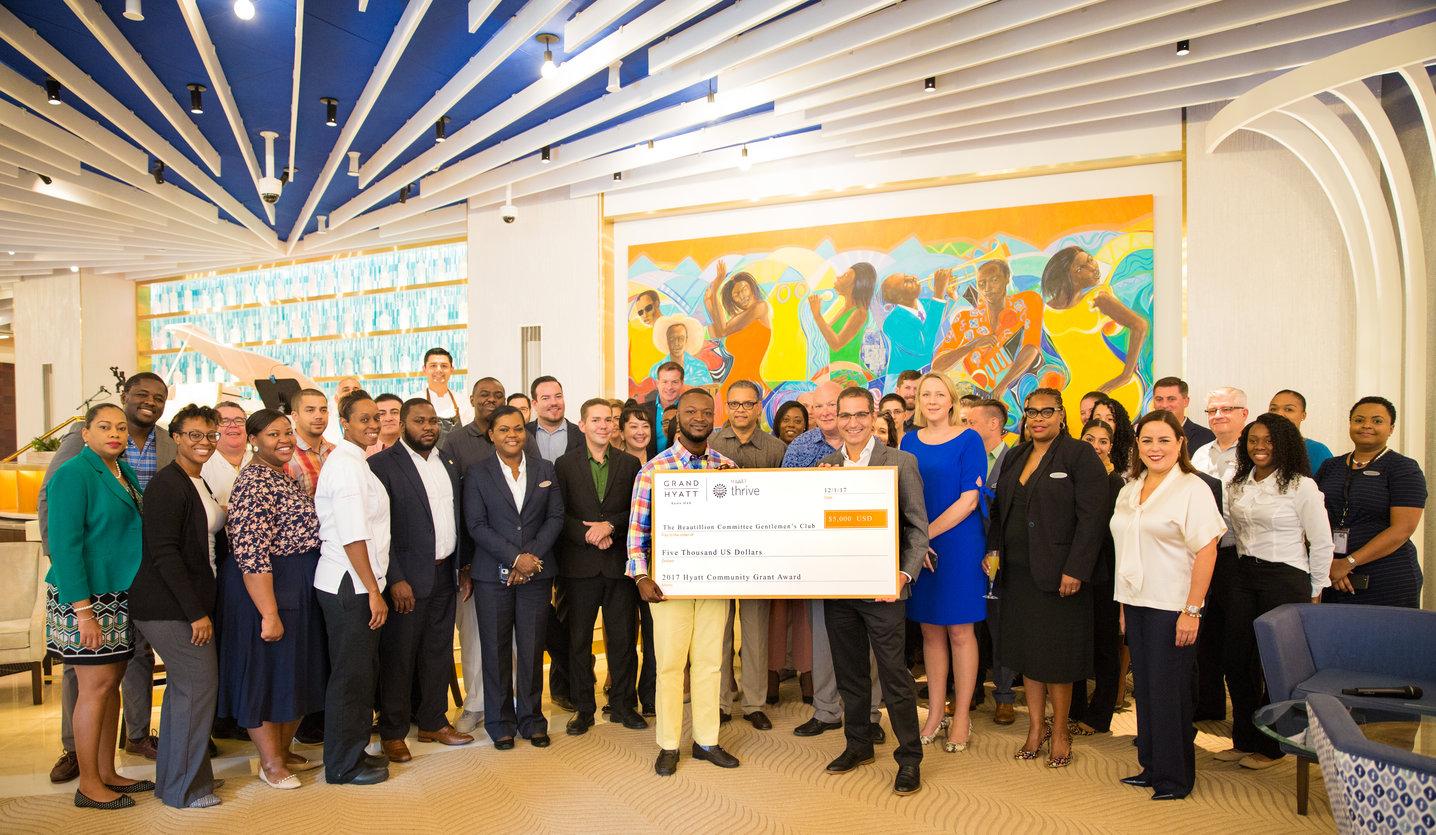 Grand Hyatt Baha Mar is proud to announce that a local organization, The Beautillion Committee Gentlemen's Club, has been awarded a 2017 Hyatt Community Grant in the amount of US $5,000.00. It is the first organization in The Bahamas to receive the award and is one of only 31 non profit organizations from around the world to be awarded in 2017. 
The civic, non-profit organization was established twenty-six years ago by Dr. Judson and Mrs. Marcheta Eneas through the Sigma Pi Phi fraternity of the Delta Lamda Boule. The Beautillion Committee Gentlemen's Club is promoted in high schools to help male students from 16-18 years old develop a positive self identity. Over the course of the fifteen-week program, the young men learn topics such as anger management, career planning, etiquette, financial planning, health, law and order, marketing, moral responsibility and personal relationships. To date, more than 1,000 young men have graduated from the program, many becoming Baha Mar employees. 
Since 2008, Hyatt hotels worldwide have directed over US $3.0 million to 199 nonprofit organizations in 44 countries around the world. The Hyatt Community Grants program empowers Hyatt employees to act as local philanthropists, empowering them to support the prosperity and well-being of their communities. 
According to Lamon Stubbs, Assistant Director of Finance at Grand Hyatt Baha Mar and director of The Beautillion Committee Gentlemen's Club, the Hyatt Community Grant award be put toward a scholarship for the University of The Bahamas. "The Hyatt Community Grants shows the power of what can do when we give of our time and work together to help others," said Stubbs. "As a graduate of the program, I know that it is something our young men need right now. Our graduates have gone on to be some of the most successful men in our community. We believe that by supporting the young men of The Beautillion Committee Gentlemen's Club to continue their education, we can help them to get one step closer to achieving their goals."
"Hyatt is in the business of caring about people and we believe that means helping our colleagues to build strong local communities. At Grand Hyatt Baha Mar we're very proud that Lamon is being recognized for demonstrating these principles not only to people in The Bahamas but also to people across the globe," said Scott Allen, General Manager, Grand Hyatt Baha Mar. 
For more information please visit www.hyattcommunitygrants.com.